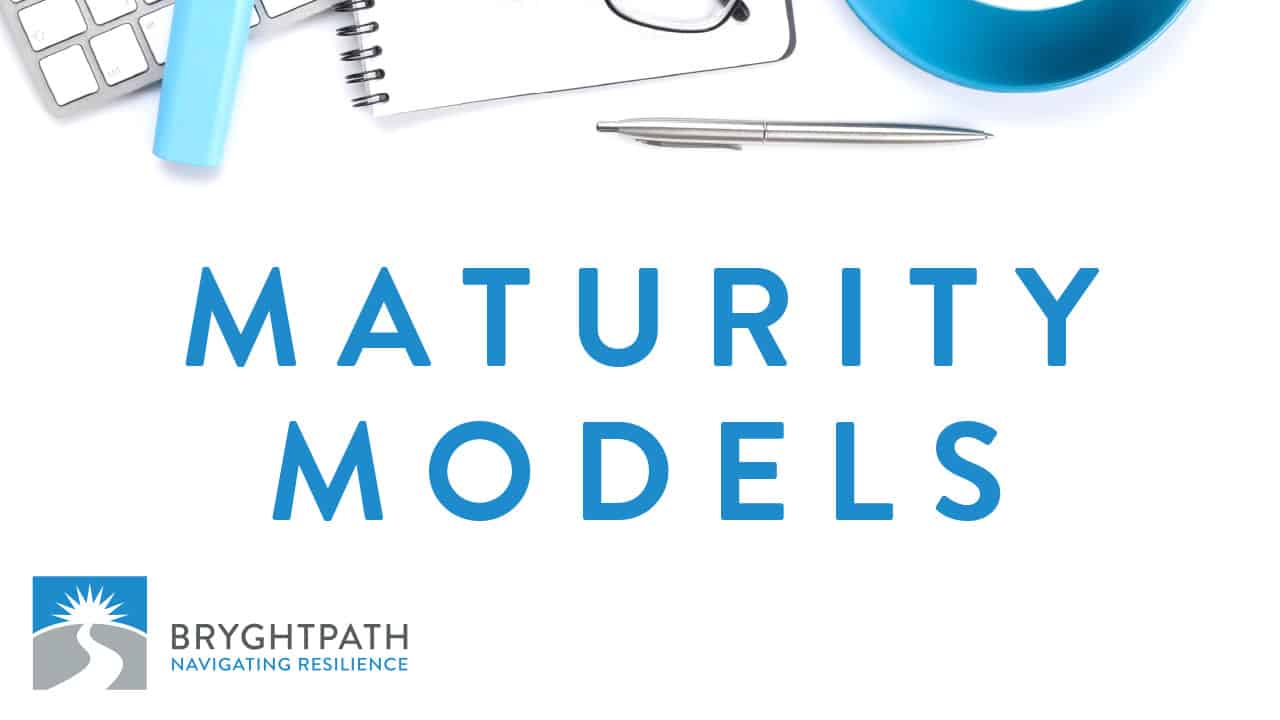 Our Maturity Models utilize ISO and ASIS Industry Standards as strategic tools designed to guide organizations in developing and improving various business functions. They offer a structured approach for evaluating the effectiveness of current processes, identifying strengths and gaps, and planning improvements based on predefined maturity levels.
As a result, they provide a clear roadmap to move from a reactive, ad hoc state towards optimized, proactive, and continuous improvement.
These models are evaluation tools and instruments for ongoing growth and development. They promote a culture of continuous improvement and risk management, ensuring organizations remain resilient in an ever-evolving digital landscape. By investing in a maturity model, organizations can ensure they are well-equipped to handle and recover from disruptions effectively and efficiently.
Our models were designed by our team of experts – and are used as a part of our proprietary Resiliency Diagnosis™️ process.
What our Customers Say about Bryghtpath's Maturity Models
Abby C, Business Continuity Director
"As a Business Continuity Director, ensuring resilience and readiness in the face of disruptions is paramount. The ISO 22301 Maturity Model has been a game-changer for our business continuity program. It gave us a comprehensive, structured approach to assess our current capabilities, identify gaps, and strategically plan for improvements. This easy-to-use tool has been instrumental in aligning our processes with global standards and instilling a proactive culture of continuous improvement within our teams.
Since implementing this model, we've seen tangible enhancements in our Business Continuity Program. The progress tracking capabilities have helped us monitor our journey towards improved resilience and preparedness. This model has become a pivotal part of our business continuity strategy, and it's a worthwhile investment for any organization looking to bolster its resilience.
I highly recommend the ISO 22301 Maturity Model to any organization committed to ensuring business continuity. It's not just a tool; it's an invaluable asset for safeguarding your operations and reputation in today's uncertain business landscape."
Howard R, Director, Information Technology
"In our mission to ensure business continuity, the ISO 27031 Maturity Model has proved vital.
It offered us a comprehensive view of our existing IT Disaster Recovery strategy, highlighted areas for improvement, and guided us on a strategic path toward optimized resilience. This user-friendly model has become an integral part of our ITDR journey."
Have questions about our Maturity Models
or our other services?
We can help.
Our team has the experience, tools, and partnerships to help your organization
successfully navigate the rough waters ahead – and ensure your organization is prepared.
Send over a question via email to support@bryghtpath.com.