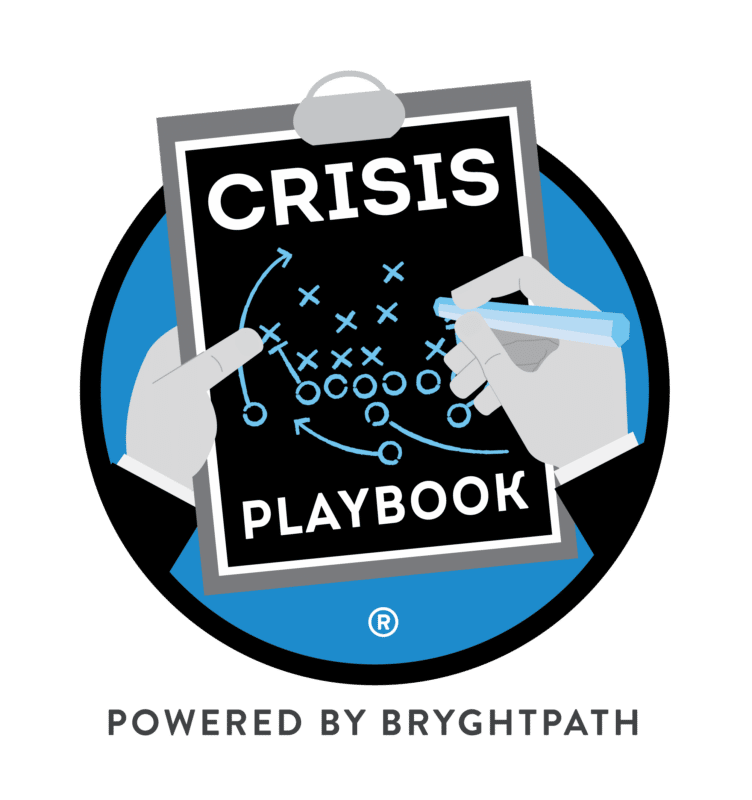 Developing custom crisis management, crisis communications, & emergency plans, processes, and other templates for your organization is an expensive and time-consuming proposition.
That's why we've developed a comprehensive set of crisis & emergency plans, processes, and templates that you can immediately put to use within your organization.
Our Crisis Playbook ™ plans, processes, and templates were written by the battle-tested experts in crisis management, business continuity, and crisis communications at Bryghtpath. Access to expert advice and support is also available on a 24×7 basis.
What's in our Plans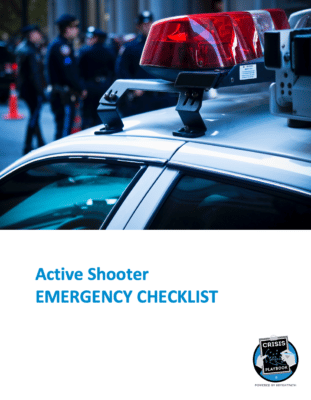 Emergency Checklist
Our emergency checklists are execution-focused guides intended for use at the location of a crisis situation, such as a retail store, a school, or a branch office.
The checklists are intended for the local leader to execute step by step in the event of an emergency. They focuses on steps required to protect the local staff, visitors, and facility until additional leadership guidance from a corporate leader is available.
Corporate Protocol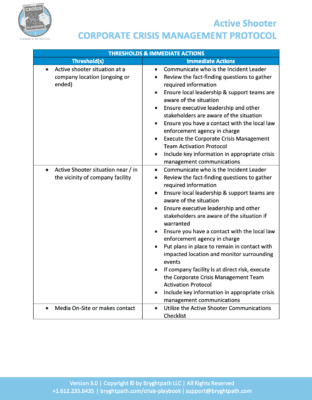 For more complex situations, corporate protocols are a resource for senior leaders or crisis managers to lead your team step-by-step through an assessment of the threat or incident.
This will position your organization to get in front of the issue and protect your team, customers, and reputation.
The protocols provide support to impacted location(s), prevent additional pressure on the broader company, and ensure the crisis and communications functions are integrated.
These include a simplified corporate crisis management framework, communications checklist & messaging, templates, holding statements, and an after-action process and form to capture lessons learned.
Communications Response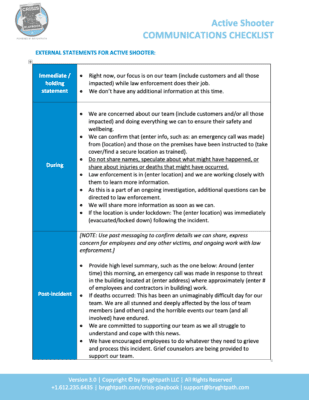 During a crisis, time is of the essence.  External and internal audiences expect to hear from your organization in record time. Early and consistent communication is important to keep key internal and impacted audiences informed.
When media calls what do you say?
Our plans ensure a coordinated response, providing internal and external messages in complex crisis situations.
Plans include holding statements to use before, during, and after an incident. Post-incident messages are included to provide guidance to your organization's leaders following an incident, a component of crisis communications that is often overlooked.
Three Tiers of Plans, Processes, & Templates
We offer three distinct tiers of plans, processes, & templates – each offering additional capabilities and customizations.
Basic
Included branded version of the Crisis Playbook plan(s), process(es), and/or template(s) in PDF format
Plans contain the corporate process, communications response, & emergency checklist unless otherwise noted.
Basic plans cannot be edited or modified, but they still provide a valuable starting point for small organizations
Enhanced
Enhanced packages are helpful for organizations that want to customize or build upon the content from the basic package. This may include adding specific roles, organizational charts, branding, or supplementing our material with additional steps unique to your organization.
This version contains the same information as the Basic offering in an editable format (Microsoft Word) that allows for customization.
Custom
The Custom offering includes the same content as our enhanced packages, plus several included hours of customization by our experts.
We will work with your team to understand your needs and edit the materials(s) accordingly.
The final Custom material(s) will be delivered in an editable format so that you can continue to make changes, improvements, and updates as your needs change over time.
Crisis Playbook Walkthrough: Active Assailant/Active Shooter Plan
In this video, Bryghtpath Principal & Chief Executive Bryan Strawser walks through our Crisis Playbook – Active Assailant/Active Shooter Plan, which includes:
Active Shooter – Emergency Checklist
Active Shooter – Corporate Protocol
Active Shooter – Communications Checklist
Simplified Crisis Management Framework (including communication templates)
After-Action Process (including Active Action Report  Template)
Crisis Playbook Plans
At Crisis Playbook, we offer a number of standalone and packaged plans to fit your specific needs as an organization.
Crisis Playbook: Communications & Awareness Campaigns (Articles + Graphics)
Many business continuity, crisis management, and security leaders yearn for stronger awareness within their organizations around their programs and basic steps that teams and employees can take to build a more resilient organization.  We view awareness as a critical component of building an effective resilience culture in your organization.
Whether it's due to competing priorities, other program focuses, or just not having enough time – we've seen that many leaders struggle to get an awareness program off the ground.
Our team of battle-tested experts at Bryghtpath has put together packages of awareness articles and graphics that you can use for your program with minimal work on your end.  All you need to do is "fill in the blanks" and ensure the terminology and links align with your organization's needs, and you're good to go!
Get started today with a package of awareness articles & graphics – or pick a custom package, and our team of writers will work with you to whip things into shape over the coming week for your new awareness campaign!
Learn more about our Awareness Collateral Packages >>
Crisis Management Plan Templates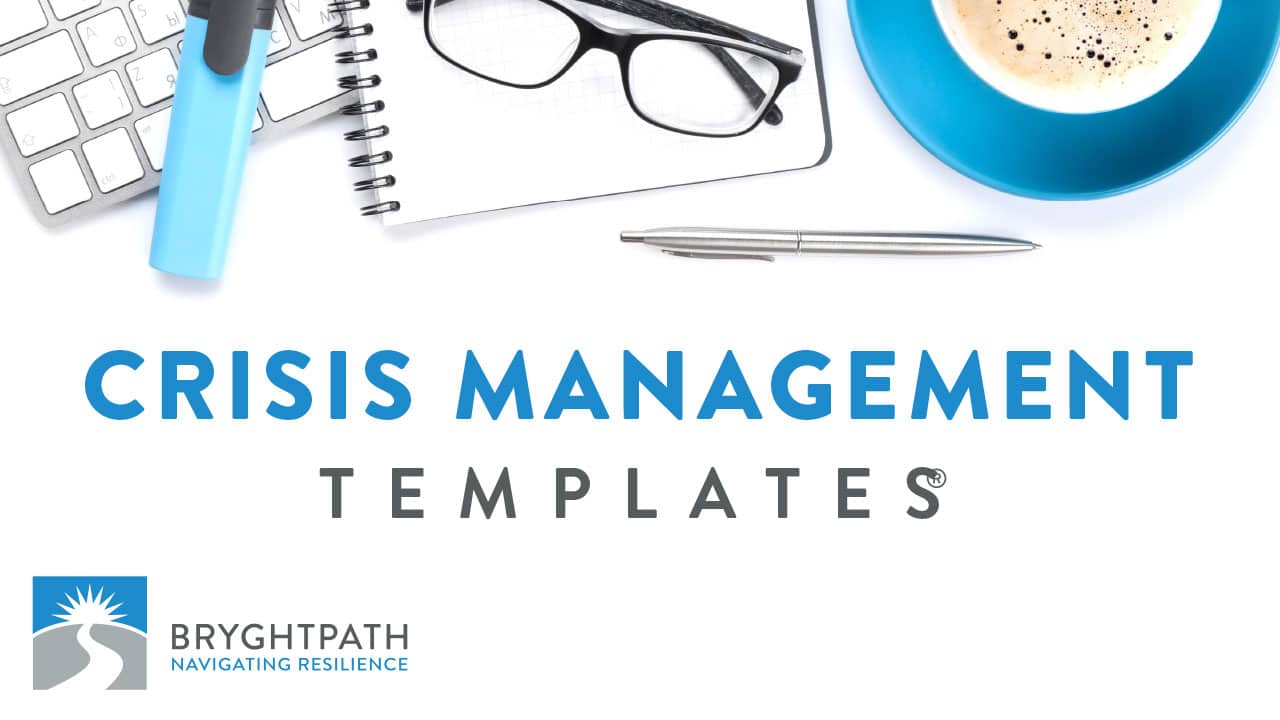 Our experts have spent decades perfecting their craft in business continuity, crisis management, and crisis communications.
Now you can get the exact battle-tested templates that we use for our work with clients as we build out their custom crisis management plans.
Exercise in a Box

In our experience, business teams that practice crisis, disruption, and business continuity scenarios respond faster and recover more quickly than teams that do not.
Managing crisis & continuity exercises for hundreds of business units worldwide is a tall order. That's why we've developed a set of crisis & continuity exercises that can be executed by a business leader in an hour or less – and don't require expert facilitation from a crisis management or business continuity team.
Our Exercise in a Box scenarios and materials were written by the battle-tested experts in crisis management, business continuity, and crisis communications at Bryghtpath.
Crisis Playbook Processes & Templates
In addition to the Crisis Plans and Communications Articles & Campaigns, Crisis Playbook also offers packaged processes & templates to help your crisis management, business continuity, and crisis communications programs thrive.
Additional Crisis Playbook Services
We offer a number of additional value-added services to assist you during a critical moment.
Crisis / Critical Moment Support
We know that the impacts of unexpected critical events are significant and can have long-lasting effects on your organization.  Your organization's values, practices, and strategies can be profoundly impacted by critical moments.
Bryghtpath can support your organization during an immediate crisis situation, as a member or leader of your crisis management or crisis communication team(s) – or simply as an advisor to your executives & leaders.
We have deep expertise in crisis situations of all types across the globe, including violent attacks, threats of workplace violence, reputational campaigns, proxy contests, and other high-stakes situations.
If you're in a critical moment and need immediate support, please contact us at +1.612.235.6435 and select the immediate crisis option or email us at crisis@bryghtpath.com.
Crisis Support Retainer
We offer ongoing retainer-based crisis support agreements for organizations that desire guaranteed availability and response times for our crisis management & crisis communications support services.
We'd love to talk with you about how we may be able to help you and your organization. Please contact us for an initial discussion.
Crisis Management & Crisis Communication Services
Our strategic advisory practice develops custom solutions based upon our decades of experience and expertise that address the unique challenges facing your organization in today's uncertain world.
Learn more about our Crisis Management, Business Continuity, & Crisis Communications services on our Capabilities page.
Have questions about Crisis Playbook
or our other services?
We can help.
Our team has the experience, tools, and partnerships to help your organization successfully navigate the rough waters ahead – and ensure your organization is prepared.
Send over a question via email to support@bryghtpath.com
or click here to set up an initial consultation.