You might be new to the industry or have recently been made responsible for crisis management, business continuity, crisis communications, or other resilience functions in your organization.
Perhaps you've had responsibility for these areas for a while, but you don't know much about the strategies and concepts around resilience.
Don't sweat. We've covered your needs with in-depth articles, free & paid training courses, and more.
Ultimate Guides to Business Continuity & Crisis Management
Our recent articles
We publish a new thought leadership article on our website each week.  Here is a look at our recent articles from the past several weeks.
You'll want to start with our seminal article, What is Resilience?.
Managing Uncertainty Podcast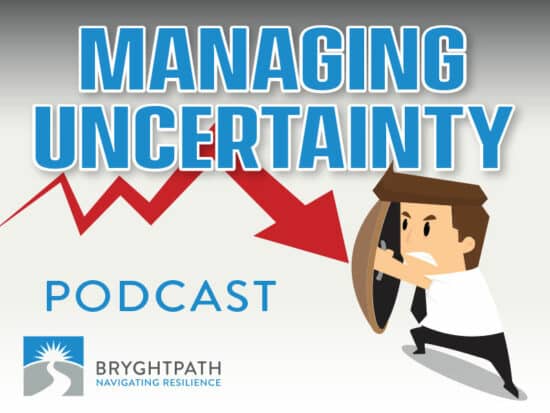 Our Managing Uncertainty Podcast discusses crisis management, business continuity, and crisis communication.
Each week, our experts dive into topics ranging from how to drive personal preparedness within your organization to manage the unthinkable event inside of your organization. Our focus is on providing you with strategics, tactics, and resources around preparing for, responding to, and recovering from all sorts of disruptions and critical moments.
Will you be ready to lead through your company's critical moment?
Premium Training Courses
Our premium courses are intended to provide a deep perspective into a specific subject matter in a way that helps leaders at any level be able to make an immediate, significant impact in their area of responsibility.
Our courses capitalize on the decades of expertise of the Bryghtpath team of experts. Our team has both deep subject matter expertise and practical experience around the globe with the topics we teach in our courses.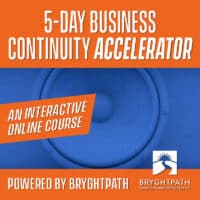 Reposition your Business Continuity Program while growing your credibility as a continuity leader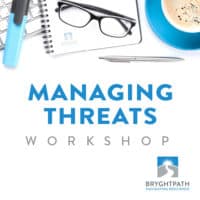 The complete solution to managing threatening behavior in your workplace or school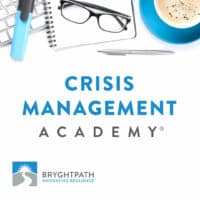 The complete online course that builds strong crisis leaders & effective crisis programs
Business Continuity, Crisis Management, & Resiliency Facebook Group
Connect with hundreds of other Business Continuity, Crisis Management, & Resiliency Professionals in our free Facebook Group.
Our free Facebook Group is a forum for discussion around organizational resilience, business continuity, continuity of operations, emergency management, and crisis management.  The intent of the group is to serve as an active exchange of information, questions, and news related to our profession.
You'll find daily articles, regular discussion topics, and a safe and welcoming environment for your questions related to your career and moving your program forward.
We hope to see you there!
Bryghtpath Newsletter
Join thousands of others who get updates on our latest articles & podcast episodes weekly
Resource Library
At Bryghtpath, our core values include being insatiably curious and humbly confident in our resiliency expertise.  We believe that by sharing our thought leadership, we work to both improve the strategies in our field but also attract and inspire our current and future clients.
As such, we enjoy helping organizations build and improve the resilience of their operations through our free resources, such as the content in our resource library.
YouTube Channel
Our free YouTube channel has dozens of videos, podcast episodes, webinars, and other free videos that you'll find insightful and valuable.
We can help.
Let the experts at Bryghtpath put their decades of experience to work for your organization
Our team has the experience, tools, and partnerships to help your organization successfully navigate the rough waters ahead – and ensure your organization is prepared.