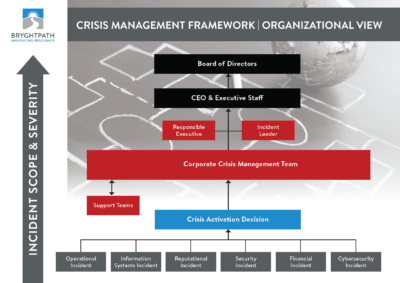 The Bryghtpath Crisis Management Framework serves as the foundation for many of our Crisis Management engagements.  The framework comprises several components that help provide a baseline starting point for many elements of a crisis management program.
First, the Crisis Management Framework provides a high-level overview of program components that we typically see making up a crisis management program.  These cover large program areas like strategy, planning & preparedness, 24×7 monitoring, ongoing education, acting in the critical moment, and taking stock of plans and performance through a defined after-action process.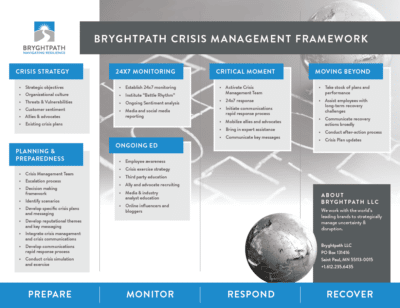 Second, the Crisis Management Framework provides an organizational view of the escalation of an incident into a crisis, the activation of a crisis management team, and the leadership roles of the responsible executive, incident leader, and the CEO & Executive Staff.
We support the Crisis Management Framework with defined crisis severity levels and a graphical illustration of the lifecycle of a crisis from monitoring & alerting through assessment, activation/escalation, management of an active incident, ongoing assessment, and closure.
You can read more about crafting a crisis management framework in our article How to Craft your Crisis Management Framework. We also covered the topic extensively in Episode #59 of our Managing Uncertainty Podcast. You can also read how we crafted a crisis management framework for a QSR-brand in a recent case study.
Our Ultimate Guide to Crisis Management provides an extensive breakdown of everything you need to know about Crisis Management.
You can get a free copy of the 4-page Bryghtpath Crisis Management Framework as a PDF below.
Click here to get a free PDF copy of our Crisis Management Framework
Free Crisis Management Introductory Training
Our Crisis Management 101 Intro Course is intended to provide a business leader or individual contributor with an introduction to the world of crisis – and help them prepare their organizations for the next major crisis situation.
Our Crisis Training contains 5 comprehensive lessons that will help you improve your organization's resiliency. After completing this free crisis training course, you'll have the personal knowledge that you need in order to start making an immediate difference.
This course is completely free and is delivered via e-mail over a 5-day period – one lesson each day.
Click here to learn more about our free Crisis Management 101 Introductory Course