When your organization is in crisis mode, we often think of this as a time that we're focused on the response phase of the crisis.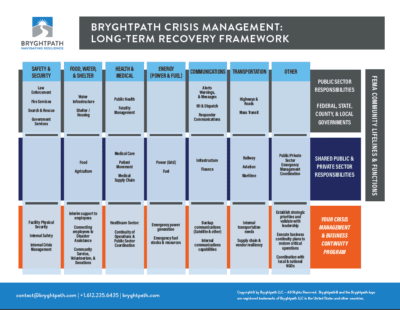 We're moving quickly.  You're taking action to protect the lives and immediate safety of your team, your customers, your visitors, and your local community.  You're working to protect your organization's assets while coordinating with law enforcement, emergency medical services, and government at all levels.
But what happens when the response phase is over?  You're looking at days to weeks to months, and sometimes even years, of long-term recovery efforts.
Our Long-Term Recovery Framework helps you make sense of this morass by laying out where you'll see the public sector (government) focused, where we believe you should be focused, and what sits between the public and private sector as shared responsibilities.
We discussed our Long-Term Recovery Framework in Episode #170 of the Managing Uncertainty Podcast.
You can get a free copy of the Bryghtpath Long-Term Recovery Framework as a PDF below.
Click here to get a free PDF copy of our Long-Term Recovery Framework
Free Crisis Management Introductory Training
Our Crisis Management 101 Intro Course is intended to provide a business leader or individual contributor with an introduction to the world of crisis – and help them prepare their organizations for the next major crisis situation.
Our Crisis Training contains 5 comprehensive lessons that will help you improve your organization's resiliency. After completing this free crisis training course, you'll have the personal knowledge that you need in order to start making an immediate difference.
This course is completely free and is delivered via e-mail over a 5-day period – one lesson each day.
Click here to learn more about our free Crisis Management 101 Introductory Course