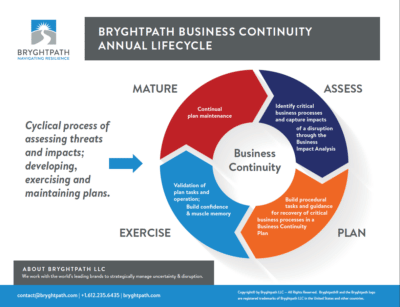 The Bryghtpath Business Continuity Lifecycle outlines the annual lifecycle for Business Continuity within an organization – graphically illustrating processes for risk assessment, business continuity planning, continuity exercises, and maturity through continual plan maintenance.
We then go deeper into the processes by covering the details graphically for the annual lifecycle along with crisis management, issue management, plan activation, and the after-action process.
Our Business Continuity Lifecycle helps illustrate to an organization the necessary processes to bring a business continuity program to life. It's the same process we use here at Bryghtpath in our Business Continuity as a Service (BCaaS) offering.
Bryghtpath Principal & Chief Executive Bryan Strawser discussed the Bryghtpath Business Continuity Framework in Episode #102 of our Managing Uncertainty Podcast.
You can download a free two-page PDF of our Business Continuity Lifecycle below.
Click here to get a PDF copy of our Business Continuity Lifecycle