Drills, tabletops, simulations.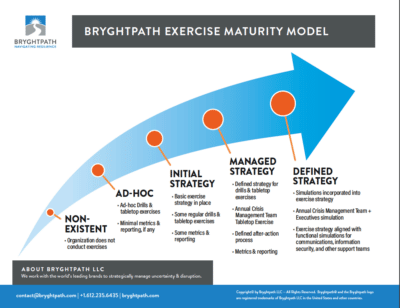 These are all elements of an effective business continuity & crisis management exercise strategy.
But how can you quickly gauge the maturity of your exercise strategy?
We've crafted the Bryghtpath Exercise Maturity Model to provide an easy way to evaluate the current state of your exercise strategies that support your business continuity & crisis management program.  The maturity model covers non-existent exercise strategies through ad-hoc, initial, managed, and highly defined/mature strategies.
We hope it will help give you some perspective on how you can continue to mature your thinking around business continuity & crisis management exercises.
Bryghtpath Principal & Chief Executive Bryan Strawser, along with Senior Consultant Bray Wheeler, discuss the Bryghtpath Exercise Maturity Model in Episode #172 of the Managing Uncertainty Podcast.
You can get a free copy of the Bryghtpath Exercise Maturity Model as a PDF below.
Click here to get a free PDF copy of our Exercise Maturity Model
Free Crisis Management Introductory Training
Our Crisis Management 101 Intro Course is intended to provide a business leader or individual contributor with an introduction to the world of crisis – and help them prepare their organizations for the next major crisis situation.
Our Crisis Training contains 5 comprehensive lessons that will help you improve your organization's resiliency. After completing this free crisis training course, you'll have the personal knowledge that you need in order to start making an immediate difference.
This course is completely free and is delivered via e-mail over a 5-day period – one lesson each day.
Click here to learn more about our free Crisis Management 101 Introductory Course