At Bryghtpath, we understand that time is of the essence in today's rapidly evolving business landscape.  Designing business continuity & crisis management exercises should not be an endurance test that takes weeks or months.
You're spending days on end sitting through endless planning meetings with dozens of stakeholders – none of which understand how to put together an effective crisis exercise.
Or, your leaders aren't convinced to sign up for more crisis exercises because the previous ones have just been so-so… or worse.
You know there has to be an easier way to get this done.
We know your pain!
This is why we've developed our innovative Exercise in a Day™️ product.
With Exercise in a Day™️, you'll get a comprehensive, ready-to-execute crisis tabletop exercise developed by our team of experts in just one day. Optionally, we'll even facilitate the exercise and write an after-action report.
What's included in Exercise in a Day™️?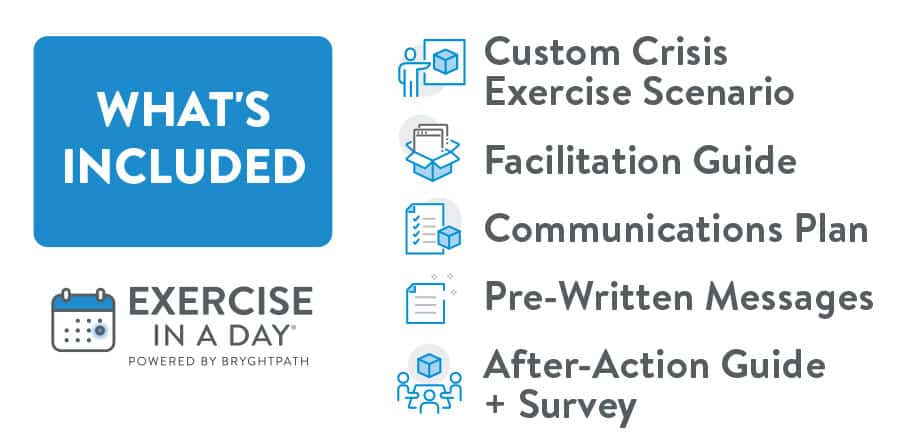 In Exercise in a Day™️, the experts at Bryghtpath will create a custom tabletop exercise scenario for you over a single day that you can then either facilitate & evaluate internally, or you can have Bryghtpath facilitate the exercise for you virtually or on-site.
Custom Exercise Scenario
A custom tabletop exercise scenario of three major "moves" and several injects
Designed to be facilitated from start to finish within a 2-hour timeframe using our facilitation guide
Facilitation Guide
A customized facilitation guide for use by your team to deliver the exercise
Contains a complete exercise script, a discussion guide for each move, and injects that can be inserted throughout the exercise
Exercise Communications Plan w/ Pre-Written Messaging
A customized exercise communications plan to be used before and after the exercise
Pre-written emails to ensure your participants are prepared and informed
Animated videos that help prepare your exercise participants for the upcoming exercise
After-Action Guide + Survey
After-action guide for your team to lead an after-action/lessons-learned discussion
Template for an after-action survey to capture more in-depth feedback
Template for your after-action report to share internally with your stakeholders
How does Exercise in a Day™️ work?
Kickoff & Pre-Work
Once you have purchased Exercise in a Day™️, you'll receive a kickoff email from us within a few minutes.
A simple list of pre-work tasks for you to complete is embedded in the kickoff email.
Once we've received your pre-work back and have had a chance to review it – you'll get a link to set up our exercise development day, where we'll work together over a whole day to build your exercise scenario.
Exercise Development Day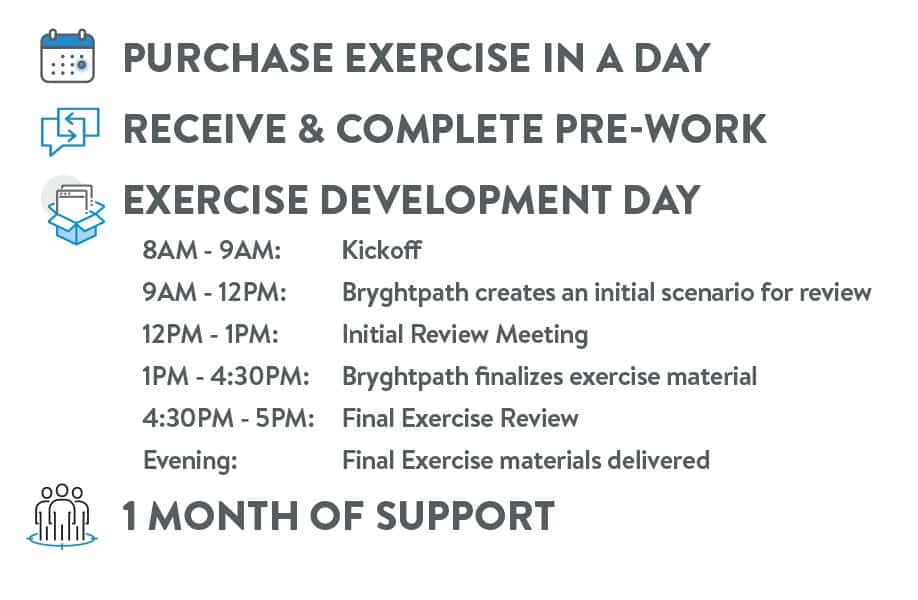 On our scheduled exercise development day, you'll meet three times with a dedicated team from Bryghtpath that will develop your custom exercise scenario and materials iteratively with your team throughout the day.
Kickoff Meeting:  8:00 AM – 9:00 AM

Discovery
Finalize the goals of the exercise
Finalize attendees and their roles
Generate rough outline & exercise ideation

Initial Review Meeting: 12:00 PM – 1:00 PM

Review the first pass of exercise material
Iterative working discussion to finalize material and injects

Final Exercise Review: 4:30 PM – 5:00 PM

Review the final completed exercise material
Capture any minor edits required to finalize the material

Later that evening, you'll receive the final deliverables + supportive material to conduct the exercise successfully
During this day, you and your team will need to be available for questions that may arise as we work through scenario development & finalize your material.  We typically do this in a shared Slack channel, but we can coordinate via email if necessary.
Meetings are typically held at the times listed above in your local timezone, but we're flexible as long as we're able to have the same amount of time between calls to develop & iterate on the Exercise in a Day™️ deliverables.
1 Month of Support
Following the delivery of your custom crisis tabletop scenario material, we'll support any minor edits or changes you need for a calendar month.
This does not include major changes to the material, such as changing the scenario or completely rewriting a tabletop move.
Can Bryghtpath Facilitate our Exercise?
We'd be happy to facilitate the exercise for you virtually (via Zoom or Microsoft Teams) or in person – we'll bring a team of two expert facilitators & evaluators to the exercise and manage all aspects from start to finish – including developing the after-action report.
Here's what's included in our Exercise in a Day™️ Facilitation Package:
Custom-developed crisis tabletop exercise – in other words, everything you read above in What's Included in Exercise in a Day.
Exercise facilitation for the entire tabletop exercise, including the post-exercise "hot wash."
Post-exercise lessons learned survey administration via our in-house survey tools.
After-Action Report drafting & delivery two weeks after the exercise has been completed.
We'll require an hour of your team's time to deliver the after-action report findings & draft.  You'll then have a week to submit your feedback on the after-action draft report.  We'll finalize the report within a week and send it to you to distribute to your stakeholders.
The advantage of having Bryghtpath facilitate your Crisis Exercise
Having experienced experts like Bryghtpath facilitate your crisis tabletop exercise has numerous advantages.
First, our team brings a wealth of knowledge and experience from managing crises across various industries, ensuring that your organization benefits from best practices and proven strategies.
Additionally, our neutral standpoint allows for unbiased evaluation and feedback, fostering an environment for proper growth and learning.
Finally, by outsourcing the facilitation to Bryghtpath, your team can fully immerse themselves in the exercise, focusing on their responses and strategies rather than the logistical and administrative aspects of running it.
​This allows for a more engaged, practical learning experience that significantly enhances your organization's crisis preparedness.
What our Customers Say
Anja K., Chief Information Security Officer (CISO)
"Having served as a Chief Information Security Officer for multiple years, I can confidently say that Bryghtpath's 'Exercise in a Day' is a game-changer. The tailored crisis management exercise they provided was comprehensive yet executed with a level of efficiency that I haven't seen elsewhere in the industry.
The Bryghtpath team was professional, their process was transparent, and the exercise was insightful. The real-time feedback during the exercise was especially beneficial for our team, pinpointing areas we needed to address and providing actionable solutions.
In my view, 'Exercise in a Day' is essential for any organization prioritizing business continuity and crisis management. It's an investment in resilience that pays dividends in the face of unexpected crises."
"As the CEO of a rapidly growing tech startup, ensuring our business resilience was always on my mind, but the thought of time-consuming and complex crisis management exercises kept us from taking action. This changed when we discovered Bryghtpath's 'Exercise in a Day.'
From our first consultation call, Bryghtpath's team not only understood our unique business needs but also efficiently worked with us to develop a custom crisis tabletop exercise. The process was surprisingly straightforward, but the result was comprehensive, insightful, and absolutely worth it.
On the day of the exercise, Bryghtpath was there every step of the way, guiding us through various scenarios and providing real-time feedback that was invaluable for our team. The experience was enlightening, revealing potential vulnerabilities we had overlooked and providing actionable strategies to address them.
Now, our team is not just aware of potential crises but is also well-prepared to tackle them head-on. The peace of mind that comes from knowing we are prepared for whatever comes our way is priceless.
I highly recommend Bryghtpath's 'Exercise in a Day' for any business leader who values resilience and preparedness. It's one day that can make all the difference in your business continuity and crisis management."
Exercise in a Day™️ is great fit for most organizations
Unleash the power of rapid crisis preparedness with Exercise in a Day. Our streamlined process condenses weeks or even months of planning into a single day, launching your organization's bespoke tabletop exercise with unrivaled efficiency.
Exercise in a Day is not just fast, but all-encompassing. Benefit from a full suite of tailored materials, including a unique tabletop scenario, an easy-to-follow facilitation guide, a detailed communications plan with pre-written messages, and a comprehensive after-action guide with a report template. All these are meticulously customized to align with your business needs.
Demystify crisis management with Exercise in a Day's clarity and simplicity. We've engineered our process and deliverables to be intuitive, ensuring every stakeholder – from the boardroom to the break room – can seamlessly understand and participate.
Experience adaptability like never before with Exercise in a Day. Opt to conduct the exercise in-house or leverage Bryghtpath's seasoned experts for virtual or on-site facilitation. The choice is entirely in your hands.
With Exercise in a Day, support doesn't end at delivery. We provide an entire month of assistance post-delivery for any minor edits, adjustments, or inquiries you might have.
Join our roster of gratified clients, from CEOs to CISOs and CSOs, who have seen a substantial surge in their organization's crisis preparedness, all while reducing workload for their internal teams, thanks to Exercise in a Day.
Exercise in a Day™️ Pricing

Watch a walkthrough of Exercise in a Day™️ with Bryghtpath CEO Bryan Strawser
Purchase Exercise in a Day™️
To purchase Exercise in a Day™️
Click on the product image above
Choose any facilitation options you wish to add to your purchase
Proceed to the checkout screen
Pay online with any major credit card, Venmo, or Paypal
You can also choose Send us an Invoice on the checkout page – we'll send you an invoice by the following business day.
Once we receive your payment in full, we'll send over the pre-work material and begin work.
Do you have tabletop scenarios that I can purchase on my own out of the box?
Bryghtpath offers two options for tabletop exercises that you can purchase out of the box and use right away in your organization.

In our experience, business teams that practice crisis, disruption, and business continuity scenarios respond faster and recover faster than teams that do not.
Managing crisis & continuity exercises for hundreds of business units worldwide is a tall order. That's why we've developed a set of crisis & continuity exercises that a business leader can execute in an hour or less – and don't require expert facilitation from a crisis management or business continuity team.
Our Exercise in a Box scenarios and materials were written by battle-tested experts in crisis management, business continuity, and crisis communications at Bryghtpath.
Learn more about Exercise in a Box >>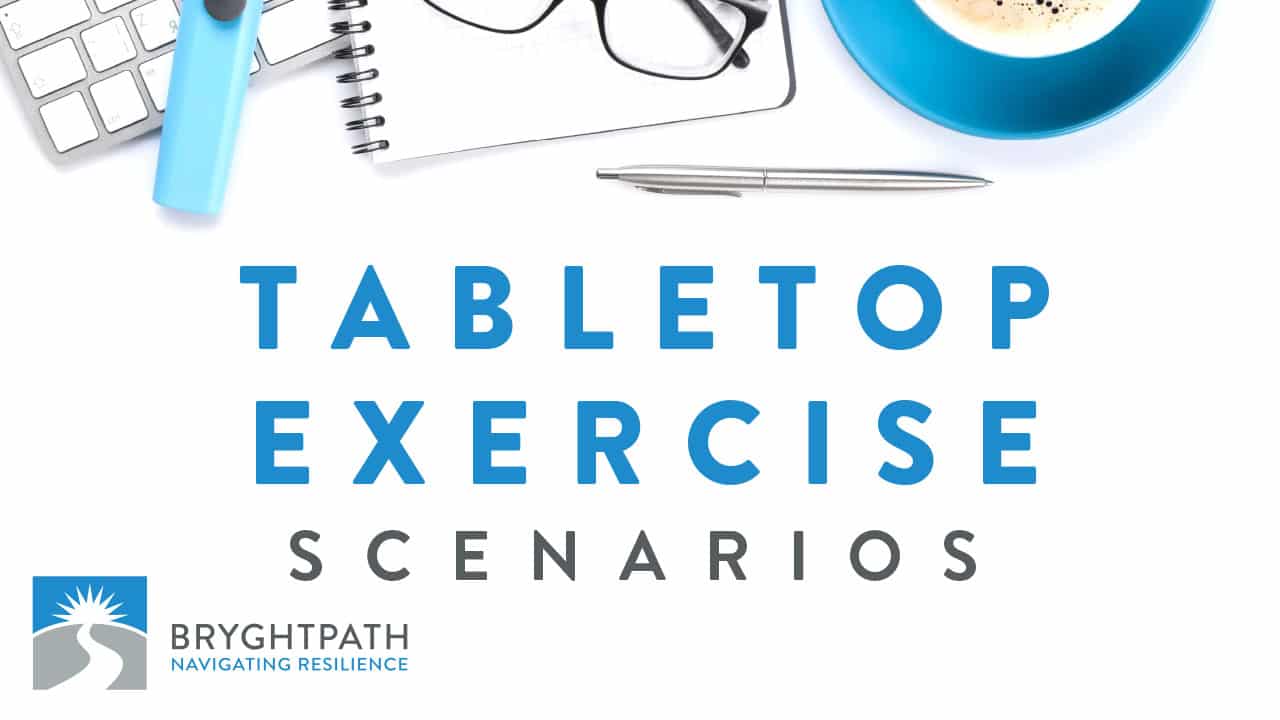 In Summer 2023, we'll launch tabletop exercise scenarios packages similar to Exercise in a Day but representing pre-packaged scenarios rather than the custom exercises available through Exercise in a Day.
Our Tabletop Exercise packages will start at $2499. Keep an eye out for their release later this year.
Additional Services
Crisis Playbook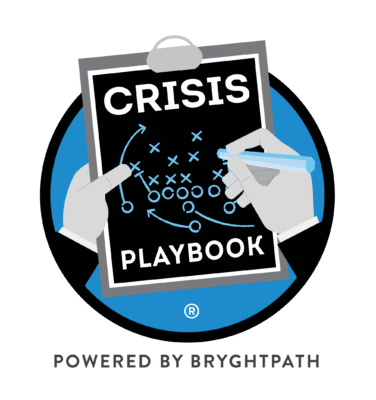 Developing custom crisis management, crisis communications, & emergency plans for your organization is an expensive and time-consuming proposition.
That's why we've developed a comprehensive set of crisis & emergency plans that you can immediately put to use within your organization.
Our Crisis Playbook™ plans were written by the battle-tested experts in crisis management, business continuity, and crisis communications at Bryghtpath. Access to expert advice and support is also available on a 24×7 basis.
Exercise in a Box is part of our Crisis Playbook brand of products.
Learn more about Crisis Playbook >>
Crisis Management & Business Continuity Services
Our strategic advisory practice develops custom solutions, including customized exercises, based on our decades of experience and expertise that address your organization's unique challenges in today's uncertain world.
We have extensive experience developing, facilitating, and evaluating complex crisis management & business continuity exercises for business teams, C-Suite Executives, and Boards of Directors.
See our case studies on Active Shooter Exercises, C-Suite Active Shooter Exercises, and Ransomware Simulation Exercises we've conducted previously.
Learn more about our Crisis Management, Business Continuity, & Crisis Communications services on our Capabilities page.
Frequently Asked Questions
Who will we work with from Bryghtpath on our Exercise in a Day?
Senior Consultant Bray Wheeler leads our Exercise in a Day work – you can learn more about Bray on his biography page.  Other principals, consultants, and analysts from our team will assist him.
What are some typical exercise scenarios that others have done?
Common exercise scenarios have included natural disasters, data breaches, cyber-extortion/ransomware events, workplace violence, industrial accidents, transportation disasters, technology outages, fires, executive malfeasance, and reputational issues.
What happens after we purchase?
Once you've made payment in full, you'll receive a kickoff email within 24 hours with a checklist of items to complete.  Once we receive your completed pre-work materials, we'll send you a link to schedule your Exercise Development Date – you'll receive your deliverables that evening after meeting with us three times throughout the day.
Can I reschedule my date once I've selected it?
Absolutely!  Just contact us at support@bryghtpath.com and we'd be happy to reschedule to another available day that works for everyone.
We have some other questions!
Send over a question via email to support@bryghtpath.com or click here to set up an Exercise in a Day call with our team to get your questions answered
Download an Exercise in a Day™️ Product Sheet, formatted for easy sharing within your organization
Recent Articles about Crisis Exercises
We write several new thought leadership articles each month.
Here are some curated articles about crisis exercises that you may find valuable.
Have questions about Exercise in a Day™️
or our other services?
We can help.
Our team has the experience, tools, and partnerships to help your organization successfully
navigate the rough waters ahead – and ensure your organization is prepared.
Send over a question via email to support@bryghtpath.com
or click here to set up an Exercise in a Day call with our team to get your questions answered