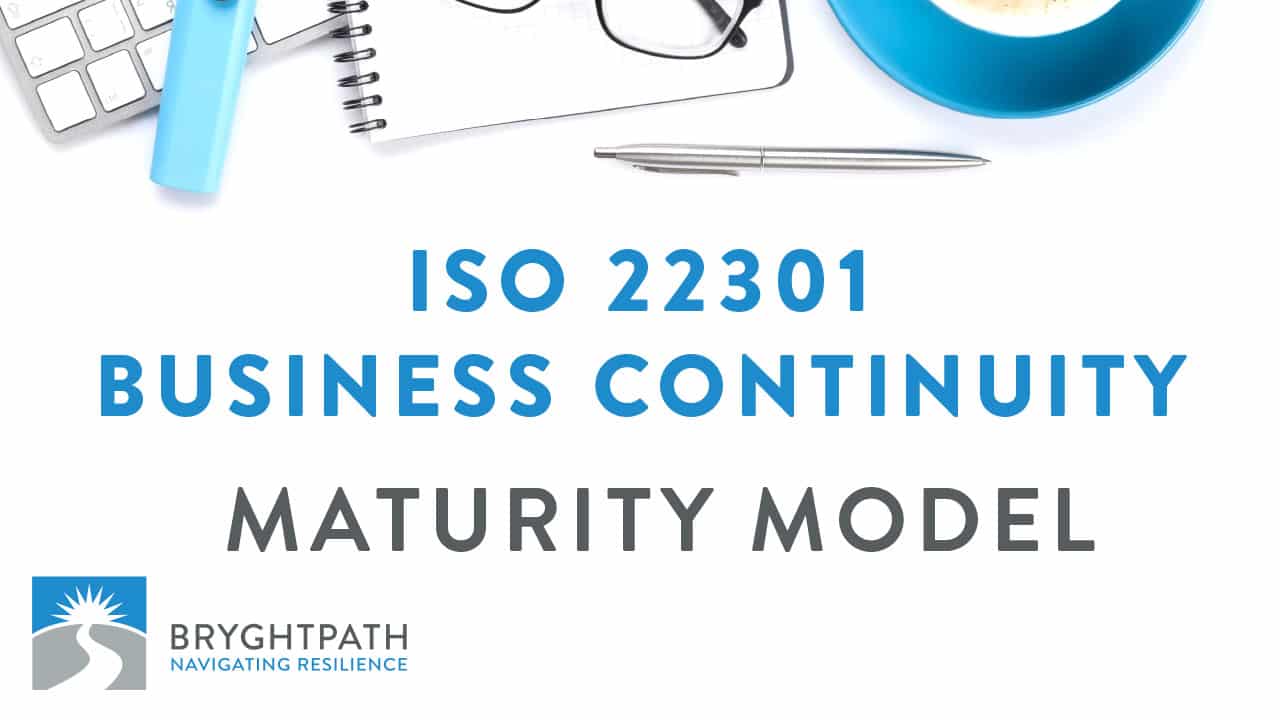 Introducing the ISO 22301 Maturity Model – your strategic tool for enhancing your Business Continuity Management System (BCMS). Crafted by our team of experts, this model is designed to help you assess and improve your business continuity program in line with the globally recognized ISO 22301 standard.
About our ISO 22301 Maturity Model for Business Continuity
Our ISO 22301 Maturity Model offers a clear, organized path to identify your BCMS's current capabilities, providing a comprehensive view of your existing processes and how well they align with the industry's best practices. This tool serves as your compass, pointing out strengths and opportunities for improvement in your organization's business continuity program.
Upon purchasing the ISO 22301 Maturity Model, you gain:
In-depth Assessment: Understand the current maturity level of your BCMS and identify key areas that need focus and improvement. Our model evaluates 12 categories consisting of 105 separate controls.
Benchmarking Insights: Compare your BCMS's maturity level with globally accepted standards, empowering your organization to align with best industry practices.
Strategic Roadmap: Beyond just identifying gaps, the model provides directions on how to address these effectively, enabling strategic planning for progress.
Performance Metrics: Utilize defined performance metrics to monitor and measure your success in achieving your business continuity objectives.
Upon purchase, you can instantly download an easy-to-use Excel Spreadsheet to start your maturity assessment journey. The tool is designed to enable your team to work at their own pace, ensuring a smooth and efficient self-assessment process.
Investing in the ISO 22301 Maturity Model is not just about improving your BCMS – it's about safeguarding your organization's operational continuity, building resilience against unforeseen disruptions, and maintaining a strong market reputation. Empower your organization to not just survive, but thrive amidst any business interruptions with our ISO 22301 Maturity Model.
Note:  We do not sell the ISO 22301 Standard – you can purchase it directly from the International Standards Organization.
The Value of Understanding your Business Continuity Program
Understanding the maturity of your business continuity program is crucial in today's volatile business environment. It offers a clear picture of your organization's readiness to withstand and recover from disruptions, which could range from natural disasters to cyber threats, power outages, or even global pandemics. By assessing your program's maturity, you gain valuable insights into your current capabilities and areas for improvement, allowing for informed, strategic decision-making. A mature business continuity program implies that your organization is well-equipped with robust processes, sufficient resources, and an ingrained culture of resilience.
Having a mature business continuity program is key to improving the resilience of your organization. A program that reaches a high level of maturity signifies that your business continuity planning is not merely a tick-box exercise but is instead fully integrated into your organization's overall strategy and operations. It shows that your organization is proactive in identifying potential threats and disruptions, capable of mitigating risks effectively, and prepared to recover operations swiftly and efficiently when disruptions occur. A mature program thus minimizes downtime, protects the organization's reputation, and ensures continued service delivery to customers.
Furthermore, understanding your business continuity program's maturity enables your organization to align with internationally recognized standards like ISO 22301. This alignment brings a host of benefits, from enhancing stakeholder confidence to gaining a competitive edge. Our ISO 22301 maturity model provides a roadmap to progress your capabilities, helping your organization evolve from reactive crisis management to a proactive and strategic approach to business continuity.
Ultimately, understanding and improving your program's maturity leads to a more resilient and robust organization, capable of navigating uncertainties and disruptions without compromising its operations or value delivery to stakeholders.
About the ISO 22301 Standard for Business Continuity
ISO 22301 is a globally recognized standard that provides guidelines for establishing and managing an effective Business Continuity Management System (BCMS). Developed by the International Organization for Standardization, this standard emphasizes the importance of understanding organizational threats, creating a robust response structure, and improving resilience to minimize the impact of potential disruptions. By adhering to ISO 22301, organizations ensure they have a comprehensive approach to manage unexpected disruptions, protecting stakeholder interests, reputation, and the overall brand.
The ISO 22301 standard has gained wide global acceptance across various industries, including IT, healthcare, finance, and manufacturing. Organizations worldwide recognize its value in establishing, implementing, maintaining, and continually improving their BCMS. Its broad use is a testament to its effectiveness in guiding businesses towards a proactive approach to business continuity, minimizing the likelihood and impact of disruptions.
Adopting the ISO 22301 standard signifies an organization's commitment to resilience and continuity in the face of potential disruptions. It provides an effective and flexible framework that can be adapted according to organizations' specific needs and contexts, regardless of their size or type. The standard's broad acceptance and use globally underline its critical role in bolstering business continuity, enhancing organizational resilience, and safeguarding an organization's ability to continue service delivery under all circumstances.
What's in our ISO 22301 Maturity Model Package
The ISO 22301 Maturity Model includes:
Overview & Leader's Guide:  The guide provides background on the ISO 22301 Standard & the COBIT 5 Maturity Scoring methodology that we use in our maturity models, along with an easy-to-use set of instructions for using the maturity model.
ISO 22301 Spreadsheet Template (Microsoft Excel):  This is the actual ISO 22301 Maturity Model spreadsheet consisting of a detailed breakdown of major and minor clauses from the ISO 22301 Standard with scoring for each – and a rollup tab that provides an easy-to-view summary of the Maturity Model scoring.
You can download and use our ISO 22301 Maturity Model immediately after purchasing.
Purchase our ISO 22301 Maturity Model - Business Continuity
What our Customers Say about Bryghtpath's Maturity Models
Linda M, Vice President, Business Continuity & IT Resilience
"As the IT VP responsible for business continuity & IT resilience at a fast-growing enterprise, the ISO 27031 Maturity Model has been a game-changer for our ITDR strategy. This comprehensive and easy-to-use tool allowed us to assess our readiness, identify gaps, and improve our resilience effectively. The model's clarity and structure have streamlined our process and motivated our teams to embrace a culture of proactive planning.
It's more than a product; it's an indispensable asset that has empowered us to meet and exceed industry standards for IT disaster recovery."
Georgia F, Business Continuity Lead
"As our firm's head of business continuity, I've found the ISO 22301 Maturity Model to be an indispensable asset. This tool has provided us with a clear and organized way to understand our current state, identify areas for improvement, and make strategic advancements in our business continuity program.
The model's ease of use and comprehensive nature allowed us to engage our team effectively, driving improvements that have directly increased our operational resilience. The model's alignment with the ISO 22301 standard also bolstered our credibility in the eyes of stakeholders, demonstrating our commitment to global best practices and business continuity.
The ISO 22301 Maturity Model is more than just a product – it's a roadmap to resilience. I wholeheartedly endorse this tool to any organization aiming to fortify their business continuity plan, safeguard operations, and instill a culture of continuous improvement."
Watch a walkthrough of our Maturity Model product with Bryghtpath CEO Bryan Strawser
Why buy the ISO 22301 Maturity Model?
Investing in the ISO 22301 Maturity Model provides organizations with a strategic roadmap to enhancing their Business Continuity Management System (BCMS). The primary value of this model lies in its structured approach to assessing your organization's current BCMS capabilities. It enables you to pinpoint strengths and weaknesses in your existing business continuity program, thereby providing a clear direction for improvement. The result is an enhanced level of organizational resilience, ensuring that business can continue as usual during and after disruptions.
Purchasing the ISO 22301 Maturity Model also allows your organization to align its BCMS with a globally recognized standard. This alignment bolsters your organization's reputation, instilling confidence in customers, stakeholders, and regulators about your commitment to business continuity. Furthermore, the model encourages a culture of continuous improvement, with the capacity for periodic reassessment and benchmarking against the evolving industry best practices. By investing in this maturity model, organizations are making a proactive commitment to safeguard their operations, protect their reputation, and ensure service delivery, no matter what disruptions they face.
Have questions about our Maturity Models
or our other services?
We can help.
Our team has the experience, tools, and partnerships to help your organization
successfully navigate the rough waters ahead – and ensure your organization is prepared.
Send over a question via email to support@bryghtpath.com.