Managing your reputation in a crisis
A reputational crisis can often come seemingly from nowhere. Suddenly, your corporation or agency is faced with the challenge of the 24×7 news cycle, an onslaught from social media, and the potential of lasting harm to your reputation. Our crisis communications consulting can assist you during your critical moments.
Bryghtpath has designed and implemented rapid response processes used by firms in the Global Fortune 100 while bringing expert advisors and spokespersons to the aid of companies facing an immediate crisis.
When your organization is facing a crisis situation or working to improve your crisis communications processes, our capabilities help deliver rapid response crisis communications consulting while working to build long-term strategies that improve your organization's resilience to an externally facing crisis situation.
Training and workshops are also available to help better prepare your internal communications teams, investor relations department, and senior management to face the press and a questioning public.
Solutions
Our crisis communications solutions can be tailored to deliver results in the following areas:
Communications advisors during an immediate crisis situation, as a member or leader of your crisis management or communications teams
On-call support and leadership as needed in a reputational crisis situation
Strategic reviews of crisis communications programs
Executive consultancy on implementing or maturing a crisis communications program
Support to communications leaders, senior executives, special committees, and Boards of Directors
Exercises for crisis leaders at all levels, including C-Suite and Boards of Directors
Partnerships with communications service providers
Training on topics including crisis communications, interview preparation, and media interactions
Ready-made, battle-tested Crisis Communications Plans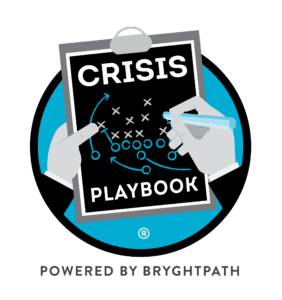 In addition to our customized options available above, we offer ready-made, battle-tested crisis management & communications plans at Crisis Playbook.
Crisis plans from Crisis Playbook come with support from experienced crisis management and communications experts, for any critical moment, such as a natural disaster, violent attack, or a reputational campaign.
Free Crisis Communications Introductory Training
Our Crisis Communications 101 Intro Course is intended to provide an introduction to the world of crisis communications and reputation management.
Our Crisis Communications Training contains five comprehensive lessons that will help you and your organization prepare for a reputation crisis. After completing this completely free training, you'll have a strong foundation to help your organization prepare for its next critical moment.
This course is completely free and is delivered via e-mail over a 5-day period – one lesson each day.
Click here to learn more about our free Crisis Communications 101 Introductory Course
Recent Crisis Communications Insights
Crisis Communications Case Studies
We have extensive, global experience evaluating, designing, implementing, maturing, and managing crisis communications programs for organizations of all sizes.
In addition, we're available during your critical moment to provide support on a short-term or long-term basis. Contact us immediately if you need assistance right now.
Learn more about our industry-specific experience or our crisis management and exercise capabilities by clicking on the applicable links.
A major global financial services firm, confronted with ongoing unwarranted challenges to their reputation, turned to Bryghtpath to develop a strategic reputation monitoring and rapid response communication process to proactively address the rising threats to their firm's reputation. Read the full case study by clicking here.
One of the world's iconic brands, struggling to protect its global footprint, turned to Bryghtpath to develop and operationalize a new global intelligence strategy and 24×7 intelligence center to monitor and react in real-time as events threatened their people and assets around the globe. Read the full case study here.
Bryghtpath was approached by a regional air carrier to assist in developing their crisis management and communications approach for a major aviation disaster. Bryghtpath developed a customized crisis management framework and crisis communications messaging for an aviation situation that fit the organization's unique needs.
Bryghtpath worked with a major financial institution with a corporate aviation program to develop an aviation incident plan that integrated with their existing enterprise crisis management program. Bryghtpath developed the plan, advised on crisis communications and internal communications messaging, and led an exercise of the plan with the applicable internal teams and outside resources.
A global manufacturing firm, based in the midwestern United States, turned to Bryghtpath for assistance in a number of areas, including managing a growing reputational crisis within its Asia operations. Bryghtpath devised both internal and external communications to contain the risk to the organization.
Get a copy of our full services & capabilities guide
We can help.
Let the experts at Bryghtpath put their decades of experience to work for your organization
Our team has the experience, tools, and partnerships to help your organization successfully navigate the rough waters ahead – and ensure your organization is prepared.