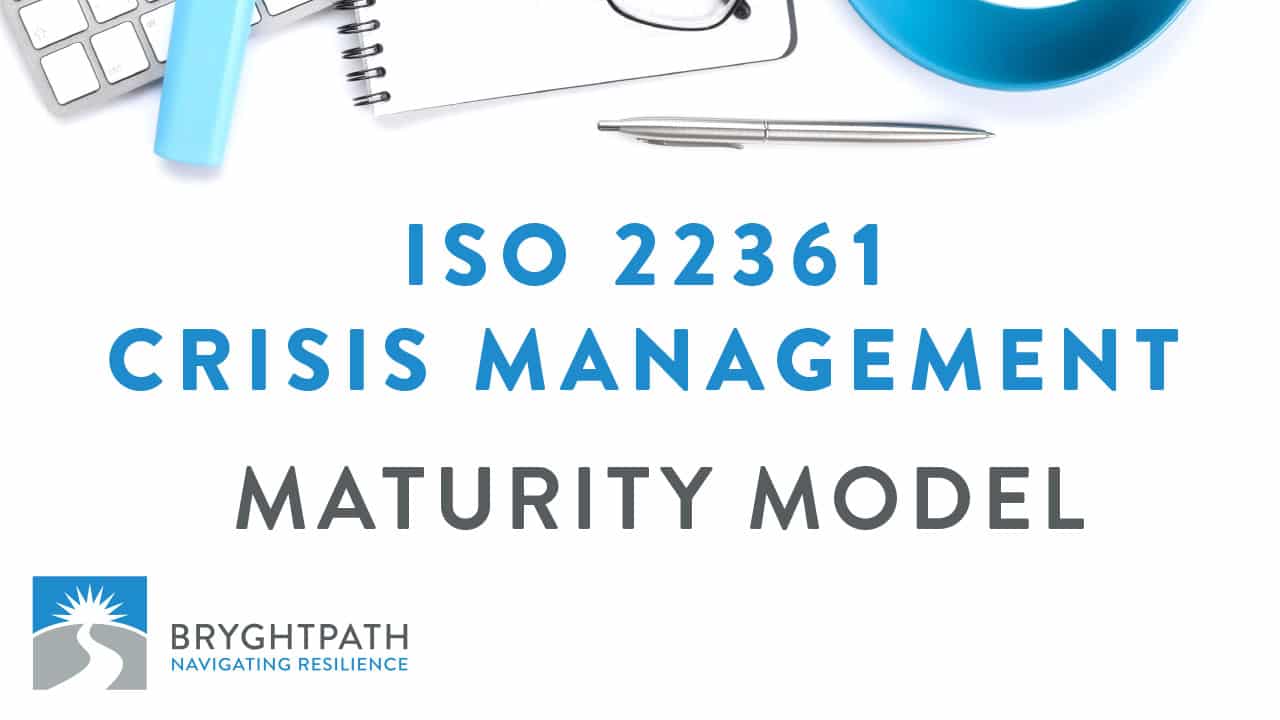 Introducing the ISO 22361 Maturity Model – your strategic tool for enhancing your Crisis Management Program.  Crafted by our team of experts, this model is designed to help you assess and improve your crisis management program in line with the globally recognized ISO 22361 standard.
About our ISO 22361 Maturity Model for Crisis Management
Our ISO 22361 Maturity Model offers a clear, organized path to identify your crisis management program's current capabilities. It provides a comprehensive view of your existing processes and how well they align with the industry's best practices. This tool serves as your compass, pointing out strengths and opportunities for improvement in your organization's crisis management program.
Upon purchasing the ISO 22361 Maturity Model, you gain:
In-depth Assessment: Understand the current maturity level of your crisis management program and identify key areas that need focus and improvement. Our model evaluates X categories consisting of X separate controls.
Benchmarking Insights: Compare your crisis management program's maturity level with globally accepted standards, empowering your organization to align with best industry practices.
Strategic Roadmap: Beyond just identifying gaps, the model provides directions on how to address these effectively, enabling strategic planning for progress.
Performance Metrics: Utilize defined performance metrics to monitor and measure your success in achieving your crisis management objectives.
Upon purchase, you can instantly download an easy-to-use Excel Spreadsheet to start your maturity assessment journey. The tool is designed to enable your team to work at their own pace, ensuring a smooth and efficient self-assessment process.
Note:  We do not sell the ISO 22361 Standard – you can purchase it directly from the International Standards Organization.
The Value of Understanding your Crisis Management Program's Maturity
Understanding the maturity level of a crisis management program holds intrinsic value for an organization, serving as both a diagnostic tool and a strategic compass. It creates a robust framework for gauging the effectiveness of existing processes, identifying strengths that can be further leveraged and weaknesses that demand immediate attention. By having a clear understanding of program maturity, an organization can allocate resources more efficiently, focusing investments on areas that yield the greatest improvements in resilience and response capabilities. This granularity in understanding enables not just reactive measures, but also proactive strategies that can preempt potential crises or mitigate their impact.
The benefits extend beyond immediate operational gains, creating a ripple effect that permeates through the entire organizational ecosystem.
A well-matured crisis management program directly influences stakeholder confidence—whether it's employees, customers, or investors—by demonstrating a clear commitment to stability and resilience. Furthermore, it provides a competitive edge, particularly for organizations in sectors where risk and uncertainty are endemic.
Our maturity model acts as a vehicle for continuous improvement, promoting an organizational culture that values foresight, meticulous planning, and agile response mechanisms. This culture of preparedness serves to reinforce not just operational stability, but also organizational reputation, thereby making the understanding of program maturity a cornerstone in the strategic management of any contemporary enterprise.
About the ISO 22361 Standard for Crisis Management
The ISO 22361 standard serves as a pivotal framework for crisis management, providing organizations with a comprehensive set of guidelines to navigate through crises effectively. Established by the International Organization for Standardization, this standard delves into aspects like crisis identification, planning, response, recovery, and learning.
It covers the breadth of crisis management activities, from pre-crisis preparation and risk assessment to post-crisis evaluation.
The standard outlines the key roles, responsibilities, and processes that organizations should adopt to manage crises in a streamlined and effective manner. It places a high emphasis on multi-disciplinary approaches that involve not just organizational leadership but also various stakeholder groups, thereby ensuring a holistic response strategy.
The adoption of ISO 22361 serves multiple functions, setting a high benchmark for crisis management practices. It allows organizations to align their existing protocols with globally recognized best practices, thereby enhancing the credibility and resilience of their crisis management frameworks. Organizations using ISO 22361 as a foundation are better prepared to mitigate the impacts of various crises, be they natural disasters, cyber threats, or reputational issues.
The standard facilitates a unified, structured programmatic approach to crisis management, which in turn enables quick decision-making, effective communications, and rapid recovery. As such, the ISO 22361 standard serves as both a roadmap for initial crisis management planning and a touchstone for continual improvement in an ever-changing risk landscape.
What's in our ISO 22361 Maturity Model Package
The ISO 22361 Maturity Model includes:
Overview & Leader's Guide:  The guide provides background on the ISO 22361 Standard & the COBIT 5 Maturity Scoring methodology that we use in our maturity models, along with an easy-to-use set of instructions for using the maturity model.
ISO 22361 Spreadsheet Template (Microsoft Excel):  This is the actual ISO 22361 Maturity Model spreadsheet consisting of a detailed breakdown of major and minor clauses from the ISO 22361 Standard with scoring for each – and a rollup tab that provides an easy-to-view summary of the Maturity Model scoring.
You can download and use our ISO 22361 Maturity Model immediately after purchasing.
Purchase our ISO 22361 Maturity Model - Crisis Management
What our Customers Say about Bryghtpath's Maturity Models
Abby C, Business Continuity Director
"As a Business Continuity Director, ensuring resilience and readiness in the face of disruptions is paramount. The ISO 22301 Maturity Model has been a game-changer for our business continuity program. It gave us a comprehensive, structured approach to assess our current capabilities, identify gaps, and strategically plan for improvements. This easy-to-use tool has been instrumental in aligning our processes with global standards and instilling a proactive culture of continuous improvement within our teams.
Since implementing this model, we've seen tangible enhancements in our Business Continuity Program. The progress tracking capabilities have helped us monitor our journey towards improved resilience and preparedness. This model has become a pivotal part of our business continuity strategy, and it's a worthwhile investment for any organization looking to bolster its resilience.
I highly recommend the ISO 22301 Maturity Model to any organization committed to ensuring business continuity. It's not just a tool; it's an invaluable asset for safeguarding your operations and reputation in today's uncertain business landscape."
Georgia F, Business Continuity Lead
"As our firm's head of business continuity, I've found the ISO 22301 Maturity Model to be an indispensable asset. This tool has provided us with a clear and organized way to understand our current state, identify areas for improvement, and make strategic advancements in our business continuity program.
The model's ease of use and comprehensive nature allowed us to engage our team effectively, driving improvements that have directly increased our operational resilience. The model's alignment with the ISO 22301 standard also bolstered our credibility in the eyes of stakeholders, demonstrating our commitment to global best practices and business continuity.
The ISO 22301 Maturity Model is more than just a product – it's a roadmap to resilience. I wholeheartedly endorse this tool to any organization aiming to fortify their business continuity plan, safeguard operations, and instill a culture of continuous improvement."
Watch a walkthrough of our Maturity Model product with Bryghtpath CEO Bryan Strawser
Why buy the ISO 22361 Maturity Model?
Investing in Bryghtpath's ISO 22361 Maturity Model offers organizations an invaluable blueprint for fortifying their Crisis Management Programs. This rigorously designed tool leverages the ISO 22361 Standard and the COBIT 5 Maturity Scoring methodology to furnish you with a granular analysis of your crisis management capabilities. This enables your organization to identify areas of robustness and vulnerability with surgical precision.
Armed with these insights, you can enact targeted improvements, thereby elevating your organization's overall resilience against crises. The end result is a crisis management framework that stands as a bulwark against uncertainty, enabling you to operate with confidence even amidst turbulent conditions.
The purchase of our ISO 22361 Maturity Model signifies more than just an investment in crisis management; it is an unequivocal statement about your organization's commitment to operational excellence and stakeholder assurance.
Aligning your crisis management program with this globally respected standard amplifies your credibility in the eyes of customers, stakeholders, and regulators alike.
Our Maturity Model not only supports immediate operational gains but also fosters a culture of continuous improvement. It provides a scaffold for recurring assessments, allowing your organization to keep pace with evolving best practices and stakeholder expectations. This proactive approach not only safeguards your operational integrity but also fortifies your organizational reputation, making you an exemplar of crisis readiness and managerial acumen.
Have questions about our Maturity Models
or our other services?
We can help.
Our team has the experience, tools, and partnerships to help your organization
successfully navigate the rough waters ahead – and ensure your organization is prepared.
Send over a question via email to support@bryghtpath.com.