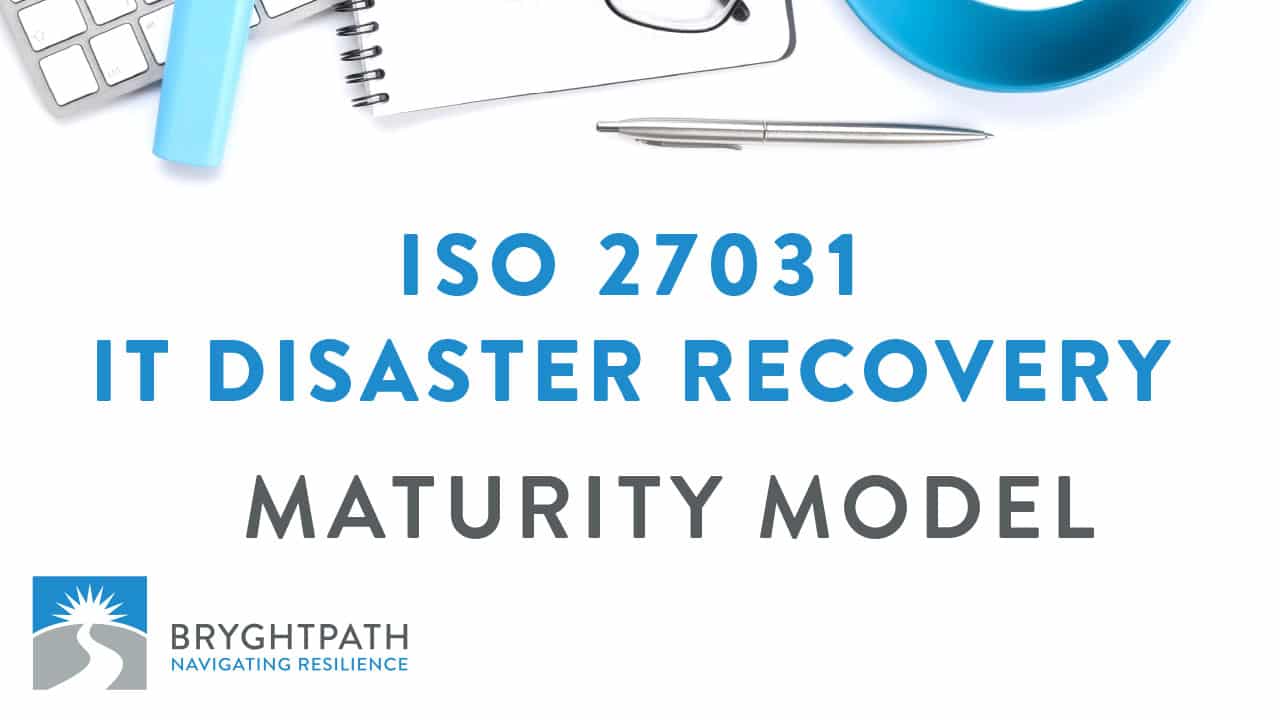 Introducing the ISO 27031 Maturity Model, an innovative tool specially designed to help businesses assess, enhance, and optimize their IT Disaster Recovery (ITDR) program. Brought to you by our trusted team of experts, this model adheres to the ISO 27031 international standard, ensuring your company is prepared to handle any IT disruptions effectively.
About our ISO 27031 Maturity Model for IT Disaster Recovery
Our ISO 27031 Maturity Model provides a detailed analysis of your existing ITDR capabilities, helping you pinpoint your strengths and areas needing improvement. This comprehensive framework is tailored to equip your business with the critical elements to manage risks, maintain essential operations, and ensure resilience in your IT landscape.
With the ISO 27031 Maturity Model, you gain access to:
Detailed Assessment: Navigate through your ITDR program in an organized, logical manner. Understand the maturity level of your program and identify key areas to focus on for improvement.
Insightful Benchmarking: Compare your ITDR program's maturity level with industry best practices. This empowers you to align your disaster recovery strategies with globally recognized standards.
Strategic Roadmap: The model doesn't just highlight areas of improvement; it also guides how to address these gaps effectively, enabling you to plan your progress strategically.
Performance Metrics: Evaluate your progress using defined performance metrics to ensure you are on track and achieving your ITDR objectives.
Our ISO 27031 Maturity Model is more than just a tool—it's an investment towards enhancing your organization's resilience, ensuring you can confidently face any IT disruption that comes your way. Equip your business with the capacity to survive and thrive in the face of IT disasters.
Note:  We do not sell the ISO 27031 Standard – you can purchase it directly from the International Standards Organization.
The Value of Understanding Your IT Disaster Recovery Program Maturity
Understanding the maturity of your IT Disaster Recovery (ITDR) strategy is paramount in today's digital age, where businesses increasingly rely on technology for every facet of their operations. A comprehensive ITDR strategy safeguards your organization against the catastrophic effects of unexpected IT disruptions, such as data breaches, hardware failures, and natural disasters.
By evaluating your ITDR strategy's maturity, you understand your organization's current resilience capabilities and readiness to handle these disruptions. It provides a realistic picture of your strengths, weaknesses, and improvement opportunities, enabling you to make more informed decisions.
Having a mature ITDR strategy is key to improving the resilience of your organization's technologies. A well-structured and mature ITDR strategy means your organization has clearly defined processes, well-trained personnel, reliable technologies, and comprehensive documentation. It means you can effectively prevent, respond to, and recover from IT-related incidents, minimizing downtime and associated costs. Additionally, it ensures that you can maintain and quickly restore mission-critical functions following a disruption, reducing the potential for damage to your brand's reputation and customer trust.
Moreover, understanding the maturity of your ITDR strategy allows you to align your business continuity goals with industry best practices and standards such as ISO 27031. It provides you with a roadmap to advance your capabilities, identifying where investments in resources or technology could significantly improve IT resilience. In essence, evaluating your ITDR strategy's maturity is not just about managing risk; it's about enabling your organization to continue delivering value to its customers and stakeholders, even in the face of adversity. This understanding leads to a more resilient, agile, and competitive organization in an ever-evolving digital landscape.
About the ISO 27031 Standard for IT Disaster Recovery
ISO 27031 is an international standard that provides a comprehensive framework for implementing and managing information and communication technology (ICT) services for business continuity.
Developed by the International Organization for Standardization (ISO), it is a universally recognized guideline for businesses to ensure their ICT services are resilient and can effectively respond to unexpected disruptions, such as cyber threats, technical failures, or natural disasters.
This standard defines the concepts and principles for protection and recovery and ensures that an organization can continue its operations even when its ICT services are compromised.
ISO 27031 is widely accepted and used globally across various sectors, including finance, healthcare, IT, manufacturing, and public service. It is considered the benchmark for best practices in ICT disaster recovery, underpinning the fundamental need for proper risk management, business continuity planning, and incident response.
Organizations that adhere to this standard demonstrate a commitment to safeguarding their operations and ensuring continuity in the face of ICT disruptions.
The broad adoption of ISO 27031 illustrates the universal importance of ICT resilience in today's digital landscape. It offers a flexible and adaptable approach, accommodating the diverse needs of organizations of all sizes and types. This acceptance attests to the standard's effectiveness in enhancing an organization's ability to manage ICT disruptions, ensuring business continuity, protecting stakeholder interests, and maintaining a strong reputation in the market.
What's in our ISO 27031 Maturity Model Package
The ISO 27031 Maturity Model includes:
Overview & Leader's Guide:  The guide provides background on the ISO 27031 Standard & the COBIT 5 Maturity Scoring methodology that we use in our maturity models along with an easy to use set of instructions for using the maturity model itself.
ISO 27031 Spreadsheet Template (Microsoft Excel):  This is the actual ISO 27031 Maturity Model spreadsheet consisting of a detailed breakdown of major and minor clauses from the ISO 27031 Standard with scoring for each – and a rollup tab that provides an easy to view summary of the Maturity Model scoring.
You'll be able download and put our ISO 27031 Maturity Model to use immediately after purchasing.
Purchase our ISO 27031 Maturity Model - IT Disaster Recovery
What our Customers Say about Bryghtpath's Maturity Models
Abby C, Business Continuity Director
"As a Business Continuity Director, ensuring resilience and readiness in the face of disruptions is paramount. The ISO 22301 Maturity Model has been a game-changer for our business continuity program. It gave us a comprehensive, structured approach to assess our current capabilities, identify gaps, and strategically plan for improvements. This easy-to-use tool has been instrumental in aligning our processes with global standards and instilling a proactive culture of continuous improvement within our teams.
Since implementing this model, we've seen tangible enhancements in our Business Continuity Program. The progress tracking capabilities have helped us monitor our journey towards improved resilience and preparedness. This model has become a pivotal part of our business continuity strategy, and it's a worthwhile investment for any organization looking to bolster its resilience.
I highly recommend the ISO 22301 Maturity Model to any organization committed to ensuring business continuity. It's not just a tool; it's an invaluable asset for safeguarding your operations and reputation in today's uncertain business landscape."
Linda M, Vice President, Business Continuity & IT Resilience
"As the IT VP responsible for business continuity & IT resilience at a fast-growing enterprise, the ISO 27031 Maturity Model has been a game-changer for our ITDR strategy. This comprehensive and easy-to-use tool allowed us to assess our readiness, identify gaps, and improve our resilience effectively. The model's clarity and structure have streamlined our process and motivated our teams to embrace a culture of proactive planning.
It's more than a product; it's an indispensable asset that has empowered us to meet and exceed industry standards for IT disaster recovery."
Watch a walkthrough of our Maturity Model product with Bryghtpath CEO Bryan Strawser
Why buy the ISO 27031 Maturity Model?
Investing in the ISO 27031 Maturity Model provides organizations with a structured, standardized approach to evaluating and enhancing their IT Disaster Recovery (ITDR) strategy. One of the key values of this model is its ability to identify strengths and gaps in current processes, enabling organizations to make informed decisions about their disaster recovery plans. The result is a more robust, resilient, and efficient IT infrastructure that minimizes the impact of potential disruptions on business operations.
Purchasing the ISO 27031 Maturity Model offers the advantage of aligning your organization's ITDR strategy with globally recognized standards. It provides a strategic roadmap towards improved resilience, directing your resources effectively towards critical areas of improvement. Furthermore, it encourages a culture of continuous improvement, as the model allows for ongoing assessment and benchmarking against industry best practices. By investing in this maturity model, organizations not only safeguard their operations but also enhance their market reputation, demonstrating a commitment to reliability and continuity that is valued by customers, stakeholders, and partners alike.
Have questions about our Maturity Models
or our other services?
We can help.
Our team has the experience, tools, and partnerships to help your organization successfully navigate the rough waters ahead – and ensure your organization is prepared.
Send over a question via email to support@bryghtpath.com.