Understanding and implementing data center disaster recovery best practices is crucial for any organization looking to protect its critical data and maintain business operations in the face of potential disasters. From natural disasters to system downtime, a robust disaster recovery plan can help your organization navigate uncertainty strategically, ensuring high availability even when disaster strikes.
In this article, we'll look into the complexities of constructing a sound disaster recovery plan. We'll explore various technical solutions that aid in efficient disaster recovery planning while emphasizing the importance of setting realistic recovery time objectives and point objectives.
We will also discuss strategies specific to data center disaster recovery. Here you will learn how physical servers play a role in your overall strategy and what measures should be taken to prevent significant data loss. Lastly, we'll connect these concepts with broader business continuity efforts, highlighting how they intertwine for maximum operational resilience.
Table of Contents:
1. Understanding Data Center Disaster Recovery Best Practices
In the digital age, data is like gold for businesses. So, knowing the best practices for data center disaster recovery is crucial. You don't want to be caught with your servers down when disaster strikes.
Data centers face various threats, from natural disasters like floods and earthquakes to cyber-attacks and power outages. These events can halt your operations, leading to financial losses and harming your brand.
Assessing potential risks to your data center is essential for creating an effective disaster recovery plan. Identify the vulnerabilities in your data center infrastructure and develop strategies to address them. You want to keep your operations running smoothly, even in a crisis.
Risk Assessment and Business Impact Analysis (BIA)
Assessing risks is like playing detective. You must identify the threats and understand how they could impact your critical systems and processes. By understanding the threats and their potential impact, you can determine where to allocate your resources best.
For a deeper dive, check out the Business Impact Analysis (BIA). It examines how disruptions affect your financial performance, operational efficiency, and legal compliance. It's like a crystal ball for post-disruption chaos.
Data Backup Strategy
Backing up your data is like having a spare key. It's essential for any disaster recovery plan. Regular backups ensure that even if your primary systems fail, you can restore from a recent copy and minimize downtime. It's like hitting the undo button on a disaster.
Disaster Recovery Testing
To ensure your disaster recovery plan is reliable, testing it against potential scenarios is essential. Simulate real-life scenarios and see how it holds up. Testing helps you identify gaps in your plan and make adjustments before a crisis hits. Gartner states, "Only 35% of companies test their DR plans at least once per year."
Don't be part of the 65% playing Russian roulette with their data.
Key Takeaway: 
Understanding Data Center Disaster Recovery Best Practices: Assessing risks and conducting a Business Impact Analysis (BIA) are crucial steps in disaster recovery planning, helping businesses prioritize resources and focus on what matters most. Regular data backups act as a spare key, allowing for quick restoration of systems in the event of failure. Testing the disaster recovery plan is essential to identify gaps and make adjustments before a crisis occurs.
Developing an Effective Disaster Recovery Plan
In today's digital age, data is the lifeblood of any organization. So, having a disaster recovery plan isn't just a best practice – it's a business imperative. A well-structured plan can differentiate between minimal downtime and a data loss disaster.
Analyze the hazards that could arise, such as floods, earthquakes, cyber assaults or equipment breakdowns. Identify potential threats like floods, earthquakes, cyber-attacks, or equipment failure. Envisioning the potential consequences of risks is essential to developing effective strategies.
Once you know the risks, it's time to develop strategies to mitigate them. If your data center is flood-prone, maybe consider a backup facility on higher ground. It's like building an ark but for your data.
Testing, testing, 1, 2, 3. Regularly test your disaster recovery plan under realistic conditions. As Professor Robert Fichman says, "The only way to be sure your plans work is by testing them." It's like a fire drill but for your data.
Risk Assessment: Identify potential threats and vulnerabilities that could disrupt your data center operations. Learn more.
Mitigation Strategies: Develop contingency plans for each risk factor. It's like having a safeguard for your contingency plan. Read more.
Frequent Testing: Regularly test the effectiveness of your disaster recovery procedures. It's like practicing your data-saving superhero moves. Find out why.
But wait, there's more. Train your staff to respond to disasters. From IT pros to regular employees, everyone should know their role. It's like a disaster response boot camp for your team.
And don't forget about communication. A clear chain of command and regular updates keep everyone in the loop. It's like a well-orchestrated symphony of disaster response.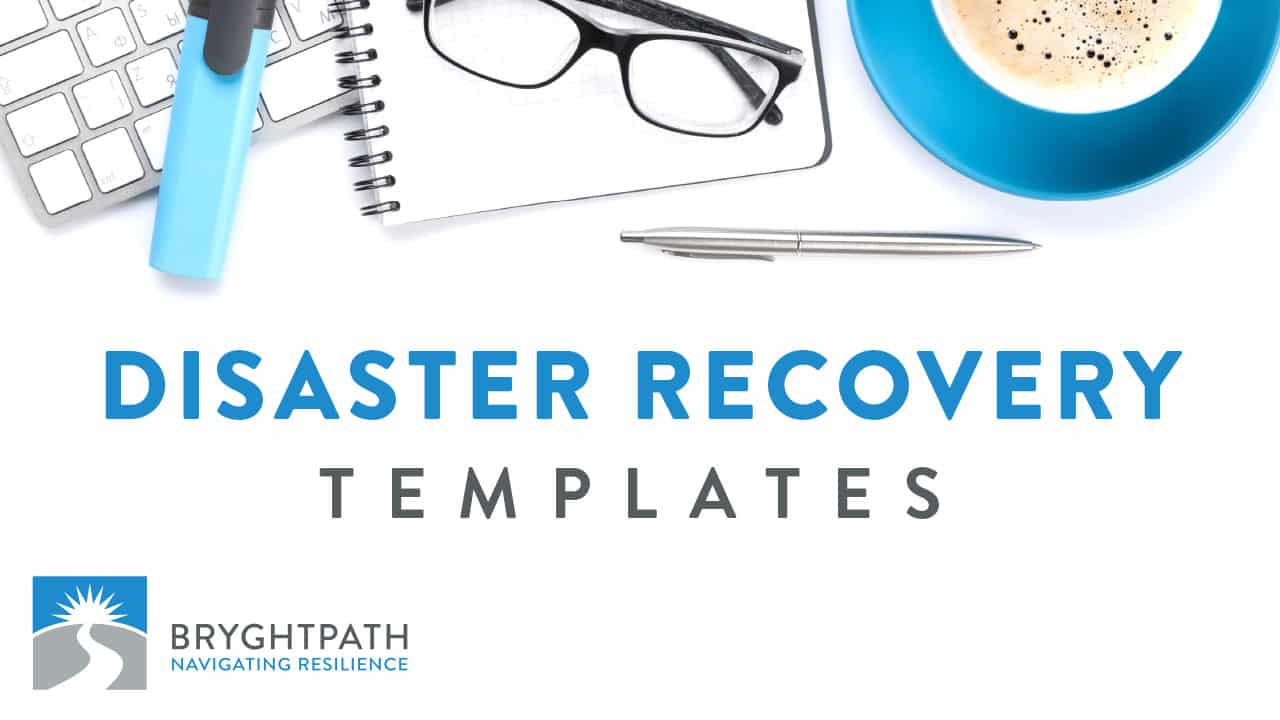 Now you can get the exact battle-tested plan templates we use for our work with clients as we build out their custom IT disaster recovery plans.
Investing in Technical Solutions for Disaster Recovery
Organizations must remain on the cutting edge by investing in disaster recovery solutions to keep up with rapidly changing technology. One such solution is cloud computing, a secure and scalable way to store and manage data.
Cloud computing offers cost-effectiveness, scalability, and flexibility. You only pay for what you need and can increase or decrease capacity as required. In addition, cloud computing provides a robust security layer to protect against data breaches.
Virtualization is another key tool in your disaster recovery arsenal. It creates virtual versions of devices like servers, making your IT infrastructure more resilient.
A study by Gartner predicts that "By 2025, 85% of infrastructure strategies will integrate on-premises, colocation, cloud, and edge delivery options." So, virtualization is a must-have for your disaster recovery strategy.
The third pillar of disaster recovery plans is backup systems. They're like safety nets when all else fails. A reliable backup system should be automated and include off-site storage to protect against local disasters.
Data loss can cripple an organization, but a reliable backup system can significantly mitigate this risk. According to Mike Chapple, Senior Director at Notre Dame University's Office Of Information Technologies, "The average cost of downtime per hour ranges from $140K for small businesses to $540K for large enterprises." So, investing in robust backup systems can save millions during crises.
Investing in technical solutions isn't just about following tech trends. It's about strategically utilizing these tools as part of a comprehensive business continuity planning process, including effective data center disaster recovery measures.
Implementing Strategies for Data Center Disaster Recovery
It is essential to safeguard your data center from potential catastrophes in the constantly changing realm of data management. Three key strategies to consider are redundancy, replication, and failover.
Redundancy: Double the Fun
Redundancy is like having a backup plan for your backup plan. It involves creating multiple copies or backups of data to protect against loss during a disaster. It's the ultimate insurance policy for your digital assets.
Data Replication: Copycat Protection
Data replication is all about making copies of your precious data and storing them in different locations. If your primary data is compromised due to a fire or power outage, you can still rely on having an up-to-date version of it accessible through replicating and storing multiple copies in various locations. It's like having a clone army of your data.
Failover Systems: The Backup's Backup
A failover system is like having a superhero sidekick. If the primary systems fail, it automatically switches operations to a standby server or network. It's the ultimate wingman, ensuring continuous availability and access during crises.
But wait, there's more. Consider building geographically dispersed infrastructures (aka geo-diversity) and regularly testing your disaster recovery plans. Geo-diversity spreads your resources across the globe, reducing the risk of regional catastrophes. And testing? Well, it's like a fire drill for your data center – ensuring everything works when the heat is on.
Connecting Business Continuity with Data Center Disaster Recovery
You can't afford to have disconnected plans in the wild world of business continuity and disaster recovery. They need to be BFFs – interconnected and mutually supportive. Especially when it comes to connecting business continuity with data center disaster recovery.
A well-crafted business continuity plan (BCP) keeps your organization running smoothly during any crisis, even if it's a data center disaster. On the flip side, a robust data center disaster recovery plan focuses on getting your IT infrastructure back up and running after a major disruption.
These two plans shouldn't be loners – they need to work together like peanut butter and jelly to minimize downtime and restore operations quickly after a catastrophe.
Why Connect Business Continuity With Data Center Disaster Recovery?
Data centers are like the beating heart of modern businesses – they house all the important stuff like applications, databases, servers, and network devices. Any disruption can cause major headaches and cost you a pretty penny. Gartner says the average hourly downtime cost for organizations is a whopping $300K – yikes.
Making The Connection: Best Practices
Risk Assessment: Identify potential threats to your data center, like natural disasters or cyber attacks, that could mess up your operations.
Create A Cross-functional Team: Bring together the BC planning team and the IT department to ensure everyone understands how to smoothly transition from normal operations to emergency response.
Crisis Communication Plan: Set up clear communication channels so everyone knows what's happening and gets regular updates on the situation.
Frequent Testing And Updating Of Plans: Test your BCPs and DRPs regularly under different scenarios and learn from those tests or real-life events to make improvements.
To wrap it up without being too formal, remember that integrating business continuity with data center disaster recovery isn't a choice – it's a must. By doing so, you're taking steps to protect your organization from the devastating impacts of unexpected disruptions.
Key Takeaway: 
Connecting business continuity with data center disaster recovery is crucial for minimizing downtime and restoring operations quickly after a catastrophe. Best practices include conducting risk assessments, creating cross-functional teams, establishing clear communication channels, and regularly testing and updating plans to ensure preparedness. By integrating these two plans like peanut butter and jelly, organizations can protect themselves from the costly impacts of unexpected disruptions.
FAQs in Relation to Data Center Disaster Recovery Best Practices
What are some of the best practices for disaster recovery?
Best practices include doing risk assessments, creating a kick-ass plan, testing and updating it regularly, and making sure you have backups like a boss.
What is disaster recovery for data centers?
Disaster recovery for a data center is all about getting your operations back up and running after a major screw-up or a natural disaster.
What are the three types of recovery site strategies in disaster recovery?
The three types are hot sites (fully operational), warm sites (partially operational), and cold sites (non-operational, like a frozen tundra).
What is the best method for disaster recovery in cloud computing?
The best method is often multi-region replication, which means you're ready to bounce back faster than a kangaroo on a trampoline.
Conclusion
By developing an effective disaster recovery plan, investing in technical solutions, and implementing data center disaster recovery strategies, businesses can minimize downtime and mitigate the impact of any unforeseen events.
Connecting business continuity with data center disaster recovery allows organizations to align their overall risk management efforts and prioritize critical functions.
Want to work with us or learn more about closing the gap between business continuity & IT disaster recovery?