We're often asked about how we work at Bryghtpath. Questions often range from "how did you get your business started?", to "Do you have a contract template that you can share?", and even "How did you get your website setup and designed?".
In this blog series, kicking off the new year, I hope to pull back the curtain a bit and share some of the history, processes, tools, and approach that we use to underpin our rapidly growing small business.
In this post, we're going to focus on collaboration tools that we use at Bryghtpath.
Background
Before we start getting into the details, it's important to understand a bit about Bryghtpath.
We're a small business – a global strategic consulting firm, or "consulting firm" if you wish, that specializes in global risk, business continuity, crisis / emergency management, intelligence, and crisis communications. Our clients, which range from small and medium businesses to some of the world's leading brands and public sector agencies, are based all around the world. Meanwhile, we're based in Shoreview, Minnesota, just north of the Twin Cities.
Because of this, our team is geographically dispersed – with a couple of us living in close proximity to the office, another living about 90 minutes away, and yet another living in Jacksonville, Florida.
We don't really care where someone lives or works – we care that they fit culturally within our organization, that they can contribute to the team in the ways that we're looking for, and that they have the maturity and interest in working remotely.
We aim to get the team together once or twice a year to review goals and strategies and continue to grow the relationships amongst the team.
Collaboration
We use a number of tools to collaborate amongst the team throughout the course of the day. Having come from an e-mail heavy environment, I was determined to try and avoid that as much as possible and pushed the team towards using other, more efficient collaboration tools.
For our team at Bryghtpath, that has been the use of Basecamp and Slack.
Basecamp:  Project & Team Collaboration
Given the diverse number of projects, engagements, and to-dos our team deals with on a weekly basis – and the need to collaborate with our clients on many of these efforts – we knew at the start of Bryghtpath that we'd need some sort of project management and collaboration tool.
I had come from an environment where tools like Microsoft Project and Smartsheet were commonly used, along with other enterprise class project management tools. None of these really did what we needed in terms of combining project management and team collaboration.
Enter Basecamp.
Basecamp is a cloud-based tool designed to organize your communication, projects, and client work. It's literally the one-stop shop and single source of truth for us to store all of this information in an interconnected manner. You can see how Basecamp works in this short 2-minute video.
We use Basecamp for a number of tasks that it was designed for, including:
Project management – particularly to-do tracking
Tracking client discussions
Internal team collaboration that requires more thoughts/discussion than what we do in Slack (see below for an example)
Automatic check-ins for complete team transparency on what folks are working on and accomplished each day
Document collaboration – particularly for meeting agendas, reference documents, policies, etc
Capturing client sign-offs and acceptance
Basecamp is multi-platform – with a web interface and native applications for iOS, Android, Mac OS X, and Windows – this allows us to use it on any device we bring to the battle.
Let's take a look at a couple ways that we use Basecamp.
Eliminating Meetings – What did you work on today?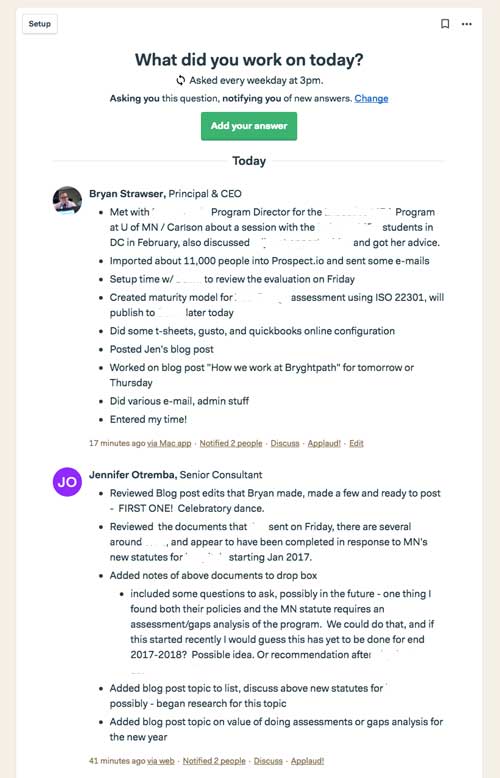 Every day at 3:00pm CST, our team gets a notification within Basecamp that simply asks "What did you work on today?" — our internal expectation for each other is that this is completed before the day is out and submitted. The answers are emailed out to the rest of the team.
This simple 3-5 minute action has eliminated the need for most meetings to understand who is doing what, how they spent their time today, and what progress was made.
Eliminating the back and forth via message boards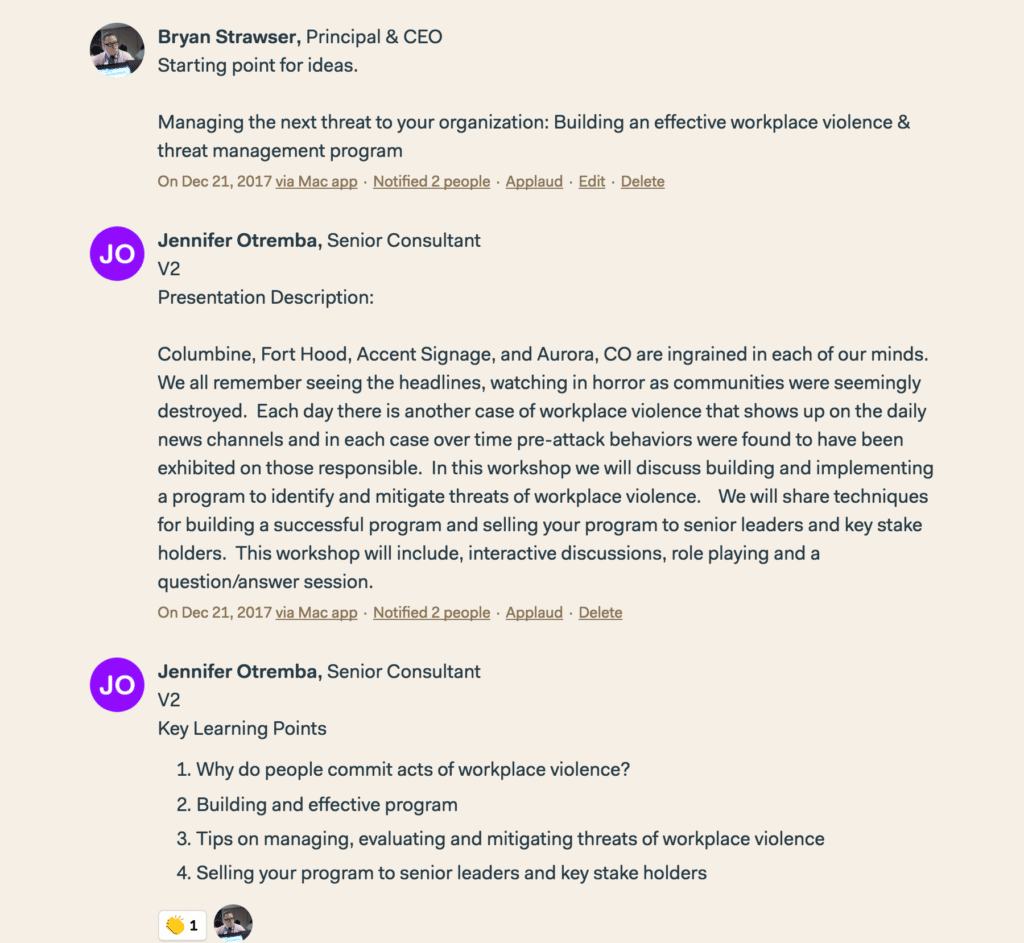 In this image, we're showing how we use the Basecamp message boards in order to discuss a workshop submission for the Secure 360 Conference in May 2018 in Minneapolis, MN.  Not shown here is Jen's original post with a draft title, abstract, and key learning points.
We then used the back and forth comments feature in Basecamp to collaborate and figure out the details for our submission. We did this over the course of about 3-4 hours, reached agreement, and then filed the finalized content with the team over at the conference.
This would have taken much longer for us via e-mail and without a permanent, discoverable record as we have here in Basecamp.
Tracking the To-Dos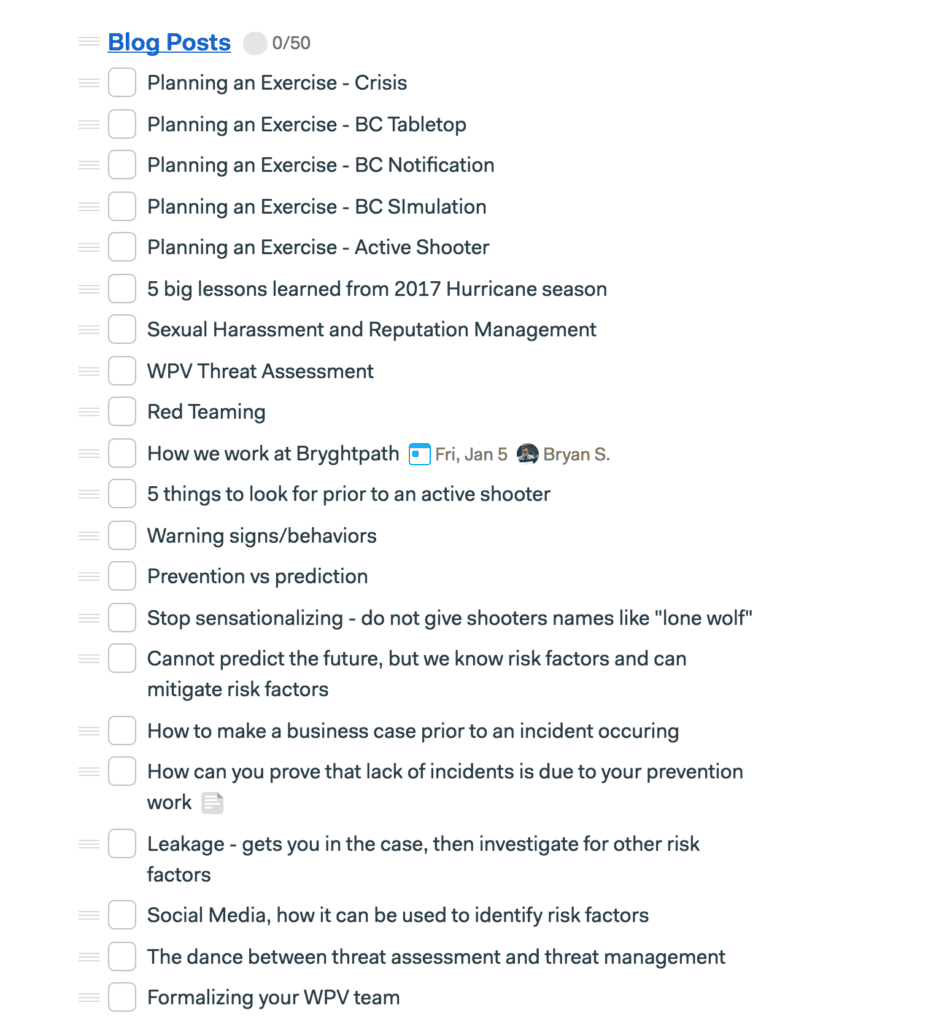 We keep a "Bryghtpath HQ" Project within Basecamp that is the center of our day-to-day operations at Bryghtpath. Here you can see one of our HQ To-Do lists – in this case, our blog post to-do list, which is where Jen tracks all of our potential blog post topics.  We mark them off when they're complete and add new ones as ideas come up.
As you can see, this blog post is assigned to me near the middle of the list, and is planned to be done by January 5th, 2018. I'm actually wrapping it up a few days earlier.
Basecamp is one of our most important tools that we use at Bryghtpath – I hope this post has given you some ideas about how to use a similar tool within your business.
Slack
I was an early adopter of instant message tools and unified communications as those technologies became more common over the past decade. Even with the use of Basecamp, detailed above, and its message board capabilities – we knew we needed a real-time persistent communication method that would allow us to share images, video, links, and collaborate in real-time.
We were also thinking ahead to having future capabilities like an intelligence team and a Global Operations Center, or Security Operations Center, that would need the ability to quick share and collaborate around major events, incidents, and crisis situations.
Slack was our answer to this challenge.
Slack is a multi-channel persistent chat solution that works via the web or native apps for iOS, Android, Mac OS X, and Windows. You can screen share, instant message, post links, post images, post video, and so on.
Plus with its API, you can send all sorts of communication, alerts, and notifications right into Slack in a way that works best for you and your team.
We use Slack for all of the day to day communications that don't require a detailed back and forth discussion, particularly one that we want to archive for future reference. Instead, we use Basecamp's message boards for those sorts of discussions.
Let's take a look at a couple examples
#general chat
In this screenshot, we can see a fairly typical discussion between Jen and I about a meeting that was planned for later in the week, our need to connect to record more episodes of our podcast, and a link to an article that I'm suggesting we use as fodder for an upcoming podcast episode.
#stream – see what's happening across the business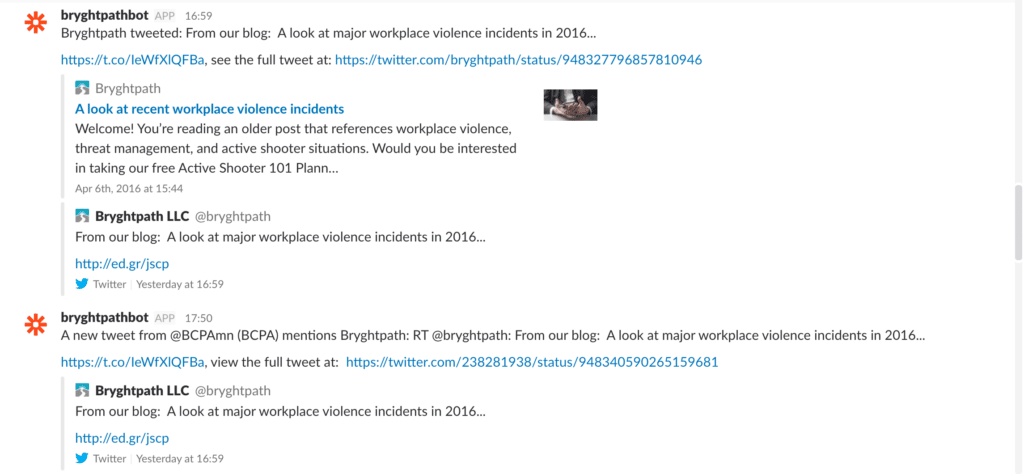 We use channel called #stream in order to send all automated alerts, notifications, and communications so that we can see them in near-real time as they come through.
In this example, we can see that our social media tool Edgar posted a tweet from our archive – which was then retweeted by the local Business Continuity Planners Association (BCPA).
We centralize a lot of notifications, alerts, and monitoring communications into #stream, such as marketing automation alerts, provided by website alerts, signups for our mailing list, webinars, and others.
A tool we'll write about much later, Zapier, is one of the tools that we use to make all of this work together.
Slack is our principal method and place for day-to-day communication and one of our favorite collaboration tools at Bryghtpath.
Special Offer for Slack
For a limited time, you can signup using our link for Slack and get a $100 credit in your account for free – it's a great way to start off with the paid version of Slack at no risk.
WebEx
Online collaboration for meetings, conference calls, and other collaborative sessions requires some sort of online meeting tool. We were using something a little less complex for awhile, but after a brief trial period, we centered on WebEx as our online conferencing platform.
WebEx is much more complex than services like GoToMeeting and join.me, but comes with many advantages that drew us to the platform. We've been quite happy with it, but it's definitely not for everyone.
Watch for the next post in our series
We'll be sharing more posts like this over the coming weeks – we look forward to your feedback!