Mastering a disaster recovery plan is essential for any organization looking to safeguard its operations and assets. A well-crafted master disaster recovery plan can differentiate between a minor disruption and catastrophic data loss or operational failure. This article will provide in-depth insights into developing such a comprehensive strategy.
We'll start by discussing how to set up an incident management process, which is the backbone of your response efforts during unforeseen circumstances. Then, we'll delve into the intricacies of activating your master disaster recovery plan when faced with various disaster scenarios.
Effective communication is key during any crisis; hence we'll explore strategies to ensure smooth information flow amidst the chaos. Furthermore, implementing robust post-disaster recovery strategies can expedite your return to normalcy – another aspect that this article aims to shed light on.
Lastly, conducting an after-action review helps refine your plans and prepares you better for future incidents – something we'll also cover in detail. Stay tuned as we navigate these crucial components of effective disaster planning and management.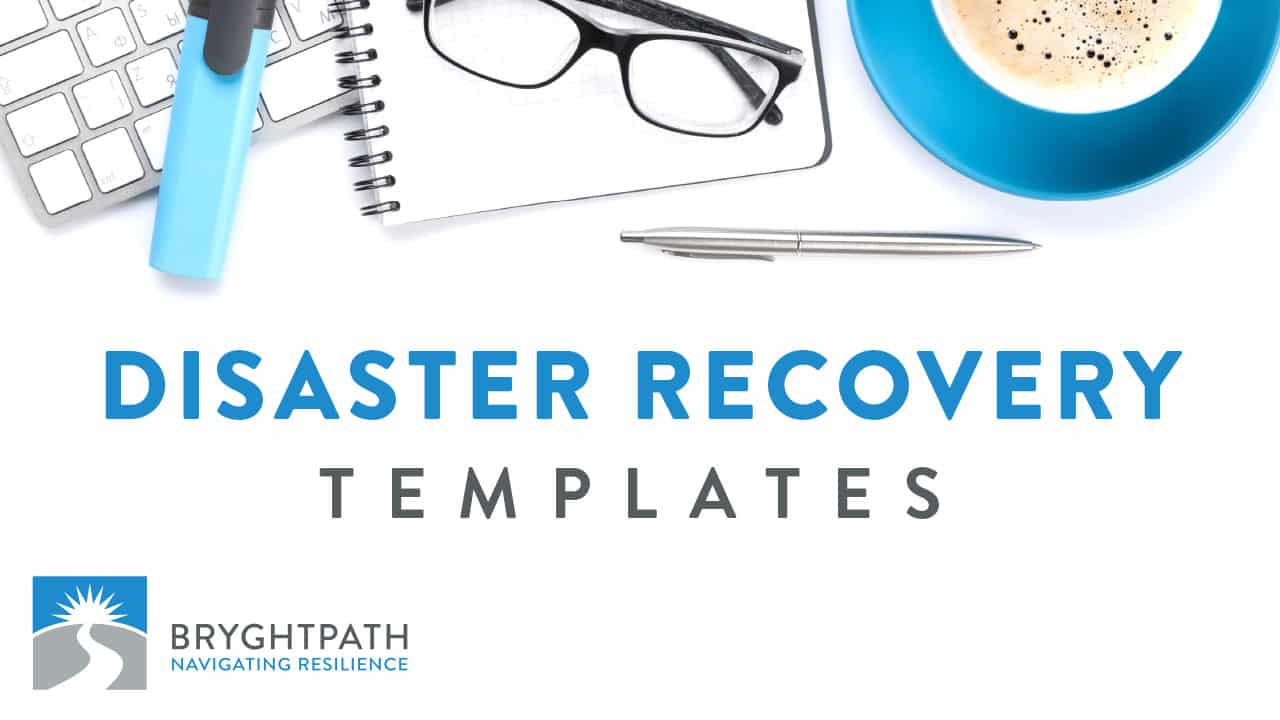 Now you can get the exact battle-tested plan templates we use for our work with clients as we build out their custom IT disaster recovery plans.
Establishing an Incident Management Process
In the world of business continuity and crisis management, having a rock-solid incident management process is crucial. It's like having a superhero cape for your organization's IT disasters.
The first step in this epic journey is to identify potential risks and vulnerabilities in your IT infrastructure. Imagine it as a quest for treasure, yet instead of coins and jewels, you're searching for points that require significant strengthening.
Once you've found those pesky vulnerabilities, it's time to develop response strategies for each scenario. It's like creating a battle plan to defeat the evil IT disaster villains.
An effective incident management process also includes assigning clear roles and responsibilities to your team members. Assembling a team of superheroes with special abilities to confront any disaster is essential for an effective incident management process.
But wait, there's more. Regular testing and review ensure your team is ready to face any crisis. It's like practicing your superhero moves to ensure you can leap tall buildings in a single bound.
Remember, no plan is perfect. There's always room for improvement and learning from past incidents. It's like upgrading your superhero suit to keep up with the latest technology trends.
Activating the Master Disaster Recovery Plan
Timely action is essential for reducing harm and ensuring rapid recovery when confronted with an IT emergency. That's where your master disaster recovery plan comes in.
A master disaster recovery plan is like a roadmap for responding to IT disasters effectively. It outlines steps to protect critical systems and data before, during, and after an incident.
Activating this plan should be coordinated with crisis management teams and aligned with business continuity plans. A well-executed response can reduce downtime, prevent data loss, maintain customer trust, and safeguard your organization's reputation.
Coordinating Activation with Crisis Management Teams
Crisis management teams are essential in activating the master disaster recovery plan. They're like superheroes trained to respond quickly under pressure.
Their role involves assessing the situation rapidly, making informed decisions about which parts of the plan need to be activated, and keeping all stakeholders updated throughout the process. Talk about multitasking.
Aligning With Business Continuity Plans
An effective business continuity plan (BCP) seamlessly integrates with your master disaster recovery strategy. It ensures minimal disruption in services even amidst crises. Talk about keeping the show going.
Prioritizing Systems Restoration Based On Criticality
Data backup: Regularly backing up essential files helps restore lost information quickly post-disaster. Don't forget to save those cat videos.
Dedicated emergency team: Having dedicated personnel responsible for executing specific tasks during emergencies can speed up restoration efforts significantly. They're like the Avengers of disaster recovery.
Frequent testing: Testing your DRP regularly will help identify potential issues beforehand so they can be addressed promptly without causing major disruptions when real incidents occur. It's like a dress rehearsal for disaster recovery.
In essence, when you activate your master disaster recovery plan swiftly and strategically, you're not only mitigating immediate risks but also laying down solid groundwork for long-term resilience against future threats. It's like building a fortress to protect your organization.
Key Takeaway: 
The master disaster recovery plan is a crucial roadmap for responding to IT disasters effectively, protecting critical systems and data before, during, and after an incident. Coordinating with crisis management teams and aligning with business continuity plans ensures quick action, minimal disruption in services, and long-term resilience against future threats.
Ensuring Effective Communication During an IT Disaster
In a calamity, you must communicate successfully. When an IT disaster strikes, you better have a solid crisis communications plan that aligns with your master disaster recovery plan.
The first step to ensure effective communication during an IT disaster is to establish clear lines of communication among all stakeholders involved. That means your internal team and any external partners or vendors who the incident might impact.
A crucial part of this process is identifying and designating specific individuals as primary contact points for different aspects of the response effort. These folks should be trained and ready to handle their responsibilities under high-stress conditions.
Crisis Communications Team: These folks craft and spread internal and external messages throughout the incident. They're the wordsmiths.
Technical Response Team: The tech experts on this team diagnose, address, and resolve the issue while keeping everyone else in the loop.
Situational Awareness Team: These folks monitor ongoing developments related to the incident and provide updates to decision-makers. They're the eyes and ears.
To ensure smooth coordination between these groups, could you consider using a centralized platform or tool where information can be shared quickly? Utilizing a Global Security Operations Center or a specific incident management software platform may be an effective tool to assist with this coordination.
But wait, there's more. It's about more than coordinating internally. You also need to communicate proactively with customers during an IT disaster. Transparency builds trust, so let them know what happened (in non-techy terms), and how you're fixing it, and reassure them about steps taken to prevent future occurrences. And don't forget the most important part – keep them updated regularly until it's all resolved.
Implementing Post-Disaster Recovery Strategies
After the disaster, it's time to begin restoring IT systems. Let's dive into the steps for implementing post-disaster recovery strategies.
Assessing the Damage
First things first, figure out what got messed up. Take a look at your infrastructure, see what's broken, and estimate how long it'll take to fix.
Getting Things Back Up and Running
Now that you know what needs fixing, let's roll up our sleeves and get to work. Repair or replace damaged hardware, recover lost data from backups (if you're lucky), and tweak those software settings.
Data Restoration
Keep your cool, but data restoration is a top priority. Use reliable cloud backup solutions like Amazon Web Services (AWS) to speed up the process. Your data is counting on you.
Communication is Key
Keep everyone in the loop, both inside and outside your organization. Transparency builds trust, so let them know what happened, what you're doing to fix it, and when they can expect things to return to normal.
Testing, Testing, 1, 2, 3
Before you go live again, put your plan to the test. Make sure everything works as expected. Scenario planning exercises and simulations are your secret weapons for building readiness and resilience.
Remember, the purpose is not only to endure the calamity but also to emerge more powerful afterward. Treat it as a learning experience and embrace a continuous improvement mindset. You've got this.
Key Takeaway: 
After an IT disaster, it's crucial to assess the damage and estimate the time needed for repairs. Once you've identified what needs fixing, focus on data restoration using reliable cloud backup solutions like AWS and strengthen security measures to prevent future disasters. Communication is key throughout the process, keeping everyone informed about progress and expected timelines. Before going live again, thoroughly test your recovery plan to ensure everything works as intended. Embrace a continuous improvement mindset to come out stronger from the experience.
Conducting an After-Action Review
An after-action review (AAR) is like a post-game analysis for your disaster recovery plan. Identifying areas of improvement and taking corrective measures is the main focus of an After-Action Review.
The Federal Emergency Management Agency (FEMA) describes AARs as "guided discussions" that help you learn from your mistakes without pointing fingers. It's all about finding ways to improve.
To conduct a successful AAR, follow these steps:
Gather Data: Collect all the juicy details about the incident and how you responded. This includes everything from technical data to customer complaints. The more info, the better.
Analyze Data: Dive into the data and determine where things went wrong. Look for gaps and inefficiencies in your disaster recovery strategy.
Create Improvement Plan: Based on your findings, develop a solid plan to fix those issues and ensure they don't happen again.
Doing an AAR might feel like a drag after a disaster, but it's crucial for improving. As management guru Peter Drucker once said, "What gets measured gets improved."
To make your AARs even more effective, consider using software solutions like Bryghtpath Software Solutions. These tools provide structured frameworks for reviews and help you track tasks, and hold people accountable for improvements.
And remember external audits. Getting a fresh perspective from third parties can uncover insights you might have missed during the incident management process.
The Value of Transparency in After-Action Reviews
Transparency is key when it comes to AARs. It would be best if you were open and honest with your team and stakeholders like customers, regulators, and partners.
Sharing what has worked, what hasn't, and the lessons learned can foster trust between team members and promote working together. Plus, being transparent with external stakeholders shows you're committed to improving and protecting your corporate reputation.
Key Takeaway: 
Conducting an After-Action Review (AAR) is crucial for improving your disaster recovery plan. By gathering and analyzing data, creating improvement plans, and being transparent with stakeholders, you can learn from mistakes, build trust among your team members, and protect your corporate reputation.
FAQs about Master Disaster Recovery Plans
What are the five steps of disaster recovery planning?
Disaster recovery planning involves five crucial steps:
Assessment: Evaluate the potential risks and impacts of disasters.
Strategy: Develop a plan to mitigate and respond to disasters.
Implementation: Put the plan into action and train your team.
Testing: Regularly test the plan to ensure it works.
Maintenance: Keep the plan up to date and adapt as needed.
What is the primary purpose of a disaster recovery plan?
The main purpose of a disaster recovery plan is to minimize downtime and get your business back up and running after a disaster strikes.
What is RPO vs. RTO?
RPO (Recovery Point Objective) is the maximum amount of data loss your business can tolerate, while RTO (Recovery Time Objective) is the target time for restoring operations after a disaster.
What are the three principal goals of disaster recovery planning?
The three principal goals of disaster recovery planning are:
Minimize downtime: Get your business back on track quickly.
Protect data: Ensure the safety and integrity of your critical information.
Maintain business continuity: Keep your operations running smoothly, even in a disaster.
Conclusion
A master disaster recovery plan is necessary for organizations to recover from IT disasters.
Businesses can minimize downtime and mitigate potential damages by establishing an incident management process, activating the plan when needed, ensuring effective communication during a crisis, implementing post-disaster recovery strategies, and conducting after-action reviews. It's crucial for business continuity pros, crisis management pros, infosec pros, chief risk officers (CRO), chief security officers (CSO), and chief information security officers (CISO) to grasp these steps and create a comprehensive master disaster recovery plan that protects their organization's critical systems and data.
Want to work with us or learn more about closing the gap between business continuity & IT disaster recovery?