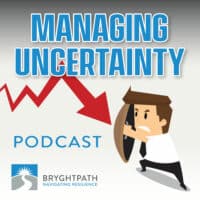 Ready to conquer the modern crisis of misinformation that can wreak havoc on your organization's reputation and stability? Let's embark on this journey with your host, Bryghtpath Principal & Chief Executive Bryan Strawser, where you'll learn how to strategize and respond to ensure your organization remains unscathed effectively.
Not just a professional expert, Bryan has also academically studied this issue, writing his master's dissertation on misinformation and disinformation.
This episode highlights the two crucial areas to focus on – defending your reputation against external fake news assaults and developing solid internal communication strategies to squelch inside rumors.
Learn about the power of being proactive rather than reactive, and the essential role of transparency in resisting false narratives.
Furthermore, grasp the importance of technology in managing misinformation and understand why addressing internal rumors is as vital as handling external threats. Hang on with us as we help you navigate these murky waters. Don't miss our next episode as we continue to strategize, respond, and lead amidst uncertainty and disruption.