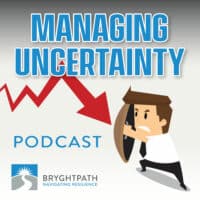 In Episode #209, you'll walk away with a renewed perspective on the essential role resilience professionals play in business continuity, crisis management, and crisis communications.
Bryghtpath Principal & CEO Bryan Strawser passionately sheds light on the importance of asserting value and significance within an organization, a sentiment often overlooked in this field.
Listen to a real-life example from a post-crisis review where the lack of leadership and importance hindered effective communication and problem-solving.
This episode isn't just about theory, but about the real implications of undervaluing your role. Bryan destigmatizes the idea of being a 'nuisance' or 'cost center' within a company and celebrates the indispensable role of resilience professionals.
As a tribute to a dear friend and mentor, Josh Hardin, this episode underlines the profound legacy of his teachings about self-worth and proactive action.
For resilience professionals keen on asserting their worth and leading with confidence, this is the episode you wouldn't want to miss.