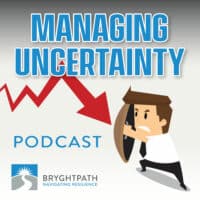 Prepare to uncover the game-changing element that can take your organization's resilience strategy to the next level – a Global Security Operations Center (GSOC).
Bryghtpath Principal & Chief Executive Bryan Strawser explains the six core value propositions a GSOC offers, providing insights that could revolutionize your approach to security and risk management.
We'll discuss how a GSOC can transform your organization from reactive to proactive, reducing risk and increasing response time. We'll explore the power of a centralized information hub, providing a unified communication pathway for all stakeholders, and highlight how this dedicated center showcases your commitment to safety and security.
Drawing from our extensive experience assisting numerous companies across various sectors – including retail, global manufacturing, and financial services – we will share key learnings and insights from our white paper about how a GSOC enables your resilience strategy. Tune in to learn about the essential shift a GSOC can catalyze in your organization and enhance its operational consistency.
Get a copy of our GSOC Whitepaper How a Global Security Operations Center enables your Resilience Strategy on our website.