Why would a successful crisis management & business continuity leader walk away from a successful twenty-plus year career at a Fortune 30 corporation to start a new business from scratch?  After all, I was leading a program with global scope and scale, a large and talented team that was the envy of the industry, and two global security operations centers that were widely perceived as best-in-class. To understand what drove me to make this risky decision, I have to go back to the beginning of the story.
I began my career in law enforcement in rural Indiana.  After a couple of years, I started my private sector career with a large Fortune 30 retailer in loss prevention.  I spent eleven years in assignments with progressive levels of responsibility, mostly in the midwestern and northeastern United States, focused on keeping my teammates safe and our product in the stores for customers to purchase.
The terrorist attacks of September 11th, 2001 were a significant career pivot for me, although I didn't recognize this pivot for what it was at the time.  In my role, we had always had a focus on keeping the team and customers safe when they were in our stores and facilities but had never really focused on anything resembling actual crisis management.  9/11 forced us to start thinking about how to do that on a large and small scale as our roles began to pivot within the organization.
At the time of the attacks, I was leading most of New England from a security perspective for my employer.  We learned around mid-2002 that the first post-9/11 political convention would be held in downtown Boston – this was the 2004 Democratic National Convention (DNC).  Planning for this event would consume a large portion of the next two years for my then-team and me as large portions of the City of Boston and surrounding communities would be shut down due to security concerns.  At the time, my employer didn't really have a crisis management team or any sort of crisis program, so although we were strongly supported by our friends at headquarters, the planning and execution to protect our stores really fell on my local team.
It wasn't long after the convention wrapped up that I was invited to move to headquarters in the Twin Cities of Minneapolis and Saint Paul, Minnesota as a part of a newly established crisis management team for my employer.  I spent just over a year in that role, building the organization's first Global Security Operations Center and leading our efforts to respond to Hurricane Katrina before moving into a few new leadership roles over the next two and a half years.
Despite only a year in the role, I found that I loved the work.  Developing plans and capabilities, helping business units improve their resilience, and assisting teams in far-flung locations work through very challenging situations were my bread and butter.  I got to spend 2006 – 2009 working on some really fun and difficult problems, but I found myself missing the chance to deal with significant disruptions and crisis situations.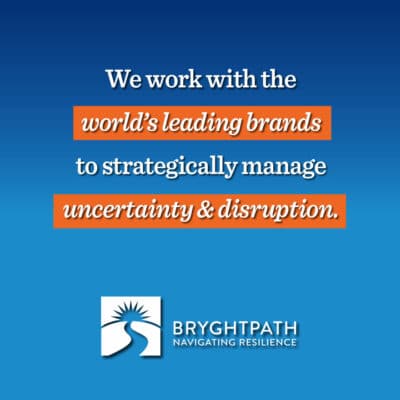 In 2009, as the H1N1 pandemic began impacting the world, I was promoted into a newly created role to lead the retailer's Global Crisis Management Team. I was given the challenge to enhance the company's capabilities for crisis management, business continuity, intelligence, and security operations and set about that task with a talented leadership team. Over the next few years, we built a second Global Security Operations Center (GSOC) in Bengaluru, India, a new team for Global Intelligence, and grew our crisis management, business continuity, and centralized security operations capabilities.
The role was exceptionally difficult, but the work was incredibly rewarding.  I found that I enjoyed being in the middle of a crisis and helping our team and individual team members in some of their worst professional and personal situations.  I was surrounded by others who thrived doing this sort of work and together we were able to accomplish a great many goals that we set out for our organization.
By 2014, I had spent twenty years at the retailer and was wrapping up my MBA at the University of Minnesota's Carlson School of Management.  I had also found myself at a transition point at work with a new leader that wanted to take the team and capabilities into some directions that I didn't agree with and was mentally ready for a new challenge.
Just a few days before graduating with my MBA, I resigned my position and started Bryghtpath. I'll admit now, eight years in, that I really didn't know what I was doing – my positioning for the organization was all over the place rather than being as focused as we are today on our practice domains of Crisis Management, Business Continuity, and Crisis Communications.
Just a few weeks after launching Bryghtpath, I was having a drink with a former colleague who asked me what my intentions were.  I told her that "I wanted to rebuild the team of great folks that we loved working with and make that the core of a new company".  Essentially, I wanted to get the band back together.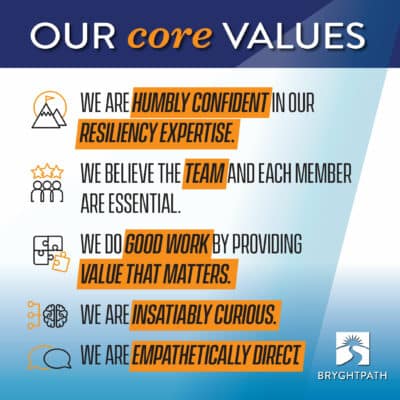 In a lot of ways, that's what we've been able to achieve at Bryghtpath – we've built a team of folks that are fun to work with, who are absolute experts in the things that we do, with a culture and set of core values that we all enjoy being a part of at work.
My goal in building Bryghtpath with the team that we have today was to create an atmosphere where folks came to work happy and could work in an environment that was set up to allow them to achieve their very best work. I wanted to have a job where I looked forward to coming to work and working collaboratively with the team on challenging problems, and I think together we've been able to achieve that here at Bryghtpath.
A big part of what has made us successful was establishing a set of core values as a team that we all helped develop.  Our core values really reflect the team that we have built and our aspirations for the type of team and company that we all are a part of here at Bryghtpath. We state that we act and think according to our core values, and I firmly believe that to be true.  They are the cornerstones of our unique culture.
As a team, we've also taken the time to lay out clearly how we work – specifically documenting the philosophies around how we approach our work, our rules of engagement with each other, and our expectations of each other.
For example, our how we work document begins with these statements:
We have high standards and high expectations of our organization and our team.

We acknowledge that having high standards and expectations of our company and our team is a challenge – but one that attracts and motivates members of our team to our organization.

The quality of our team is as high as can be expected.
Our team has high expectations of each other – and we endeavor to hold each other to those expectations.  As the CEO, I expect my team to challenge me when I don't meet those expectations – and I'm gratified that we've been able to create a culture where doing so is not only acceptable but encouraged.
At Bryghtpath, your career doesn't depend on some bullshit coffee status meetings you did or didn't have with someone whose role doesn't even intersect with the work that your team does. We've worked hard to create a culture that attracts a team that represent the core values of our organization, that is committed to working differently, and are generally fun folks to be around.
Bryghtpath is now eight years old.  I get up every single day excited by the challenges ahead and the opportunity to work with each member of our team. I'm fulfilled by their professional growth and our work to help our clients navigate their resilience journeys.
I can't wait to see what the next eight years holds for Bryghtpath.