What does it take to write, record, edit, and produce one of the leading Crisis Management & Business Continuity podcasts in the world?   In this article, we're going to take you behind the scenes of Bryghtpath's Managing Uncertainty podcast and show you exactly how we put out an episode every single week of the year.
How it started
We began publishing our podcast, Managing Uncertainty, in November 2016.  Our first episode was titled Shouldn't we have a plan for alien invasion? and was published on November 3rd of that year.
At that time, I was several months into a client engagement that required me to be onsite in Phoenix, Arizona every other week.  That episode was recorded using a portable podcasting rig in the dining room of the casita that I was renting in a pretty cool neighborhood in Phoenix.
After launching, we then didn't record another episode until March 2017!  That pause was definitely not a good way to build a consistent audience.  Our second episode was recorded onsite at a client's offices in Boston, Massachusetts and featured another member of our team as well as myself.  We started to get more consistent with the podcast not long after that.
Since those two initial episodes, we've published another 159 episodes at the time of this article in August 2022.  For the past two years, we've published an episode almost every single week.
The equipment we use
I want to be clear up front that you don't have to have expensive equipment in order to do a quality podcast.  Your audio just needs to be good enough for your intended audience to be able to hear you clearly without extraneous background noise.  The built-in microphone on your computer probably won't do the trick, but something like Apple AirPods will probably work just fine.
We use a high-end audio setup because we want the podcast to sound exceptional – but we also use the equipment for screencasts, video conferencing calls, and our video lessons for our training courses.
Our podcast microphones are the classic Shure SM7B with its standard windscreen mounted on a Rode PSA-1 studio boom arm.  The SM7B is a dynamic microphone that requires an audio interface (or a Mixer with a USB connection) to feed into a computer.  The SM7B has amazing sound and its design as a dynamic microphone helps eliminate a lot of the background  noise that other microphones may pick up.
The Rode PSA-1 boom arm allows me to position the microphone exactly where I need it to be as I record the episode. Its location on the far edge of my desk allows me to fold the boom arm up and swivel it out of the way when I'm not using the microphone for audio purposes.
When I'm recording solo, I'm at my desk at Bryghtpath's office in Shoreview, Minnesota.  The SM7B feeds into a Focusrite Scarlett 2i2 USB audio interface and then into my computer, an Apple M1 Mac Mini.  The Scarlett 2i2 allows for two microphones to connect to your computer along with some simple audio controls.
We also have a podcast studio at our office that saw more use prior to the COVID-19 pandemic where we would often record episodes with 2 or 3 participants.  Our studio has microphones and studio boom arms for up to 4 participants along with a USB audio mixer that will accept multiple audio inputs.
Recording Software & Editing
We record our podcast using the free, open-source, cross-platform audio software Audacity, which gives us all of the tools that we need for quick & easy editing of our episodes.  Audacity takes just a few minutes to install and supports MacOS, Linux, and Windows computers.  The interface is fairly easy to master.

We record an episode directly into Audacity as a single-channel mono audio recording, then duplicate the audio track to create the stereo sound that we're used to hearing.  We do very little editing other than clipping the beginning and ending and using a compression effect to balance out the audio levels throughout the episode.
When we record a multi-person episode remotely, we use the cloud-based podcasting tool Zencastr, which allows us to record multiple remote guests onto separate audio tracks.  We then use Audacity to pull those tracks together into an episode.
In the distant past, we used an outside podcast editing firm to produce our podcasts.  They would level out the audio, clip parts we wanted removed, and insert an intro (starting audio) and outré (ending audio/credits) that you can hear on our older episodes.  We started to simplify things in 2020 and phased out the intro & outro along with almost all of the necessary editing, but if you're looking for such a provider to work with, we highly recommend Castos Productions (formerly Podcast Motor).
Hosting the Podcast
We host our podcast on Castos, which we strongly recommend.
Once an episode is recorded and exported to a high quality MP3 audio file, we create an episode in our content management system (WordPress), and then attach the MP3 file.  Castos's WordPress plugin then uploads the file to Castor's hosting platform – and then the episode goes live once the episode comes to its publication date.
We publish episodes at 6:30 AM Central Time every Monday.
The magic of the Castos hosting is that they're also integrated with other social media platforms, like YouTube.  The new episode of Managing Uncertainty then automatically gets created in video format over at YouTube without our team having to take any actions.  It's even automatically added to the Managing Uncertainty Podcast playlist on our YouTube channel.
Castos then provides a custom RSS feed for the podcast which is then picked up by Apple Podcasts, Sticher, Overcast, Amazon Music, Spotify, and all of the other popular podcast distribution methods that we use.
Content Planning
On a monthly basis here at Bryghtpath, our communications specialist Lydia and I have a content planning meeting where we plan out our website content, including articles, white papers, podcast episodes, and other content for the coming 60-90 days.
We track our content using a database in Notion, a cloud-based collaboration tool that we've used for a few years at Bryghtpath.  As we come up with topic ideas, we track them in our content planning database as an Idea.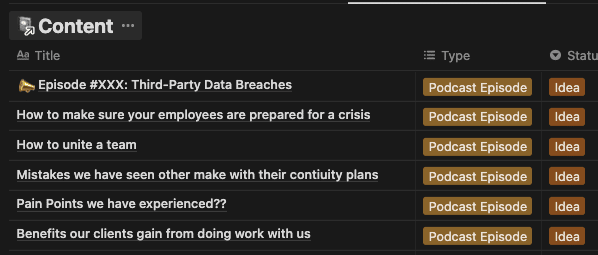 In our monthly content planning meetings, we review those ideas (and others we generate in the meeting) and then schedule them for production and publication.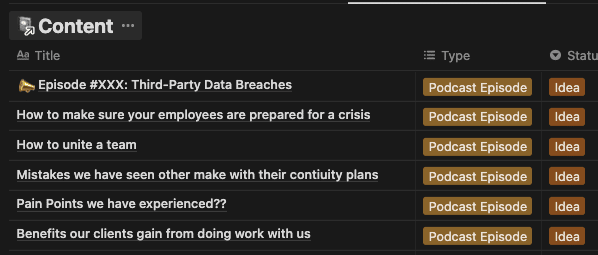 We're big fans of Notion and have used it extensively to manage our business, serve as a "second  brain", and to manage our client engagements.
We hope this helped give you some perspective behind the scenes on what it takes to plan, write, edit, produce, and publish Managing Uncertainty on a weekly basis.
Want to learn more or consider working with us?