Private sector emergency managers play a crucial role in long-term recovery following a disaster. These professionals must prioritize strategic planning, collaboration, risk reduction, and continuous improvement to ensure the successful rebuilding of affected communities and businesses. Private-sector emergency managers can contribute to their organizations' and communities' overall resilience by focusing on these key areas.
However, private-sector emergency managers are challenged by their dependence on the public sector to respond to a disaster. Local, state, and federal emergency management agencies are charged with major disaster response efforts. Their work helping to reestablish critical infrastructure that is fully within the control of the government enables an effective private sector emergency response.
In this article, we look at the challenges the private sector faces after that initial response phase has ended and the public and private sectors begin to shift to long-term recovery efforts that may take months or even years to complete.
Long-Term Recovery in the Private Sector
Strategic planning is fundamental to long-term recovery, as it establishes a clear vision, objectives, and roadmap for rebuilding efforts. Emergency managers should work closely with their organization's leadership to develop comprehensive plans outlining the necessary steps to restore operations, facilities, and services. This process should include thoroughly assessing the damage, identifying resources and funding, and a timeline for implementing recovery projects. Strategic plans should be flexible and adaptable to accommodate changing circumstances and new information.
Collaboration between private sector organizations, public sector agencies, and non-governmental organizations (NGOs) is essential for successful long-term recovery. Emergency managers should prioritize building strong relationships with these stakeholders to ensure a coordinated and unified approach to disaster recovery. This collaboration can facilitate sharing of resources, expertise, and information, ultimately leading to more efficient and effective recovery efforts. Additionally, engaging local community members in recovery can provide valuable insights and foster a sense of ownership and pride in rebuilding.
Risk reduction and mitigation strategies should also be a priority for private-sector emergency managers during long-term recovery. Organizations can reduce the likelihood and impact of future disasters by identifying and addressing potential hazards. This can be achieved by retrofitting facilities to withstand extreme weather events, implementing stricter building codes, and investing in technologies that enhance resilience. Regular training and exercises to test preparedness and response capabilities are essential to ensuring that employees are well-equipped to handle future emergencies.
Continuous improvement is vital to long-term recovery, ensuring organizations learn from past experiences and adjust their strategies accordingly. Private-sector emergency managers should prioritize evaluating recovery efforts and identifying successes and areas for improvement. By conducting after-action reviews, organizations can identify best practices, lessons learned, and growth opportunities, ultimately enhancing their preparedness for future disasters. In this way, private sector emergency managers contribute significantly to building more resilient communities and organizations.
FEMA's Community Lifelines
FEMA's Community Lifelines are a vital framework designed to streamline the coordination and prioritization of emergency response efforts during disasters. Established by the Federal Emergency Management Agency (FEMA), this initiative identifies seven critical focus areas to ensure the continuity of essential functions and services during emergencies. These lifelines are designed to aid decision-making and improve communication among stakeholders, ultimately enhancing the resilience of communities affected by disasters.
The seven Community Lifelines are Safety and Security, Food, Water, Shelter, Health and Medical, Energy, Communications, Transportation, and Hazardous Materials Management. Each lifeline serves a unique function in addressing the needs of communities during times of crisis. Safety and Security involve protecting citizens and property, while Food, Water, and Shelter encompass providing basic needs. Health and Medical services focus on maintaining the well-being of affected individuals, and Energy supports the continuous operation of critical infrastructure. The Communications lifeline ensures that the public and responders stay informed, while Transportation focuses on moving people, goods, and services. Finally, Hazardous Materials Management is responsible for mitigating the risks of releasing hazardous substances.
FEMA employs various tools and resources to support these Community Lifelines, including the Incident Stabilization Guide and Lifeline Playbooks. The Incident Stabilization Guide outlines a systematic approach to evaluating and prioritizing lifelines during emergencies. It assists emergency managers and responders in identifying critical areas of need and stabilizing the situation. Meanwhile, Lifeline Playbooks offer guidance on reestablishing disrupted lifelines during the recovery and rebuilding phases. Focusing on these essential elements, FEMA's Community Lifelines framework significantly enhances community resilience and ensures a more effective disaster response.
Bryghtpath's Long-Term Recovery Framework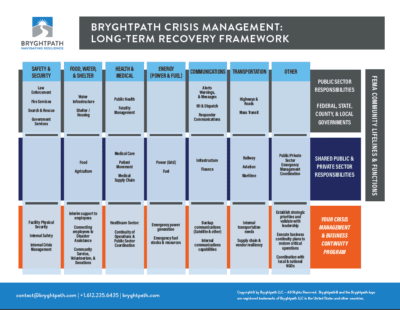 Here at Bryghtpath, we developed a long-term recovery framework for our clients and others in the emergency management community to guide on long-term recovery issues facing private sector organizations after a major disaster has impacted their operations.
The idea for this came after the 2022 floods in Kentucky, where many local resources were heavily impacted. One of our clients needed help determining how to prioritize a set of limited resources against the challenges in front of them. We used FEMA's concept of Community Lifelines to frame the various areas that should be addressed as the organization shifted from response to recovery.
In our long-term recovery framework, we delineate where the private sector should concentrate its efforts in areas of long-term recovery that are wholly within its control. We also show where public & private sector collaboration is essential for the long-term recovery of the local community and private sector enterprises. We also demonstrate what factors of long-term recovery are within the public sector's span of control and generally are their responsibility to solve and address.
You can obtain a copy of the Bryghtpath Long-Term Recovery Framework on our website.
Public-Private Sector Collaboration in Emergency Management
The private sector can work more effectively with FEMA during a natural disaster by focusing on collaboration, communication, preparedness, and leveraging their unique resources and expertise. By actively engaging in these areas, the private sector can help support FEMA's mission to reduce the impact of disasters on communities and enhance overall resilience.
Collaboration: The private sector should seek to establish and maintain strong partnerships with FEMA and other public agencies before a disaster occurs. This can be achieved by participating in joint planning, training, and exercises to enhance mutual understanding of each other's roles, capabilities, and expectations. Additionally, the private sector can collaborate with FEMA through public-private partnerships (PPPs), facilitating sharing of resources, expertise, and information.
Communication: Clear and timely communication is critical during a natural disaster. The private sector should work with FEMA to establish communication protocols and channels to ensure the seamless flow of information during emergencies. Sharing situational awareness, operational updates, and resource availability can help parties make informed decisions and efficiently allocate resources. Designating points of contact within the organization who can liaise with FEMA and other response partners is essential.
Preparedness: The private sector should prioritize disaster preparedness by developing and regularly updating emergency response and business continuity plans. These plans should be aligned with FEMA's National Response Framework (NRF) and National Incident Management System (NIMS) to ensure a coordinated and consistent approach to disaster management. Regular training and exercises to test and refine these plans can help organizations identify gaps and areas for improvement, ultimately enhancing their ability to work effectively with FEMA during a natural disaster.
Leverage Unique Resources and Expertise: The private sector often possesses resources, expertise, and capabilities that can significantly support disaster response and recovery efforts. These may include specialized equipment, logistical networks, skilled personnel, and access to essential goods and services. The private sector can help fill critical gaps and expedite the response and recovery process by identifying and offering these resources to FEMA during a natural disaster.
By focusing on these key areas, the private sector can contribute significantly to disaster response and recovery efforts, working effectively with FEMA to mitigate the impact of natural disasters on communities and enhancing overall resilience.
Want to work with us or learn more about effective private-sector emergency & crisis management?