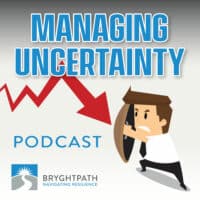 In this episode of the Managing Uncertainty Podcast, Bryghtpath Principal & Chief Executive Bryan Strawser discusses the workplace of the future and how it impacts Business Continuity.  Bryan explores how the Covid-19 pandemic has accelerated many of the trends we are seeing in the changing work environment today.
Related Episodes & Blog Posts
Episode Transcript
Hello, and Welcome to the Managing Uncertainty Podcast. This is Bryan Strawser, Principal and Chief Executive here at Bryghtpath. And in this week's episode, I want to talk about the workplace of the future and its impact on business continuity.
And I think that we're seeing a lot of trends happening right now when it comes to how the world of work is changing. And if anything, the COVID-19 pandemic over the last two years has accelerated several existing trends when it comes to the changing work environment, and it's caused companies to reevaluate many aspects of work, particularly when it comes to remote work, hybrid work environments, the physical layout of an office, about how we use e-commerce and collaboration capabilities and automation. There are already a number of trends related to work that we're changing. One was around the physicality of work. And as we've brought in more mechanization of everything from farming to cleaning to assembly and manufacturing, much more of this work has become robotic. It's become mechanized. It's become more automated than it was before.
The second big trend has been around artificial intelligence and machine learning. And I've seen this in one of our clients, a healthcare technology company, where part of their offering for years has been look, we'll take those handwritten doctor notes and other information, the paperwork that's generated in a medical clinic, and we'll digitize that. And the way that they used to approach this digitization was first by having humans look at it and then enter it into a structured database, into an electronic medical record.
And then over time that became well, I'll do optical character recognition. So I'm going to essentially photograph or scan in this documentation, and I'm going to use optical character recognition to tell what it is, and then I'm going to have a human proof that. Well, now that's entirely been replaced by artificial intelligence and machine learning, where there's very little human involvement and it's being done by automated processes that get smarter and smarter over time, that do a better job of recognizing handwriting from individuals than it did before. It's totally fascinating technology.
And then lastly, automation. Automation is changing a lot of things about how we work and is closely connected to that AI and machine learning capabilities that we were just talking about. The crisis with COVID obviously has accelerated these trends, as I said, but I would think about this, as the future of work continues, that some jobs will be lost. There'll be completely new jobs created that require a whole different skill set, but almost every job will change over time. And jobs that have the highest potential for disruption are jobs that require the most physical proximity to the work, because that's what we're trying to disassociate.
So using that example of taking doctor and clinical notes and turning it into structured data in a database, that was hands-on work that now essentially doesn't exist the way that it did just a decade or 15 years ago. So we're going to continue to see those trends evolve. And all of this is causing change in how we think about the physical space at work. And I can best describe this, even in my own all business, about how it's changed, how we think about hiring and our office layout.
From a hiring standpoint, even though I was pretty on board with having remote team members before, none of our hires in late 2021 or 2022 here at Bryghtpath have been based in Minnesota. We've hired an individual in Idaho. We hired another one in Kansas. One of them is now relocating to another state, and the other one plans to move too at some point this year, and that physical location doesn't really matter to us. Yes, there are business and tax implications that we're going to deal with, but we've made plans for those because we have to pay state income tax and unemployment and those kind of things. But otherwise, where they're based doesn't matter because we have the technologies and the capabilities to keep up.
The second way it's impacted our physical space is instead of having dedicated offices for folks, we think now more about hoteling space, about having space for when one of them is in town for meetings or local client work or what have you. It's also caused us to think about what kind of equipment do they need. Do they need lighting and better video cameras and better microphones? All things that I think are different than how we would think about them even two or three years ago.
So some general advice on dealing with the future of work. The first is to really look at how you can embrace the hybrid model, the remote work model and accept that that's going to be the way work will be done in the future. That you may not go to an office, that your new employees may not be in the same state or even in the same country or even in the same city as you. They might be somewhere else. I think it will cause companies to reimagine the physical space. What do we really need here in terms of physical space in order to do the work? And if we have embraced a hybrid or remote model, do we need as much corporate real estate as we did two or three years ago?
All of this creates some challenges, I think, around just fundamental human need for connectivity. And we have to think about this in terms of how we lead and how we manage the human element of work. That we've learned in the pandemic with remote work and hybrid work that work-life boundaries really become smeared, and they've bled into each other in ways we hadn't anticipated before. And so as leaders of others, this is a critically important thing for companies to think about in terms of how do we make sure that we're allowing employees to truly structure those work-life boundaries. When does work begin, and when does work stop, and how do we help folks continue to have an appropriate bright line there?
The second is that remote work and connectivity can lead to the challenge of having a two-tier culture of employees who are here in the office, and so I see them, I have those random encounters in the kitchen and in the hallway and in these drop-bys as we walk around and do our work, but we don't have that with people who are based remotely. And so thinking about how we do that and how we make sure that that happens in the future will be important.
And then the other challenge for each of us individually is to think about our office setup. If we're going to have more connectivity with individuals that are remote, part of that approach, I think, is making sure that we look and sound the best in these remote collaborative environments. So for us at Bryghtpath, we've invested in lighting for offices, better cameras and microphones, so that we have a better look and feel to our collaborative Zoom and Teams and WebEx calls, because those are now important and I think helps us make sure that we're putting the organization out there in the best possible way. And you can find inexpensive lights and cameras that are really good quality through … Logitech makes good equipment. Elgato.com also makes really good equipment. And these are things that can really improve how you look and feel and make sure that folks are looking and feeling their best.
From a business continuity standpoint, I think that this has completely changed how we think about the loss of facility when it comes to business continuity planning and how we think about managing a crisis. Even 10 years ago, we used to think if I lose a facility, I have to recreate that workspace in a physical location that everyone can go to with all of the physical capabilities that they need. And we had these huge contracts around temp space and trailers and bringing in laptops and equipment.
And I think a lot of that has changed, that remote work is now the most common business continuity strategy that we see for a loss of facility situation, particularly as organizations downsize their real estate footprint. I also think it's caused us to think about the redundant connectivity and capabilities for remote employees. If their local internet is down, if there is a regional natural disaster that impacts an area where you don't have facilities but you have employees, what does that mean, and how do we plan for that disruption? Whereas before, we probably really weren't thinking about that to the depth we have to think about that today.
The other advice I have for business continuity and crisis management leaders is that this future of work conversation is an opportunity for you to get involved at a strategic level in your organization, to have your leaders, particularly in human resources, see you as a strategic partner in these conversations, because they will radically change how you think about some of your business continuity strategies. But also you're coming at this from a totally different mindset than your businesses. And your experience in thinking about these alternate strategies from a business continuity perspective will help inform their point of view as you jointly make these strategic decisions about the future of work in your organization.
That's it for this edition of the Managing Uncertainty Podcast. We'll be back next week with another new episode. Be well.