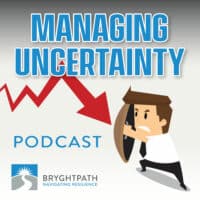 In this episode of the Managing Uncertainty Podcast, Bryghtpath Principal & Chief Executive Bryan Strawser discusses trends in business continuity and crisis management for 2022. Bryan discusses what we're learning from our work with clients, discussions across the industry, and from our own research.
Related Episodes & Blog Posts
Episode Transcript
Hello, and Welcome to the Managing Uncertainty Podcast. This is Bryan Strawser, Principal and Chief Executive here at Bryghtpath. And in this week's episode of our podcast, I'd like to talk about some trends in business continuity and crisis management for 2022. What are we seeing in the research and what are we seeing in some of our interactions with our clients and others? The first trend that we're seeing, and we're recording this episode in March 2022, is that we might finally be at the end of the tunnel when it comes to the pandemic. The light at the end of the tunnel perhaps can be seen, is the way we should think about that. Here in Minnesota for example, we are seeing drastically reduced COVID case numbers and hospitalization and fortunately lower death numbers. And I think that trend is echoing globally. And we're starting to transition to what we hope to be the endemic stage of this pandemic, where it becomes something that we're able to live with and manage through vaccination and boosters and general immunity over time.
Or at least we all hope that we're headed that way. We're seeing from our clients and in the news about returning to the office on a larger scale. But we're also seeing one of the outgrowths of the pandemic and that is this widespread adoption of remote and hybrid work. We were talking just the other day with one of our largest clients, an east coast healthcare technology organization with several offices around the world and in North America. And although they're making plans to return to the office on a large scale in April, they've also come to the conclusion that a lot of folks are simply not going to return to the office. That they're going to work remotely, or they're going to work in more of a hybrid environment. And for the most part, they're adapting what we think will be the work of the future approach. And that is, if you don't have to do hands-on work, that physically requires you to be in an office, that you're not going to do that. That you're going to be able to work remotely.
Another trend that we're seeing related to this when it comes to home remodels and new home construction, is the growth in actually building home offices with the intent that you're going to work from that office full-time. A good friend of ours recently built a new home in North Carolina, moving there from Minnesota. And as they designed their new home, they built two large home offices, with the intent that they were going to work there full time for the remainder of their professional career. For the 10 to 15 years that they'll work before retirement. And I'm seeing more and more of that trend here happening with new home construction and remodels. And even folks in apartments thinking about, I'm going to get that slightly larger apartment with the extra bedroom and that other bedroom is going to be my home office. And I think this is a trend that we're going to continue to see.
Another outgrowth from the pandemic has been what I would say, both a hit and a miss. And that is the rise in credibility for business continuity and its strategic role in an organization. And business continuity really taking on a larger strategic role when companies think about crises. And I know that for different organizations structured in different ways, business continuity and crisis management sometimes are under the same leader. Sometimes they're in separate parts of the organization. Sometimes we think about one as being a part of the other. But we are seeing more of a focus on business continuity. If anything, the pandemic has helped to propel the importance of having a good, strong business continuity program to senior management and to boards of directors. And that has led to more involvement from business continuity leaders at a senior level in the organization, to advise about the strategic direction of pandemic response of other new business and strategic efforts in an organization.
And I think this is a great developing trend for those of us in the business continuity and crisis management space. The challenge though, is where leaders can't operate at that level. Where they're taking, what I would say is a mindset of the past, thinking about compliance-oriented activities, or taking the mysterious, rocket science approach to business continuity. Instead of taking advantage of the opportunity that the pandemic has presented to them to raise their game to a strategic level and finally get the kind of investment and strategic involvement that business continuity professionals have been clamoring for for decades. And this has been an opportunity that many have not been able to take advantage of. And now is the time to think about how to reposition what you're asking for and how you're going about that in order to get those resources and things that you're after.
We're also seeing, as we've worked through the pandemic, that crisis management planning and business continuity planning has become more agile and more adaptive. Many companies have found that these lengthy pandemic and crisis management plans just did not fit their needs over the last two years. Many organizations reported in a recent survey from the Business Continuity Institute that their crisis plan was not effective in the organization. In fact, more than half of them said their crisis management plan was not effective during the pandemic. But three-quarters of those said that had an ineffective plan told BCI in their survey study, that they were able to quickly adapt and either wrote a new plan or could modify their existing approach to make them more relevant to COVID-19. Having pre-planned responses is important, but being able to adapt quickly through a crisis management framework would be one of the lessons learned that we saw here.
In our own observations with our clients, our clients that were able to move quickest during the pandemic, and thus have, I think take that first-mover advantage and being able to quickly adapt to the circumstances presented by the pandemic around the world, were the ones that had a strong program, that had executive credibility and insight. That were able to use their crisis and business continuity processes to achieve goals. To get the issues in front of their senior executives and make those decisions quickly.
I would also say that we're seeing more of a centralization of crisis management and business continuity within organizations. I think this is a good trend. It leads to more success from our perspective. In the BCI survey, almost 80% of organizations have entirely centralized their crisis management approach, or they've adopted some kind of hybrid approach where there's a centrally governed program, but regions or sites are allowed some degree of autonomy to manage their own events. This can work well when you have a strong governance approach and you want to delegate some of that authority out to sites or regions. But again, often from our experience, we might start with a more centralized approach and then over time delegate more of that authority out to regional or national, or site level leaders. But keep the governance and such centralized as you move along.
Another trend that we see is just the continued rise in cybersecurity threats. Particularly ransomware, which seems to be the challenge that a lot of organizations are faced with. And we've talked about this numerous times on the podcast, particularly around ransomware attack planning and playbooks about integration and practicing ransomware response as a crisis management and continuity exercise. But also the importance of backups when it comes to your ability to withstand a ransomware attack. And of course, tightly integrated with the ransomware problem is malware, and fishing are often the methods of penetration. And the output of this is not just the loss of your production systems, but also the data breach or leakage of data that can go along with this, that can lead to the destruction or leaking of sensitive data, PCI, credit card, information, payment card data, personal health information, or other personal information that can be leaked.
We predict that large-scale cyber attacks are going to continue. We're going to see more of that aimed at critical infrastructure. And as we commented on another recent episode, we're seeing more and more attacks, not just on large organizations, but on smaller and mid-tier organizations. Which often don't have the information security business continuity capabilities that larger organizations are going to have. So we anticipate that this is going to continue. From a cyber standpoint, we don't really see that going away.
Lastly, we're seeing more investment in business continuity and crisis management by organizations that have been maybe awoken by the threat that the pandemic and that the rise in cyber threats has really posed for organizations. I think this is a great thing for business continuity and crisis management professionals. It provides the opportunity to gain those investments in your program that you may have always needed.
We're seeing a lot of organizations do evaluations of their program to see where they stand and use the reports from those evaluations to really drive investment in their program. Everything from business continuity software to emergency notification software, to additional headcount and resources or consultants to help them grow and drive their program. So those are some of the trends that we're seeing in the studies and surveys that are being put out by our trade groups and industry associations. What we're seeing with our own clients and what we're experiencing here at Bryghtpath. That's it for this edition of the Managing Uncertainty Podcast, we'll be back next week with another new episode, be well.