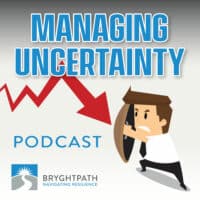 In this edition of the Managing Uncertainty Podcast, Bryghtpath Principal & Chief Executive Bryan Strawser and Consultant Bray Wheeler, take on the new report by the United States Secret Service on targeted school violence.
Just published in November 2019, this report analyzes more the forty targeted school violence attacks in the United States and provides a detailed base of facts about school violence, as well as an updated methodology and practical guidelines for prevention.
The full report can be downloaded from the Secret Service's National Threat Assessment Center (NTAC) through this link.
Related Episodes & Blog Posts
Episode Transcript
Bryan Strawser: Hello and welcome to the managing uncertainty podcast. This is Bryan Strawser, principal and chief executive here at Bryghtpath.
Bray Wheeler: This is Bray Wheeler, consultant here at Bryghtpath.
Bryan Strawser: And on this week's episode we're discussing the Secret Services recent report published in November 2019, titled Protecting America's Schools, a United States Secret Service Analysis of Targeted School Violence. This report is available online and we will link it in the show notes. It's a fascinating report that goes deep into 41 incidents of targeted school violence that occurred in K through 12 schools in the United States from 2008 to 2017. And they cite that these findings will help prevention efforts for schools and law enforcement across the country as communities work to develop threat assessment protocols that are geared towards preventing school violence tragedies. Some basic info that I think was shared or some basic info that kind of kicked the report off, and then I want to get to the meat of this, which is really about the warning signs of potential targeted school violence.
Bryan Strawser: But of the 41 attacks that are profiled in the report, all but two occurred in public schools. So only two occurred in charter or private schools. 73% of these attacks were carried out in grades nine through 12, so in high schools. Most of those schools that had a targeted violent attack had implemented some type of physical security measure and 66% of them had either full or part-time school resource officers on the campus. So, police officers on the campus. The most commonly used physical security measure was a school walk down procedure, followed by security cameras, followed by alert systems that notified community members via text or phone calls. 61% of the attacks used firearms, 39% use knives. Shocking. The attackers were predominantly male, 83%, and white, 63%. And by shocking, I mean not shocking, because most violent perpetrators are male. 17% of the attackers were female. Their ages range from 12 to 18. The average age was 15 years old. Bray, any initial reaction to that information?
Bray Wheeler: Unfortunately that sounds a lot like what we've seen and heard, both in the news and just historically, sort of sense. This kind of came on the national radar via Columbine, Parkland and others in between. The MO holds pretty strong to that kind of description of what's happened and who committed it.
Bryan Strawser: Yeah. I would point out the sample size is pretty small. 41 attacks over a nine year time period. I believe, I don't have the report in front of me at the moment, but I believe that the report is inclusive of all targeted school violence attacks and they have a definition for what that means in the report. I don't think these were cherry-picked. I was a little surprised. I expected the number of male offenders to be higher than 83% because it's almost… You look at violent crime, it's almost all male that occurs.
Bray Wheeler: Yeah. Yeah. That is a little bit kind of noticeable in terms of the number there that it is as low as it.
Bryan Strawser: It's a little lower, yeah. So in the reports there were 10 warning signs that were highlighted of things that can be observed prior to a school attack that I think are worth speaking to. The first one is that there is no single profile of a student attacker or a profile for the type of school targeted. Attackers varied in age, gender, race, grade level, academic performance and social characteristics, and the schools varied in size, location and teacher to pupil ratio. The Secret Service's conclusion here is that rather than focusing on a set of traits of characteristics, threat assessment processes should focus instead on gathering information about a student's relevant behaviors, situational factors and circumstances in order to assess risk.
Bryan Strawser: I think we knew this. This lines up by the way with the FBI's recent publication of their mass shooting, Active Shooter reports, where the Behavioral Science Unit went into like what are the warning signs, what are the pre attack indicators? And the Bureau's conclusion is essentially there was no single profile that said, "Yes, this is a person who was going to commit targeted violence." It was a combination of things. [crosstalk 00:05:11].
Bray Wheeler: And I think to their point, it's really about the behaviors and noticing people that are around these potential actors, differences in their behaviors and their-
Bryan Strawser: It was about their [crosstalk] it was about their behavior.
Bray Wheeler: What are they doing? There's a difference, and what is that difference? And does that difference raise any sort of red flag for you? And if it does, being able to communicate that.
Bryan Strawser: Take action on that. Number two, on the warning signs, attackers usually had multiple motivations for their attack. The most common, however, involve a grievance with classmates, faculty or staff.
Bray Wheeler: Yeah, I mean it's the different motivations and oftentimes that tends to be kind of the thing in their life that starts to set off some of that. I don't want to call it the proverbial straw that broke the camel's back because there's probably a multitude of factors there, but it typically manifests there that they want to take action and that feels probably like the path of least resistance to be able to take an action when they've gone kind of that far in the mindset.
Bryan Strawser: Number three is that most attackers used firearms and those firearms were most often acquired from the home. That many attackers were able to gain access to unsecured firearms in their place of residence. Others were also able to gain access to firearms that were in a secured safe. For example, in the Sandy Hook shooting, that individual actually killed his mother in order to gain access to the firearms that were in a safe. I don't know if there was a combination or key or certainly how that worked, but his homicide of her enabled him to gain access to the firearms that were secured in a safe.
Bryan Strawser: Knives were used in lesser number of attacks. 39% I believe was the number recited earlier. Threat assessment teams should explore if a student has access to any weapons, particularly weapons that are stored at home.
Bray Wheeler: That's almost one of those, you can get into the merits of it and kind of the political conversation of it, but reality is reality. People have those firearms in their homes and that again, that's the path of least resistance to acquire something. High school students aren't probably-
Bryan Strawser: They're not walking into a gun shop to buy a gun because they can't.
Bray Wheeler: Or is likely to try and get one off the street, based on the profile of these individuals that we're talking about in here. Certainly, gang-related violence and things like that tend to be kind of classified and talked about a little bit different and very much a threat nonetheless. But in terms of these school shootings, that's the path of least resistance to get that. And that's typically where those people have gone.
Bryan Strawser: Number four, most attackers had experienced psychological, behavioral or developmental symptoms prior to their act of targeted violence.
Bray Wheeler: Yeah, I mean that gets to be it… Again, it's back to some of that's just reality. It's also a sensitive discussion topic. Well, because what constitutes… What, how severe, who's doing the classification? Has there been-
Bryan Strawser: What's the actual behavior that's been observed?
Bray Wheeler: Right. Has there been anything in terms of action by the state government, the federal government, local government around said behavior? Has the school done anything around different behaviors that the student has exhibited in the past? I mean, it becomes a very key factor, but it's also a piece that can vary slightly and is open to interpretation. It's a little bit subjective in terms of how other people interpret.
Bryan Strawser: Totally agree. Yeah, you can't see me nodding, but I've been nodding while Bray's been talking. I think this reinforces the need to make sure that students and parents are aware of what resources are available to them for mental health assistance, social services counseling, substance abuse treatment. To your point, if we do get into a dicey situation here, like what kind of behavior are we really seeing? Is it psychological, is it behavioral, is it developmental, is it an addiction? There's a lot of possibilities for what causes some of these. The point is, how do we make sure that they have access to resources that can help them in this situation.
Bryan Strawser: Number five is that half of the attackers had an interest in topics related to violence or as the report says, they displayed unusual or concerning interest in violence and weapons.
Bryan Strawser: That feels like a little bit of a stereotype. It made me think about the Columbine, it was the Trench Coat Mafia and dark stories and Dungeons and Dragons or whatever. Forgive me, because I don't remember the particulars now, it's been 20 years. But you had what I thought was kind of this irrational stereotyping of that. I wrote some violent things when I was in is cool because I mean, what did I watch? I liked Star Wars and Star Trek and we were shooting people with phasers and cut them in half of the lightsabers. It's kind of violent.
Bray Wheeler: Well, again, it gets back to the little bit of the subjective nature of it. The open to interpretation, the fact that some of these things can be pretty obvious in that segment, but that doesn't necessarily… There's to your point, there's lots of kids participating in those different activities and to varying degrees and what degree is-
Bryan Strawser: What's concerning?
Bray Wheeler: Concerning-
Bryan Strawser: And what's not?
Bray Wheeler: … to what person.
Bryan Strawser: Right.
Bray Wheeler: So, mom and dad's level of concern may be very different than teacher's concern may be very different than coaches concern may be very different than employer's concerns.
Bryan Strawser: So again, we see, for a threat assessment team, it's important to be holistic and look at the various dimensions of this and where does this fit in light of other factors for risk that should be considered as a part of that?
Bryan Strawser: Number six. All of the attackers experienced social stressors involving their relationships with their peers and/or romantic partners. That every attacker in this study experienced at least one social stressor most frequently related to bullying. Other stressors include family, academic, or school discipline.
Bray Wheeler: Yeah, I don't know what my reaction to this one is necessarily in particular because it, I don't want to make light of those pieces, but we're also talking, if we're talking the average age is 15, which means more likely we're in that middle school, high school range.
Bryan Strawser: There's a lot of social stressors.
Bray Wheeler: There is a lot of social stressors, and so I think part of, kind of back to the theme that you're touching on, Bryan is, there's a lot of factors at play. We can't just extrapolate one of these things that we've talked about as a case in point for, you're going to be an attacker, we need to watch you. Because I mean, to be fair across the board here, that one in particular for this age range, that's just reality.
Bryan Strawser: I agree.
Bray Wheeler: They're trying to learn their way in the world and especially in that middle school range where your hormones and your physiological and mental development is all over the place and emotional development. So I think the key piece there is where do those things lie? To what degree are those things being put to the forefront in terms of their behavior or their conversations or their actions, what they're displaying in relation to some of these other things that we talked about?
Bryan Strawser: Number seven. Nearly every attacker experienced negative home life factors. That negative home-like factors included parental divorce or separation, drug use or criminal charges amongst family members, or domestic abuse. There's probably more, I think those were some of the major factors. Absence of one parent or the other because of divorce, imprisonment or separation was also a factor here. And I don't know, I mean, I think lots of folks have a negative home life factor to some extent. I was fortunate to have both of my parents growing up and we had a pretty stable nuclear family, but my aunts and uncles were alcoholics and drug addicts and that was all something I was exposed to. So definitely there was some negative… If I personalize this, there was some home negative influence in my broader family. I don't think that's necessarily unusual.
Bray Wheeler: No and I think, I mean again, not trying to minimize, but it definitely speaks to, I think the last four that we've talked about are all very related. They're not necessarily unique in terms of grievance with a classmate or something like that. That's a pretty common thing. These all speak to kind of the mental, emotional, environmental factors that a student, the child is kind of surrounded in, whether by their choice or by other people's choosing. And I think that certainly these four definitely play a role, but they're not common, so you have to take them as kind of the collective, which has been a theme we've been beating on here, but…
Bryan Strawser: Number eight. Most attackers, so more than a simple majority, were victims of bullying, which was often observed by others. The study found that in many cases the school was aware that the attacker experienced bullying, but the responses to bullying varied. In some cases the school did little to intervene or intervened in a way that increased the bullying of a student. And I think just like the others, this is another one where either you have to take this in light of the whole holistic view of what's going on with this individual, and the combination of those risk factors. It's not just that they were bullied, but it's going to be a combination of this and other factors that will raise the risk in that case.
Bray Wheeler: When I think for schools and communities and things like that, getting clear on what bullying is and is not, and not throwing it around loosely, but also taking it seriously in terms of putting in different intervention programs, making sure that kids have access to other resources within the school, making sure that there are programs, processes, things like that, that are in place, that you're not caught off guard. Because I think one of the things that is kind of in here that's not necessarily explicitly stated in the schools and the communities that these are happening in aren't a particular type of school or community that it's happening in it. It varies from very suburban to little bit more rural to-
Bryan Strawser: Right. There was no profile [crosstalk] That's right.
Bray Wheeler: And that community. So it happens everywhere. So you have to assume this can happen here. One of the cool programs at my kid's school that I thought was kind of cool is, so they have a couple of counselors, and they have different things for different needs of different students. Whether that's kind of anxiety, or they've got some personal stuff going on at home in terms of a sick parent or sibling or something like that. But one of the groups they have is just geared around kids who may need a forum to make some friends or to engage in more friendly kind of interactions with students, regardless of whether or not they're aggressive or things like that.
Bray Wheeler: Sometimes those kids are just in a kind of in a funky spot. And so that's an opportunity for them to get together and just talk and hang out and play different games and stuff like that. And fortunately one of my kids is able to experience that and has been having an awesome time, and he's not one that doesn't make friends easy. He's pretty personable, he makes a lot of friends. But in terms of some of the stuff that he's in, it's a good forum for him to get together with different kids and not only help them through, but talk through it. So I mean it's programs like that, that really can help shape and build a community and build a culture within the school too of no tolerance.
Bryan Strawser: Right.
Bray Wheeler: That other kids are starting to stand up for other kids and kind of self-policing a little bit. Not to put the responsibility on the students, but that is part of it. I mean, if that's the world we want to live in, then got to start somewhere.
Bryan Strawser: Number nine. Most attackers had a history of school disciplinary actions, and many shooters had prior contact with law enforcement. I should say, attackers, not shooters. Many attackers had prior contact with law enforcement. Most attackers had a history of receiving a school disciplinary action resulting from a range of inappropriate behavior. And those actions included being suspended, being expelled, or having interactions with law enforcement.
Bryan Strawser: I think after Parkland, this doesn't surprise us. In the Parkland incident, that individual had, I believe he had been expelled from school, but he wasn't permitted back on school property, whatever the result was. But law enforcement had 35, 36 interactions with him prior to his attack at the Parkland school.
Bray Wheeler: If like we've talked about you're taking these other kind of key findings and the consideration around that, it's probably not surprising that there is disciplinary action within the school. Whether or not that's prompted by that person or as a result of conflicts with people who are bullying that individual or there was grievances between classmates, things like that, the interactions with law enforcement, those can come in any manner of ways in terms of, as we talked about, interest in violent topics or firearms and weapons or just home life interactions with different things that are going on. So, not surprising given some of the other key findings we've talked about that would be a thing that's a finding as well.
Bryan Strawser: Right. Number 10, and the last one, all attackers exhibited concerning behavior prior to the attack. Most elicited concern from others and most communicated their intent to attack.
Bray Wheeler: And that is probably the biggest one in there.
Bryan Strawser: Yeah. It states that the initial indicators of a student in distress or exhibiting concerning behavior were most often observed by peers, school staff, family members or others in the community, some of whom took action and reported, and some did not. And those that did report action, was not always taken on their reports. And I think we know this to be true. We've seen this in coverage of other targeted violence in schools and out of schools, that a lot of times people aren't willing to call and report behavior. And also that when their behavior is reported, law enforcement or other services don't always take the actions that we expect them to take, or sometimes don't even follow through on the report at all. Or in a lot of cases.
Bray Wheeler: Or even other organizations. So if a student goes to school and the school blows it off, doesn't take action, thinks a different approach is preferred, I mean, that is the biggest probably piece in here, the biggest lesson learned or takeaway for everybody, is when you do see those things and it does raise those red flags and you're serious enough about it to report it, follow up. Make sure that those things are getting communicated and if you don't feel like it's sufficient, communicate it again to a different audience. Escalate those things. Don't let these things get lost in the shuffle because ultimately, the intent here hopefully for people is to help that individual, intercede before things continue to escalate down a road. Most of the time these are people that are close to the individual, whether that's friends or family members or things like that. They're the ones that are going to probably notice that behavior first and be most concerned about it and probably want to help.
Bryan Strawser: Well, I think the first indication right, I mean, or the first motivating factor, I should say, for when something is reported to you that you want to help the individual that's in need. I've never worked in a school, but if I worked in a school and someone came to me with a report of concerning behavior, I don't know that my first reaction would be, my God, we needed to deter the attack. I'd think it's, how do I help this student or someone else that needs help in this case and the deterring and the attack isn't necessarily something conscious that I'm doing. I'm taking action to help somebody that I have this connection to you as a staff or faculty member of a school.
Bray Wheeler: Or if it's the organic prevention of that attack, to your point, that you're not first going there, although probably some people do go immediately there. That's probably not the most helpful either, but also speaks to some of the seriousness that people can take with some of these reports. But I think to your point, the need to help that individual in whatever way, whatever shape or form, that's really the initial intent there. And so that should be taken seriously across the board and escalated and pieced together in terms of some of these other factors around that behavior, putting that right context in place so that the appropriate escalation is happening as well.
Bryan Strawser: And I think this goes back to kind of to a twofold thing we've been emphasizing throughout the podcast and that is that we believe that school threat assessment teams, this interdisciplinary group that's been trained to evaluate risk and threats and be able to take a coordinated response to help the student and protect the school, are a really effective way of managing these situations. Particularly you're looking at the holistic view of what's going on with that student and all of the possible risk factors that are at play. And the Secret Service recommends this in the report. In fact, last year, I think it was late 2018, they had a report from their National Threat Assessment Center just about how to use threat assessment teams effectively in the K through 12 education environment to mitigate the risk of an attack and to help the student that's in need.
Bryan Strawser: But second, I think this also just goes back to the point we had earlier that when suspicious or concerning behavior is reported to the school or to another body entity that's out there, that you have to take these seriously, that you really have to follow up on that report in order to understand what's going on with that student. And having a threat assessment team helps you kind of formalize that process and get multiple folks looking at the situation and providing their own trained view, but also the view from their discipline. You should have folks that have a security and law enforcement background, a counseling background, teachers and faculty that are a part of this, so that you get that well rounded view, holistic view of what's going on with the student.
Bray Wheeler: Well, I think it speaks to the other kind of sub team we've been talking through is no one person in that student's life can necessarily see all of these different factors that have been outlined here. Nobody's got that view. Parents can say if they're really on top of it that they absolutely know. I know my son or daughter. Not doubting that, but it's also, you're not walking in their shoes with them all day every day. You've allowed them to go out into the world. They're in the classroom.
Bryan Strawser: How they are in the classroom might not be what you see at home?
Bray Wheeler: Yep. Because I've gone to plenty of teacher's conferences where my kids are all well behaved and I go, "I want some of that at home." I just signed my daughter's report cards this morning. They're six and eight, so there's not a lot of serious academic stuff going on there yet. They're learning how to read and write and spell and all the basic stuff. But they both had comments about that, like that they're such a sweet, caring kind girl who helps others. And I'm like, "Where is this person?" Because that's not what I have around the house.
Bryan Strawser: But, it's right. I mean, we might laugh at that, but the truth is your child might act differently at school than what you're used to seeing in home, good or bad.
Bray Wheeler: Or bad. And I think that's the important pieces. As a parent, you should be your child's biggest advocate, but again, recognize that you don't see them everywhere. And so there might be factors, that's not to say that they have the poor discipline or poor behavior or things like that, but things might be happening to them that they're not sharing or they're blowing off or that are building, that they don't know how to communicate. So having that team at school, having engaged parents, or an engaged village, that community of people surrounding that student, when those things surface in terms of some of these findings that the Secret Service has laid out here, kind of bubble up or people report to say, "This is really different. I don't feel good about this with John or Jane." That hose things are, like we've said, addressed and addressed in a way that is holistic and reasonable and escalates as appropriate, to make sure that that student is getting what they need. And by hopefully by consequence, organically solves the problem of really violent behavior later.
Bryan Strawser: So we'll link the report in the show notes so you can take a look at that. And I believe we have an episode a few months back on another Secret Service report that's kind of related to this. We'll link that as well. I think that was the one about threat assessment teams and their recommendations. We'll link that up so you can go back and take a look at that episode.
Bryan Strawser: That's it for this edition of the Managing Uncertainty podcast. We'll be back next week with another new episode. Thanks for listening.