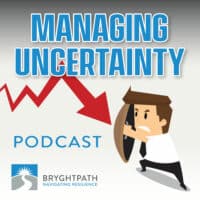 You won't want to miss this episode.
There are few things that have caught the attention of business leaders and individuals around the world right now in the way that the Novel Coronavirus outbreak in China has garnered attention.  For a virus that was unheard of prior to December 2019, as of this podcast publication, there are nearly 25,000 cases just in China alone – with hundreds of new confirmed cases each and every day.
In this episode of the Managing Uncertainty Podcast, Bryghtpath Principal and Chief Executive Bryan Strawser provides an overview of Novel Coronavirus – what it is – how it's impacting businesses, countries, and individuals, and recommended steps that companies and individuals should take right now to ensure their long-term continuity of operations.
Related Episodes & Blog Posts
Episode Transcript
Bryan Strawser: Hello and welcome to the Managing Uncertainty podcast. This is Bryan Strawser, principal and chief executive here at Bryghtpath. I'm flying solo again today for this episode where we're going to talk about probably the top issue that's going on in the emergency management or crisis management world right now and that is novel coronavirus. The outbreak that began in the Wuhan province of China and has now led to what appears to be becoming a global pandemic, the likes of which we haven't really seen since H1N1 just over a decade ago. Novel coronavirus. We're going to talk a little bit about what it is. What is a coronavirus, the impact and spread of the virus, its impact on business and travel, its impact on businesses and our recommendations for businesses and individual precautions in terms of travel and medical treatment? And we'll talk about some things you should be thinking about as this outbreak continues, things you should monitor as an organization, as a crisis management or business [inaudible] leader within your organization.
Bryan Strawser: Let's start by just explaining coronavirus briefly. The novel coronavirus was detected in December 2019 so not very long ago when several cases of pneumonia were identified in Wuhan city in the Hubei providence of China. The virus did not match any previously seen virus. A week later on January 7, 2020, Chinese health officials confirmed the identification of a new virus. On January 30th the world health organization or WHO declared a global public health emergency over the spread of coronavirus, citing the potential for the spread of the virus to countries that were not prepared to deal with the contagion. The US Department of Health and Human Services or HHS similarly declared a public health emergency on January 31, 2020. Common signs of infection with novel coronavirus are respiratory symptoms, fever, cough, shortness of breath and breathing difficulties. In severe cases, this infection causes pneumonia, severe acute respiratory syndrome or SARS, kidney failure, and even death.
Bryan Strawser: The virus has been temporarily named coronavirus. It also has an acronym which is 2019-nCoV for novel coronavirus of 2019. I assume, I'm not an expert on this particular topic, but I assume this will eventually have a different name, but right now it's novel coronavirus. A coronavirus, you're probably wondering what that is. A coronavirus is a large family of viruses that can cause illnesses ranging from the common cold to more serious diseases. Some of these diseases that are caused by other coronaviruses from history that you might recall are the severe acute respiratory syndrome or SARS and the Middle East respiratory syndrome or MERS. So those are both other coronaviruses but that's not the same as the novel coronavirus. As of this morning, and we're recording this podcast on February 5, 2020, so our information dates from that morning, China has acknowledged nearly 25,000 cases of novel coronavirus and has acknowledged 491 deaths to date. Cases are now identified in 13 Chinese provinces and four major municipalities.
Bryan Strawser: The municipalities with cases include Beijing, Shenzhen, and Shanghai and then both special administrative regions of Hong Kong and Macau have had cases. Hong Kong had their first death today, February 5th. According to reports, novel coronavirus has been confirmed in several countries outside of China and these include Japan, South Korea, Vietnam, Singapore, Australia, the Philippines, Thailand, Nepal, Sri Lanka, India, the United States, Canada, France, Finland, Germany, Italy, the Russian Federation, Spain, Sweden, the United Kingdom, Belgium, and the United Arab Emirates. For our friends here in the United States 11 patients so far have tested positive for novel coronavirus.
Bryan Strawser: As of February 5th 76 cases nationwide are pending test results. This information according to the Centers for Disease Control. 36 States have had patients that are presently under investigation for potentially having novel coronavirus. To date, two patients in the United Kingdom have tested positive for coronavirus. The UK chief medical officers, I think of that as a decision body similar to the CDC, has raised the risk to the public from low to moderate in the United Kingdom. The UK newspaper, The Guardian believes and reports rather than modeling that was conducted by the world health organization experts at Imperial College, London suggests that more than 100,000 people globally likely have novel coronavirus that has not yet been detected.
Bryan Strawser: We have seen significant growth in the outbreak over the last several days. In one case, well going into this week, the number of confirmed cases nearly tripled over the last seven days. Let's shift gears now that we've given little basic and talk about business and travel impact. The United States Department of State advises that US citizens should not travel to China now due to novel coronavirus. In their travel advisory issued on January 30th, the State Department recommends that US citizens currently in China should consider departing via commercial means as quickly as possible.
Bryan Strawser: All nonessential US government personnel have also been ordered to depart China. Travelers should be prepared for additional travel restrictions to be put into effect with little to no advance notice. Airports and immigration officials in many countries, including the United States, the UK, Japan, China, and elsewhere have begun screening incoming passengers for signs of coronavirus. Passengers could experience temperature monitoring and health-related questions at immigration, particularly if they have traveled to China in the past 14 days. Now, probably the most significant change we've seen here in the United States is that starting on the 2nd of February, so just three days ago, the US Department of Homeland Security established and implemented 11 US airports that would be the gateway locations for flights that were carrying passengers from China, meaning that those were the only flights from China would only be allowed to land at one of these 11 airports where the US government through the Department of Homeland Security and the Centers for Disease Control had established enhanced passenger screening and implemented quarantined capabilities that have been established there.
Bryan Strawser: What their order requires is that if indications of coronavirus are found that they have the authority to quarantine travelers entering the United States for up to 14 days to determine whether or not they have novel coronavirus and other countries are now implementing similar restrictions. Often on short notice. Hong Kong has now closed the border with mainland China and has closed schools until March as the number of confirmed cases continues to rise. Supplies of hand sanitizer and N95 masks in Hong Kong have become slim and this is actually a factor we're seeing in a number of places that the personal protective equipment or PPE that you're going to want like N95 masks and hand sanitizers have become very difficult to obtain even here in the United States in cities that have not seen any impact from novel coronavirus. Singapore has stopped issuing visas to people who have Chinese passports.
Bryan Strawser: They're actively denying entry to foreigners who have visited China in the past 14 days. Mongolia has announced it's currently barring visitors from China and has closed their own land border with China. We're also seeing business impact to companies who operate in China where they're enforcing longer leaves and vacations, requiring employees to work from home and suspending operations in the short term in order to minimize the spread of the virus. We assess here at Bryghtpath that companies will begin to experience supply chain disruption if they operate in Asia or if their supply chain touches Asia simply due to the rapid spread of the virus, the impact it is having on businesses and the restrictions that governments are placing on travelers and business operations. So we have a number of recommendations. I'm going to give you the high-level recommendations here on the podcast and on our website you can go to the episode page for this episode and look for our free intelligence and threat briefing on novel coronavirus and we have a significant number of other recommendations that you can consider.
Bryan Strawser: But let's talk about just some high-level recommendations that could be important. For businesses, we recommend that companies that operate in or travel to the impacted areas primarily in Asia, activate their crisis management processes today and use this as a mechanism for monitoring and making enterprise-level decisions for their organizations. Get your group together and talk about what's going on and the actions that you should take. Given the current pace of the outbreak, we recommend that companies have at least one daily meeting of their crisis management team to review current information, the current state of their response to actions and discuss potential future actions. Organizations should review their current business continuity and crisis management plans. You want to make sure that you are prepared for potential disruption. In particular disruptions to the ability of your employee base to work, of your supply chain to deliver the materials, products, and services that you need for your company to operate and that third party service organizations that you use are prepared to continue the delivery of critical services.
Bryan Strawser: This is important to take a look at now so you understand where there may be gaps in planning, but also to think about from a contingency standpoint, what else might you need to do around your current business continuity and crisis management plans to ensure that you can continue to operate if the outbreak continues. We recommend that companies temporarily prohibit all travel to China and restrict several other countries to essential and business-critical travel only while continuing to monitor the outbreak and what countries it has spread to in the region. Additional travel restrictions might be things you want to put into place if the outbreak continues to grow significantly beyond mainland China and again in our intelligence and threat briefing, we have a full list of our recommended travel restrictions for businesses and we have a lengthy breakdown of potential actions that should be considered as a part of business continuity and crisis management planning.
Bryan Strawser: I want to shift gears briefly and talk about travel and individual precautions that you may want to consider for your employees. The Centers for Disease Control and the World Health Organization and our company recommends that travelers avoid all travel to China, Hong Kong, and Macau at the current time. If you absolutely must travel to an impacted country, avoid contact with people who are sick. I don't care what they're sick from, avoid contact with them. You should discuss travel to impacted areas with your healthcare provider before you make your trip. In particular, older adults and travelers who have underlying health issues should be understood to be at risk for more severe impacts if they're to become effected by novel coronavirus and there may be other action steps that your healthcare provider may want you to take. When in these countries avoid all animals alive or dead, any animal markets and any products that come from animals.
Bryan Strawser: In other words, don't handle any uncooked meat or any other animal products. You should wash your hands often with soap and water for at least 20 seconds and then you should carry and use an alcohol-based hand sanitizer for use when soap and water are not available. So these are if you must go to an impacted country or some of the business essential only travel countries that we talk about in our intelligence and threat briefing. If you or your employees have been to China, Hong Kong or Macau in the last two weeks and in any way feel sick with fever, cough, or having difficulty breathing, there's a number of steps you should take immediately. The first is to seek medical attention. Before you go to the doctor's office or emergency room or a clinic, call ahead, tell them where you've been and tell them what your symptoms are. Ask them what they would like you to do.
Bryan Strawser: You want to avoid contact with others, including members of your own family as to not spread the disease. Do not travel. Don't get on an airplane, a train, bus. Only travel via your vehicle or an ambulance. When you are coughing or sneezing, cover your mouth and nose with a tissue or your sleeve. Don't use your hands. You will touch other things with your hands. Use the crook of your elbow, use your sleeve in order to do that or a tissue. And then again, wash your hands often with soap and water for at least 20 seconds and carry and use an alcohol-based hand sanitizer if soap and water are not available.
Bryan Strawser: There's a lot of misinformation out there about novel coronavirus, particularly on Facebook and Twitter from non-government entities. Individuals who are spreading fake news for lack of a better term. The places to go to get the information I think are pretty simple. You can look at the World Health Organization website. They have a novel coronavirus information page and they have daily situational reports which will tell you what's happening around the world. It's fair to say perhaps some of that information that's being reported by other countries may not be 100% accurate. I know there's a lot of questions about China's motivation to share or not share, be transparent or not be transparent about what's happening with novel coronavirus but the WHO, the World Health Organization has good information on their website. It's worth looking at. The Centers for Disease Control here in the United States also has a novel coronavirus information page.
Bryan Strawser: It tells you a lot about what the outbreak looks like here in the United States and actions that the US government and state and local governments are taking. Another great source for information that's giving you facts about what's going on and what to do. And then if you're in the United Kingdom or you want to get more of a European centric point of view, the United Kingdom's National Health Service has a novel coronavirus information page and the Cabinet at Number 10 Downing Street on the United Kingdom government website also has a novel coronavirus information page and then lastly you can get a copy of our intelligence and threat briefing. It's completely free. There will be a link in the show notes to obtain that or you can go to our website at bryghtpath.com and follow the link under resources to white papers and you'll find our free intelligence and threat briefing there.
Bryan Strawser: It has links to all of this information that I just outlined. Whenever we update it'll be posted there. We have a number of links in the document to other news coverage. We have our recommended travel restrictions based on the information and we have a number of actions and decisions for consideration in the appendix that cover several pages of ideas about things that you may want to consider within your own business. The most important thing with novel coronavirus is to understand that it is a significant threat right now.
Bryan Strawser: It is something that you want to pay attention to if you source from Asia, if your company involves in any international travel or if you're sourcing from other countries or you're reliant upon service providers who operate or are headquartered in these other countries. It's of particular importance of course if you travel or directly operate in those countries. Make sure you're operating off of factual government based information and as always, you can contact us at any time for assistance or get clear, factual information about what's going on.
Bryan Strawser: That's it for this edition of the Managing Uncertainty podcast. We'll be back next week with another new episode.