Preparing for the worst
Events such as a workplace violence incident, a fire, or a disruptive protest in your headquarters lobby can lead to serious consequences for your team and damage to your reputation if not properly handled.
While incidents such as these can never be eliminated, Bryghtpath's crisis planning & exercise consulting can help you to develop plans, training, and exercises to ensure that your team is well-prepared.
Bryghtpath has developed active shooter plans and training for the Fortune 100, conducting crisis planning and crisis training, detailed life safety processes for major manufacturers, and numerous protocols for international incidents for companies globally. We've designed and facilitated exercises for a wide variety of scenarios with detailed after-action reviews to help our clients improve.
Our unique approach to crisis exercises involving creating realistic scenarios that impose the appropriate amount of pressure on a crisis team in order to simulate a real-life situation.
Our team has been trained by the US Department of Homeland Security (DHS) and the Federal Emergency Management Agency's Emergency Management Institute (FEMA EMI) in the Homeland Security Exercise & Evaluation Program (HSEEP-1) requirements for exercise programs.

Solutions
Our emergency planning & exercise solutions can be tailored to deliver results in the following areas:
Strategic reviews of current emergency plans and procedures
Emergency planning for active shooter incidents, life safety situations, and other situations
Crisis training and crisis planning for all potential hazards your organization may face
Assistance evaluating threats of workplace violence, violent protests, or other disruptions
Development and facilitation of crisis exercises to practice emergency plans and procedures
After-action reporting following an incident or exercise to capture lessons learned and develop recommendations for improvement
Support to leaders, senior executives, and Boards of Directors following an incident
Partnerships with service providers, such as employee assistance programs, workplace violence experts, and security specialists
Global Security Operations Center (GSOC) strategy, design, implementation, evaluation, & maturity.  Learn more about our GSOC offerings.
Standards: NIMS/ICS, HSEEP-1, and the DHS/FEMA national frameworks
Ready-made, battle-tested Crisis Plans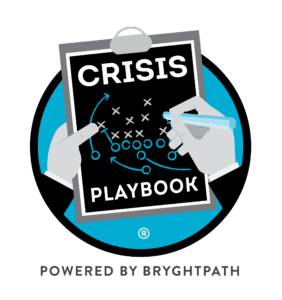 In addition to our customized options available above, we offer ready-made, battle-tested crisis management & communications plans at Crisis Playbook.
Crisis plans from Crisis Playbook come with support from experienced crisis management and communications experts, for any critical moment, such as a natural disaster, violent attack, or a reputational campaign
Free Crisis Management & Emergency Planning Introductory Training
Our Crisis Management 101 Intro Course is intended to provide a business leader or individual contributor with an introduction to the world of crisis management – and help them prepare their organizations for the next major crisis situation.
Our Crisis Management Training contains 10 comprehensive lessons that will help you improve your organization's resiliency. After completing this free crisis management training course, you'll have the personal knowledge that you need in order to start making an immediate difference.
This course is completely free and is delivered via e-mail over a 10-day period – one lesson each day.
Click here to learn more about our free Crisis Management 101 Introductory Course
Exercise in a Day™️

At Bryghtpath, we understand that time is of the essence in today's rapidly evolving business landscape.  Designing business continuity & crisis management exercises should not be an endurance test, which is why we've developed our innovative Exercise in a Day™️ product.
With Exercise in a Day™️, you'll get a comprehensive, ready-to-execute crisis tabletop exercise developed by our team of experts in just one day.
Exercise in a Box™️

Managing crisis & continuity exercises across an organization is a tall order.
That's why we've developed a set of crisis & continuity exercises that can be executed by a business leader in an hour or less – and don't require expert facilitation from a crisis management or business continuity team.
Our Exercise in a Box™ scenarios and materials were written by the battle-tested experts in crisis management, business continuity, and crisis communications at Bryghtpath.
Emergency Planning & Exercises Case Studies
We have extensive, global experience creating emergency plans, including Active Shooter plans, and developing, facilitating, and evaluating business continuity & crisis management exercises.
Learn more about our industry-specific experience or our crisis management, crisis communications, and business continuity capabilities by clicking on the applicable links.
A major U.S. healthcare organization, seeking to practice their recently updated cybersecurity incident response plan, turned to Bryghtpath to conduct a multi-day complex ransomware exercise. Read the full case study by clicking here.
We developed and conducted a business continuity exercise for a major U.S. healthcare organization to help them improve resilience and meet their compliance & regulatory obligations. Read the full case study here.
A Fortune 100 corporation, concerned about recent active shooter incidents, turned to Bryghtpath to develop and exercise an active shooter plan at their global headquarters in order to better protect their employees and visitors. This effort required close coordination with multiple city, county, and federal law enforcement agencies in order to conduct a full active shooter simulation, including law enforcement, fire, and emergency medical response. Read the full case study by clicking here.
A major U.S. electric, natural gas, and nuclear energy company, seeking to elevate executive leadership's crisis response capabilities and engagement, turned to Bryghtpath to exercise both their crisis management framework and build enterprise familiarity with the complexities of an active shooter situation. Read the full case study by clicking here.
Bryghtpath's CEO worked with the Federal Emergency Management Agency (FEMA), along with several private sector organizations, to help devise the Private Sector Representative position in FEMA's Office of the Private Sector. The position, staffed by a loaned executive from a private sector organization, supported policy efforts within the Office of the Private Sector. During activations for national-scale emergencies, the position supported FEMA's response and recovery missions in the National Response & Coordination Center (NRCC).
Bryghtpath worked with a midwest integrated health system of clinics, hospitals, and emergency medical services to conduct a series of exercises intended to improve their response to production information systems disruptions. The exercise series led to widespread changes in the organization's incident management processes for information technology incidents, including tighter integration with the organization's emergency management framework.
A Fortune 50 retailer, challenged with protecting their global workforce, turned to Bryghtpath to develop and implement a workplace violence prevention program to manage their risk of violence in the workplace. Read the full case study here.
Bryghtpath worked with a major financial institution with a corporate aviation program to develop an aviation incident plan that integrated with their existing enterprise crisis management program. Bryghtpath developed the plan, advised on crisis communications and internal communications messaging, and led an exercise of the plan with the applicable internal teams and outside resources.
A midwest technology provider turned to Bryghtpath for assistance in developing its cyber incident management plan, including plan annexes for four specific cybersecurity scenarios. Bryghtpath led a series of meetings with internal subject matter experts and leaders to devise the plan, which was tightly integrated with their existing crisis management and cyber event management processes.
Bryghtpath worked with a regional U.S. electrical utility to create divisional level plans using the FEMA/DHS Incident Command System (ICS) enabling a consistent incident management approach, strategy, and language for divisional level incidents and disruptions. Teams were trained on the new plans by Bryghtpath, including multiple facilitated tabletop exercises that were used to build confidence and "muscle memory".
Get a copy of our full services & capabilities guide
We can help.
Let the experts at Bryghtpath put their decades of experience to work for your organization
Our team has the experience, tools, and partnerships to help your organization successfully navigate the rough waters ahead – and ensure your organization is prepared.