FOR IMMEDIATE RELEASE
Minneapolis, MN – May 17, 2016 – Bryghtpath LLC announced today the release of their latest white paper "Rethinking Disaster Recovery: The Impact of Cloud Computing".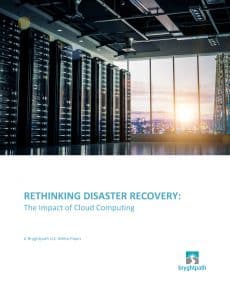 This whitepaper was authored by Bryghtpath CEO Bryan Strawser (MBCP, MBCI, CISSP).
Rethinking Disaster Recovery is a complete guide to understanding how cloud computing has impacted disaster recovery strategies. It serves as a complete guide to current thinking about the state of disaster recovery strategies globally and the path to future cloud-based disaster recovery strategies.
Rethinking Disaster Recovery includes:
The changing landscape of disaster recovery
The new approach: cloud-based business continuity
Twenty reasons for cloud-based disaster recovery
Transitioning to a cloud-based disaster recovery strategy
The rise of the "cloud" as a disaster recovery solution poses new opportunities for businesses as they confront the challenges of building resilient information technology systems in a world filled with uncertain risks. "Rethinking Disaster Recovery" will  help executives, information technology leaders, and subject matter experts determine the best course of action for their organizations.
Download RETHINKING DISASTER RECOVERY: The Impact of Cloud Computing now!
"Rethinking Disaster Recovery" is also available for Kindle on Amazon.com.
About Bryghtpath LLC
Bryghtpath LLC is a strategic advisory firm that specializes in global risk, business continuity, emergency management, crisis communications, and public affairs. Our team of globally recognized experts offer strategic counsel on identifying, preparing for, and managing risk to your company, non-profit, or public sector agency. Bryghtpath is based in Minneapolis, Minnesota.
Media Contact
Bryan Strawser | +1.612.235.6435 | bryan.strawser@bryghtpath.com