Many companies build and manage their business continuity program in-house — perhaps hiring experts in resiliency to help design and execute a program.
But if you lack the in-house expertise — or you need to implement a business continuity program quickly — you have another option: business continuity as a service.
What Is Business Continuity as a Service?
Business continuity as a service is the practice of contracting with a third-party firm to design, build, execute, and maintain your resiliency program.
At Bryghtpath, we work with a variety of companies to design and maintain their business continuity programs, often using ISO 22301 as the industry standard for our service.
We offer business continuity as a service to companies of all sizes, from small consulting firms to multi-billion-dollar utilities, healthcare organizations, and technology firms.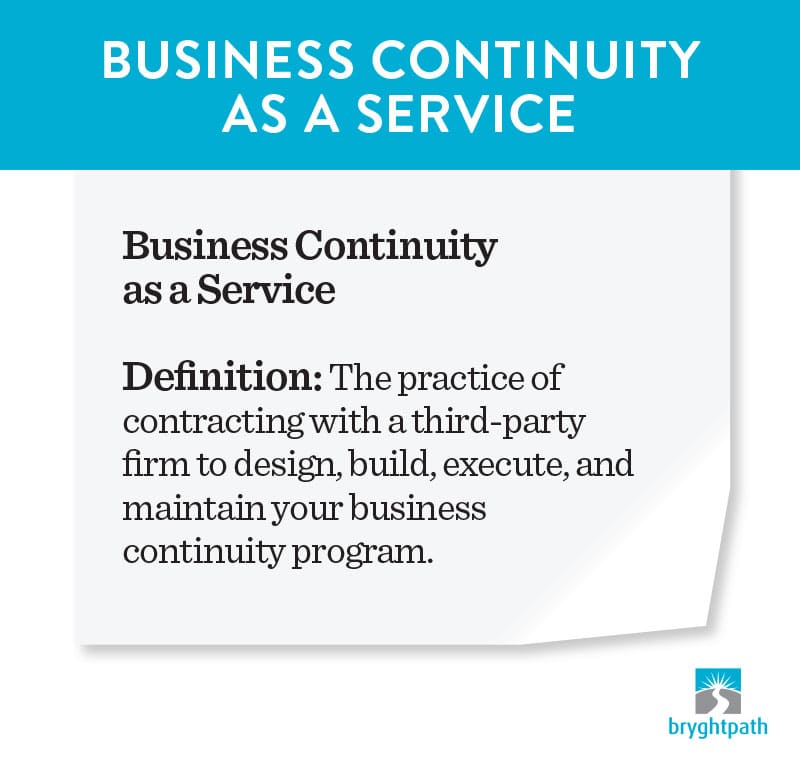 Why Business Continuity as a Service?
There are several reasons why businesses choose business continuity as a service instead of building and managing a continuity program in-house.
1. Hiring an In-House Team Can Be Difficult
In many locations, you won't find many experienced business continuity experts, particularly those that will fit with your organization's culture. That makes the recruiting and retention process extremely difficult for many companies.
Even in larger locations like Boston or New York City, business continuity roles are often difficult to fill. The process of recruiting, hiring, and onboarding someone can take months or even years.
Business continuity as a service lets you rapidly access experienced continuity experts, without having to recruit or hire them as direct employees.
Many of the companies we work with think of our team as embedded members of their teams — integrating our experts directly into their processes as we oversee their continuity programs.
2. In-House Teams Have High Fixed Costs
The nature of business continuity is that you never know exactly when your program will be called into action. A company must build an in-house team and create its business continuity program years before a major disruption brings the team into action.
The staff costs and leadership investment required to create and maintain an in-house continuity program are significant — more than some companies want to invest.
Business continuity as a service is significantly more flexible. You'll see improvements to your continuity program much faster than you would by hiring in-house, and you won't have to worry about management overhead, losing staff, or replacing a key team member.
3. It's Difficult to Scale an In-House Team Quickly When a Disruption Happens
When a disruption happens, companies often need to rapidly add members to their continuity team.
Since you can't hire and onboard continuity experts in the critical moment, companies find themselves pulling staff with no experience in resiliency — then asking them to help in an emergency capacity.
This was a common story in March of 2021 when COVID-19 suddenly caused shutdowns and mass layoffs across our economy — a practice that led many companies to struggle as they adjusted to a rapidly changing world.
By contrast, business continuity as a service empowers you can scale up quickly, accessing continuity experts to the team as needed — letting you adjust faster than you could otherwise.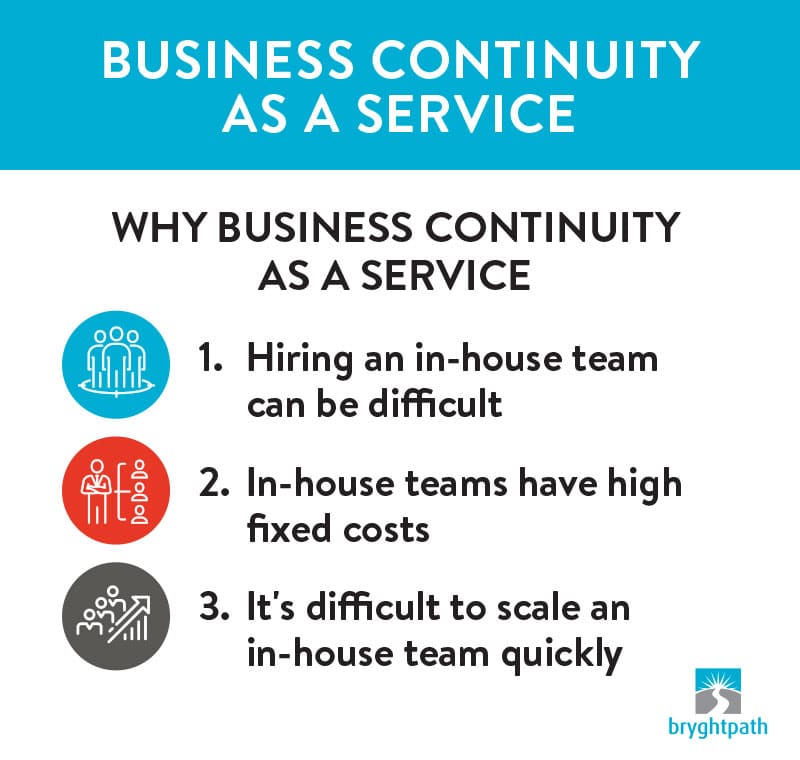 How Does Business Continuity as a Service Work?
Here's the step-by-step description of the process we use to deliver business continuity as a service:
The first step of our business continuity program is to complete a comprehensive evaluation of your current program through our proprietary Resiliency Diagnosis process — including a full evaluation report detailing:
Needs assessment
Review of all documentation and artifacts
Conversations with key employees and stakeholders
Maturity model
Observations about your program
Opportunities and recommendations for improvement
We perform business continuity evaluations using our Resiliency Diagnosis process for companies of all kinds, including those with in-house continuity teams.
For companies interested in our business continuity as a service program, the evaluation includes a detailed plan for how we will oversee your continuity program moving forward.
Governance, Policy, and Program Support
Once we've started working with you, we'll oversee the governance, policy, and program support for business continuity. Our team will:
Manage and facilitate your governance processes and documentation for business continuity
Review and update your program's documentation
Prepare all necessary updates for executive team members, board committees, the board of directors, and any additional stakeholders involved in governance or oversight of the program
Conduct annual maturity assessments, including comparisons to previous years to show the growth of the program over time.
Business Continuity Lifecycle
Our team manages all aspects of the business continuity lifecycle, including:
Business impact analysis
Business continuity planning
Training and team development
Documentation of business continuity exercises, such as tabletop exercises, as they are completed
Assistance for audits or compliance efforts that involve the business continuity program.
Vendor Resiliency
Vendors are a critical part of business continuity and resiliency. As part of our business continuity as a service offer, our team will:
Participate in exercises and plan reviews with strategic vendors
Identify vendors that warrant additional scrutiny and review
Work with vendor management and other stakeholders to monitor the resilience of your vendors.
IT Disaster Recovery Strategy and Planning
Your information technology team also plays a critical role in continuity planning. In this area, we:
Collaborate with the IT team to evaluate risk and create disaster recovery plans
Provide business impact analysis data to the IT team to inform application and infrastructure tiers and recovery planning
Highlight gaps between disaster recovery expectations of critical applications from business teams and actual recovery capabilities
Participate and assist during disaster recovery exercises led by your IT team.
Communications and Awareness Strategy
As an integrated part of your team, we will oversee the communication and awareness strategy within your company for the business continuity program, which may look something like:
Quarterly awareness strategy, including posters, digital collateral, and other communications
Internal portal and supportive material including articles and other resources to promote team roles and responsibilities
Author and post articles through your internal communication channels to educate staff about what they can do to support the organization's goals
Oversight of National Preparedness Month campaign and communications every September.
Our communications and awareness approach will be customized to your organization's specific needs.
Program Management
On a regular basis, our team will provide updates about our work to you and your stakeholders, including:
Regular status calls and meetings
Real-time reporting and program status through our online portal
Briefings, updates, and presentations to internal stakeholders as needed
Management of all logistics, including meetings, conference calls, and records management.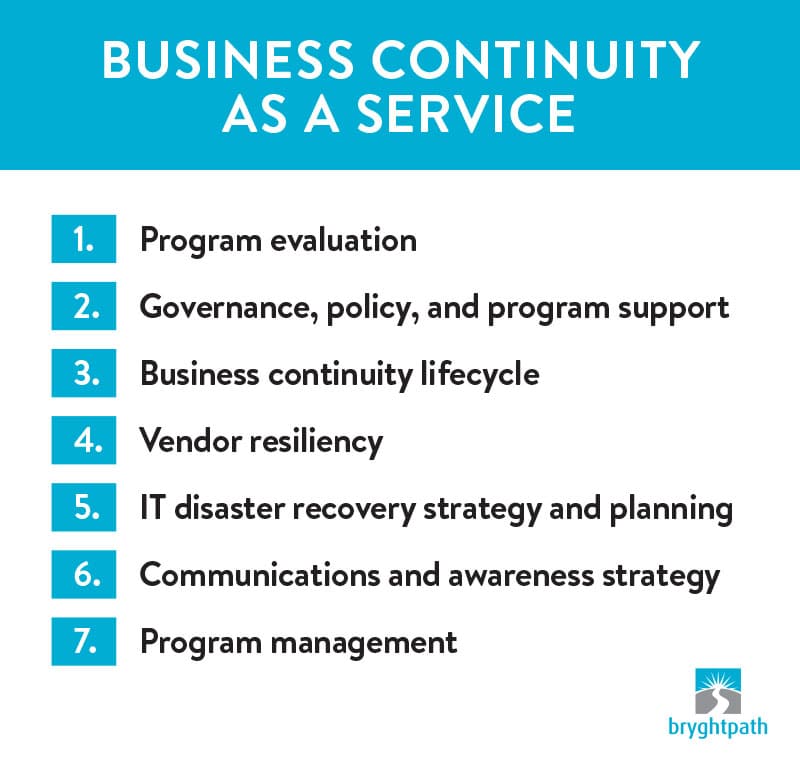 How Much Time Does It Take to Start Business Continuity as a Service?
For small to medium-sized businesses, we can usually transition oversight of your continuity program to our team within one to three months. This startup effort includes all of the steps defined above, along with specific customization of our approach to your organization's needs.
Larger, more complicated programs take longer, of course, but our team can work with you to transition responsibilities one area at a time — enabling you to benefit immediately from our team's expertise.
Optional Features to a Business Continuity as a Service Program
Some companies ask us for help with a couple of areas outside of a normal business continuity program. For those situations, we provide these optional services:
Business Continuity Software
If you're using Microsoft Excel, SharePoint, Access, or another inadequate tool to manage your business continuity program, we can help you transition to a professional business continuity solution.
We have partnerships with leading software companies that enable us to transition your program to a purpose-built business continuity software solution for any size organization.
Crisis Management
Our team can oversee and manage your organization's entire crisis management plan, which includes:
Development of your crisis management program
Facilitation of crisis management exercises
Help when you experience a crisis.
When a crisis happens, our planning, training, and real-time assistance will help you respond and recover or adjust as quickly as possible.  You can learn more about our approach to Crisis Management in our Ultimate Guide to Crisis Management.
Keys to Success with Business Continuity as a Service
Finally, here are some keys to success with business continuity as a service, based on our experience working with companies in the past:
Ensure the scope of work is clearly defined and understood for both companies
Use tracking and reporting that shows progress day-to-day for the project, and ensure all reporting is directly tied to agreed-upon deliverables
Conduct weekly review meetings to discuss the status of the engagement, accomplishments, and upcoming efforts
Review progress with leadership at least quarterly
Escalate internally when blockers occur and move quickly to find solutions.
Can we help?
Bryghtpath works with the world's leading brands to strategically manage uncertainty and disruption. Learn how we were able to help a major healthcare technology company by managing their business continuity & crisis management program through Business Continuity as a Service.
You can learn more about our approach to business continuity in our Ultimate Guide to Business Continuity.
Set up a call today to learn more about how we can help you navigate your organization's resilience journey through Business Continuity as a Service and our other capabilities.
Learn more about our Business Continuity as a Service offering
Our Business Continuity as a Service (BCaaS) product gives you the power to quickly launch or improve your business continuity program. Our business continuity experts will manage your entire program, working as integrated members of your team to improve your organization's resiliency.
Our BCaaS offering is built around the ISO 22301 standard for organizational resilience.