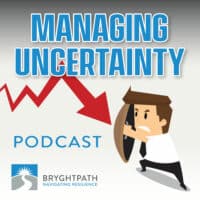 Discover the incredible potential of artificial intelligence in transforming our world as we discuss Mark Andreessen's thought-provoking article, "Why AI Will Save the World"
From augmenting human intelligence to the birth of a golden age for the creative arts, AI's impact on productivity, innovation, and empathy is nothing short of groundbreaking.
Join Bryghtpath Principal & Chief Executive Bryan Strawser as he delves into the benefits of AI tools like ChatGPT and how they're revolutionizing business continuity, crisis management, and crisis communications.
Share your thoughts on AI's applications in these fields by leaving a comment on the podcast or joining our private Facebook group for resilience professionals.
Don't miss out on this captivating conversation about the future of AI and its potential as the most important and beneficial invention of our civilization.