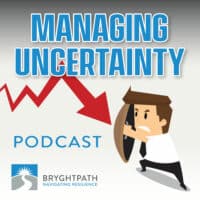 We don't do politics on our podcast, but given last week's tragedy in Florida, we thought it would be worthwhile to talk about school threat management. In particular, the threat management environment in a K-12 school is quite different than what we typically encounter in a business or university environment.
In this episode of the Managing Uncertainty Podcast, Bryghtpath Principal & CEO Bryan Strawser and Senior Consultant Jennifer Otremba talk through their recommendations on the threat management processes and challenges in a K-12 educational environment. Both Bryan and Jen are members of the Association of Threat Assessment Professionals and have extensive experience in threat management and assessment. Topics discussed include risk criteria, mitigation planning, threat management teams, involvement from law enforcement, and other challenges.
Episode Transcript
Bryan:              We don't do politics on this podcast.
Jen:                  No. It's not really the right place.
Bryan:              Not the right place for it. This is our professional lives, and our personal, political affiliations really have nothing to do with what we talk about here. We're recording this the week after the shooting in Florida that has the country's attention right now, and we wanted to talk about how this relates to our area of expertise when it comes to school threat management.
As we look at the facts of this situation, and we're going to try to do this in a non-blameful way, because I don't think we know enough yet to know who might be at fault, or are there agencies that are at fault? I'm not sure that that really matters in terms of blame. But we do know that this individual had a track record of some issues. And in just what we've heard so far, there were at least two individuals that thought enough concern to contact the FBI and report some information.
But we've learned more about the number of police incidents that occurred at the shooter's residence over the last several years, a number of encounters with Florida's social service agencies related to issues. And then apparently, some track record of threatening behavior at the school that led to his expulsion, I believe, is how that has been explained by the school district.
Jen:                  Yeah. Some of which is being reported in the media and we don't know the truth to all of it yet, of course, as it's being reported, but we do know that there was a tip, at least, that went all the way to the FBI, and the FBI has come out and made a report on that.
But that's not necessarily what we want to talk about today exactly. We want to talk about what an appropriate threat management process would look like in an educational institution.
Bryan:              So we've talked before about the need to have a robust and appropriate threat management processes within an organization. So let's just review that and then take maybe the educational context of that by focusing on school threat management
But when we talk about a threat management system for an organization of any type, Jen, what are we really talking about that needs to be in place.
Jen:                  Yeah, so ultimately we're looking at a process. A process where individuals can report something that may be suspicious behavior, it could be a threat that was made, there could have been an assault that was done. But some kind of process that escalates information up to somebody who can evaluate it, who can look at the information as they see, they can look the individuals involved and they can determine, is this a high-risk, low-risk, medium-risk threat, or what is the situation with that?
But the point is that there's a process to which something gets reported, something gets evaluated, and then there's some kind of mitigation plan put into place.
Bryan:              And in the evaluation, we always encourage, and I believe the real best practices in what standards there are around this, talk about a collaborative, interdisciplinary process between, we'll use generic terms, but between the business that is running whatever this is, but your experts in law and human resources and security, employment law if that's relevant.
Jen:                  HR.
Bryan:              Right.
Jen:                  School counselors.
Bryan:              Right.
Jen:                  Yep. There should be-
Bryan:              And perhaps outside medical experts on the psychiatric, psychological side of a threat, if that's necessary. It's not always the case.
Jen:                  Yeah. And even, potentially, outside security help.
Bryan:              Right.
Jen:                  So a lot of times, if you have to create a mitigation plan for a situation, you might want to take some security partners and really come up with the best plan that's risk-based.
Bryan:              And a lot of the places where we see failures in organizations, not just schools, is we look at and evaluate threat management organizations, we often see failures around having a centralized place to report threats, helping folks understand what a threat really looks like. This is the behavior, the warning signs that you might see, and then having individuals or a team that is accountable for working through that process, and then putting the right plan in place.
We see breakdowns in a lot of those places throughout the course of the situation.
Jen:                  Yeah. Absolutely. And I think even before it gets to the level of a threat, is having some kind of education awareness for all involved. So if you're in an organization, it would be all of the employees and the leaders and the executives. Everyone should have some level of understanding of whatever your policies may be, and what to do about it; what to do with the information as it's found.
Bryan:              When it comes to education institutions, this gets a little murkier in terms of when you're talking about a … I think it's a little clearer in college because you're typically dealing with, they are young adults at this point and the threat situation is a little more typical to what we see in businesses.
But this is a particular challenge in the K through 12 educational environments because you're dealing with individuals that are still learning how to be adults, and they are struggling with … You think of the changes you go through as an individual, they really complicate all the things going on between puberty and moving through what's often an awkward adolescence into young adulthood, figuring out who you are as an individual.
Jen:                  Yep.
Bryan:              A process that goes on for quite a while. But the challenges are different and the threats look different. And of course, we've heard about, for the last several years, about the impact of bullying in schools and the psychological impact that that can have, that can lead to some of these situations.
Jen:                  Right. We're not doctors by any means. We don't claim to be psychologists or psychiatrists at that point, but we do understand a few of the risk factors that come within adolescence as far as threats of workplace violence goes or threats in the education system goes. And some of which is at a young age you are influenced by many things, and at that point in time, something small, as you know, coming from a female who was once a teenager, going through hormonal changes or something small, may seem like a massive thing.
So a small grievance to us could be a very large grievance to them.
Bryan:              There's also just the issue, and I think this is broader issue that doesn't just touch this kind of situation that occurred, this kind of incident that happened in Florida, but we see this when we talk about youth who become radicalized and participate in terrorism actions. At the core of that is this level of disaffection and disconnectedness to people around you. That is a definite warning sign that leads to some of this behavior.
Jen:                  Yeah. And I think the big thing is, and I know we harp on this, but it goes back to education and reporting. So if you have an individual that has exhibited some of these higher-risk behaviors, the disconnectedness, the outrage of certain things, it's appropriate to not sit on that and to-
Bryan:              To take action.
Jen:                  … to take action. The DHS, don't see something, say something, really comes into play here and making sure that the right people are looking at these information. And don't just laugh it off as, "Well, he's just a kid," or, "He didn't mean that." Well, there's no way to know that he didn't mean that.
Bryan:              Until you evaluate it properly.
Jen:                  Absolutely. Yeah.
Bryan:              Through the process.
Jen:                  And getting it in the right hands. I just want to touch back on that, the collaborative team that you were talking about earlier. The importance of that, and the importance of not having one individual look at something, as they may be an expert in violence prevention, but there are always different perspectives that come into play and always different parts in play here.
So there are things like having a school counselor that may be more familiar with this individual than somebody else. There's the security, which often looks at it just from security. There are the teachers, all of the other individuals that may be familiar with the student, and/or getting parents involved, law enforcement involved. There are many, many parts of this team that should be evaluating these situations.
So, just making sure that it's not a one-person looking at it and making that determining factor is really important.
Bryan:              Totally agree. And I think the biggest thing out of all of this is that in these situations in educational institutions, is we can't just write this off as, "Hey, it's a teenager and they're going through the same kind of teenage angst that we all went through." All of these threats have to be evaluated, as you said, through the collaborative process, where you're getting these differences of opinion and you're looking at this from these different disciplines and an understanding of what that means, and coming to a joint decision, hopefully, about the direction that you're going to go. You need an effective school threat management process.
We also think that there are threats that should be reported to law enforcement, and you need to work with law enforcement through those situations when we talk a little bit about what mitigation plans that we've done in the past for organizations that are faced with threats.
Jen:                  Yeah. Sometimes the people that we've worked with have had a hard time understanding the need to reach out for law enforcement, and they don't feel that it's reached a certain level to where they need to reach out to law enforcement. But the thing is, law enforcement is there to help, so even if the situation does not escalate to that point, it's not a bad thing to reach out to your local law enforcement partners and help you conduct training. They will do that. They will help to identify threats as well. They will help to provide recommendations around mitigation plans and securing the facilities, and in some cases, they also will provide additional resources as far as, maybe they'll stay in the area longer, maybe they will do some drive-bys in their squad cars, and sometimes they will come onsite and walk the halls of your organization's structure.
So there's a lot of resources out there, and law enforcement is one of them.
Bryan:              Jen, when you think about the [inaudible 00:10:18] sense of experience as leading a threat assessment team, a threat management team in a large organization, when you think about the risk factors that make you want to involve law enforcement in the situation, what are a couple of those that come to mind?
Jen:                  Well, so keep in mind that no one risk factor will lead me to believe that something is high-risk by any means.
Bryan:              Right.
Jen:                  But when you're looking at an individual, you want to look at it holistically. So somethings: Have they made previous threats? Have they done some previous assaults? What does their background look like? Do they have a high-risk background of crime and things like that? Do we know if they have access to weapons? I'm not just talking about firearms, but any weapons. Have they attempted assaults with weapons in the past?
And then really just looking at them in a holistic way. So open-source searches, and this gets murky so make sure you're contacting-
Bryan:              Talk to your counsel.
Jen:                  … your counsel before you're looking at really any of these things. But we've used a lot of open-source searching to find out what they're putting out on the internet. But again, that can get very murky, so make sure you're reaching out to your counsel before doing that.
So looking at all of those things in a holistic way will lead me to, well, a couple of things. One, it'll change how I am documenting my mitigation plans and who to reach out to. So it's just so depending on what the situation is. But really, it's more of a holistic approach to it than any one thing that will lead me to be concerned about an individual.
Bryan:              Yeah. I think that's fair.
Jen:                  The other thing about that, that I was going to say regarding mitigation plans, that's very important. So when you have a threat management team and you've evaluated a situation, a threat, an individual, whatever that may look like, it is important to document those mitigation plans. So it's not just a, "Well, we've done X, Y and Z." You should have a very good process, and thorough process, on how you're mitigating exactly what it is that you're doing, for a couple of reasons.
One, this situation may not escalate to anything, or it may escalate again, and then that again time may be beneficial to go back to your previous mitigation plans and revamp them. So that's a way to protect yourself and protect the individuals involved.
Bryan:              So to summarize our view on the situation here, some unique threats in the K through 12 environments, when it comes to educational institutions that we need to really think through as you're addressing this, I think the other thing that really stood out in our conversation today is that even though these are younger folks, you have to take the threat seriously and work through your school threat management process that you should have in place in order to determine the best course of action.
Jen:                  Yep. And one last thing I'd like to point out is, not all situations are high-risk, high-threat. So we don't want everyone to go back and think that everything is going to be a mass disaster, a massive incident. That is not the case. It's a very small percentage still that actually commit these types of incidents. However, through the evaluation process and the mitigation plans, should at least be able to work towards mitigating those situations through effective school threat management.