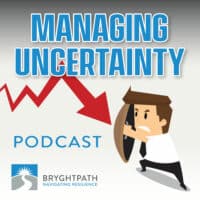 In this episode of our BryghtCast edition of the Managing Uncertainty Podcast for the week of August 19th, 2019,  Bryghtpath Principal & CEO Bryan Strawser and Consultant Bray Wheeler take a look at three current risks and upcoming events:
Related Episodes & Articles
Episode Transcript
Bryan Strawser: Hello, and welcome to the Managing Uncertainty Podcast, BryghtCast edition for the week of August 19th, 2019. This is Brian Strawser, principal and CEO here at Bryghtpath.
Bray Wheeler: This is Bray Wheeler, consultant at Bryghtpath. So we start out this week talking about Brexit. You know, a light subject to start with.
Bryan Strawser: Very light. There are no details for Brexit at all.
Bray Wheeler: No, no. So the thing I think we wanted to touch on with Brexit here this week is really kind of the state of the states of where it's at, and where we likely think it's going to go. It's looking like no-deal Brexit is really the course of action, the pathway that they're pursuing. And I think the implications for companies right now is really being prepared for that.
Bray Wheeler: There's a lot of economic and other kinds of issues associated with that, but there are some practical challenges with that too. Some of which include hard borders, the ability to travel and requiring different paperwork to be able to do that. Citizens of the EU who live in London, if you have employees that are-
Bryan Strawser: Or anywhere in the UK, but yeah. Primarily in London, I would think.
Bray Wheeler: That if they're EU citizens, there's been some conversation around some hard immigration enforcements when no-deal Brexit occurs and they don't … Nobody really knows what that looks like.
Bryan Strawser: It's interesting that we're talking about this now. Here we are in August 2019. because when we created our first global risk report for 2018, which we wrote in December 2017, we listed Brexit as one of the top 12 global risks of 2018. And here's what we said. The United Kingdom is still negotiating the terms and timetable for its departure from the European Union, a supremely political event that has already led to the downfall of one prime minister and may yet cost Theresa May her government as well. The ongoing uncertainty of the future relationship between the United Kingdom and the European Union is what defines this as a top global risk for the coming year.
Bryan Strawser: Theresa May is not the prime minister anymore. It's Boris Johnson.
Bray Wheeler: She is not. It did cost her her job.
Bryan Strawser: It did. Her entire premiership was dominated by Brexit and really nothing else.
Bray Wheeler: Really nothing else.
Bryan Strawser: Really nothing else. So we are on the precipice of what, about eight weeks from now, a potential no-deal of Brexit starting at the end of October, 1st of November. And to your point, it could mean that there is a hard border. The hard border question is really about the separation of Northern Ireland from the Republic of Ireland.
Bray Wheeler: Right.
Bryan Strawser: Because there is no border there right now because Northern Ireland is part of the UK, and the Republic of Ireland is part of the EU. They're all in the EU. So there's no hard border there today. And there would probably have to be one under a no-deal Brexit agreement.
Bray Wheeler: There would be. And I think that kind of leads into kind of part two of this sort of conversation around Brexit. Really why that border matters for Northern Ireland and Ireland is that was kind of the representation of the violence that was occurring there for decades between those two sides of …
Bryan Strawser: Between partisans involved in the fight anyway, the IRA and others.
Bray Wheeler: That there is a real worry that the hardening of that border will re-institute some of those feelings and that violence, which that kind of openness of that border has really … People say has gone a long way to kind of diminish the violence and kind of hard feelings for the majority of people. Certainly, they're still kind of diehards on both sides, but you know, there's a real concern. And we're starting to see a little bit of that kind of start to pop up in conversations. Now, how much it's directly tied to Brexit isn't really clear.
Bray Wheeler: But we have seen kind of reports of violence. So most recently in the last 24 hours, there was an explosion in Northern Ireland where there was kind of a deliberate, what they think is a deliberate targeting of law enforcement by setting off one explosion to draw them in, and then setting off a secondary device with the intent to hurt/kill law enforcement. Now, fortunately, it didn't-
Bryan Strawser: There were no injuries, as I understand.
Bray Wheeler: There were no injuries, but it comes on the heels of a bombing in July, and then kind of a booby-trapped explosive on a police officer's car in Northern Ireland in June. So we've seen a few months in a row of some explosive kind of incidents within Northern Ireland.
Bryan Strawser: Well, there's a number of other… To your point, there's been a number of other similar kinds of situations. This one in particular kind of set out to us and we learned of this when they first through some new sent around by US law enforcement about a potential threat to law enforcement. But we agreed that this is probably more tied to the Brexit fight or some other issue in Northern Ireland. The interesting part of this is that there was some type of hoax device that attracted the attention of law enforcement. And law enforcement as we understand it right now, established a secure perimeter and began on this host device when a secondary device inside that secure perimeter was detonated. And obviously it was real, it did detonate. We don't know much more than that, but it reminded us of situations, exercises we've been involved with previously.
Bray Wheeler: Yup.
Bryan Strawser: With US law enforcement, where part of the exercise was to get law enforcement or fire EMS personnel to gather any specific location for staging or investigative purposes and then having a simulated explosive device. This is an exercise, we're not trying to really kill people.
Bray Wheeler: Right.
Bryan Strawser: Then detonates and remove individuals from play for the remainder of the day, because they're dealing with injury to them. So this is a very common terrorist tactic is to have a primary device, get attention to [inaudible] personnel, and then detonate a secondary device that impacts the first responders. And this felt and read like a textbook case of that.
Bray Wheeler: Yes. Yeah. And I think it's not a great sign overall, but it also contributes I think to just the broader kind of narrative that's going on. You know, just in general around escalating violence and getting into copycats and all that kind of inspiration type stuff too. Which I think is kind of our next kind of topic as well.
Bryan Strawser: Yeah. Our second topic of the day is about targeted violence in the United States, so there's a couple of incidents here I think we want to mention that have all been in the news. But I think we're going to draw a connection here that's important. The first is we've had a number of mass shooting incidents in 2019, and even going back a couple of years that you could describe clearly as having an ideological motive. And that motive is targeted violence towards a specific group of people. In a couple of cases in the United States, it's been targeted based on religion and that has been aimed at the Jewish community. We saw what is the Synagogue of Life shootings in Pittsburgh. Those have been echoed by some more attempts or actual shooting incidents at a number of … Again, targeted at the Jewish community, persons of the Jewish faith.
Bryan Strawser: Second, we see this targeting of immigrants, particularly Hispanic immigrants. Appears to be the ideological motive in the El Paso, Texas, Walmart mass shooting. And to some extent, at the garlic festival in California. And so we've seen a number of instances, and these are just two of the recent ones. I think if you go farther back, there's been a number of instances of targeted violence with an ideological motive. I think there's still some question about Dayton in what the motivation was for the shooting in the bar district in Dayton, Ohio. But we have these clear examples where we have violence aimed at the Jewish community. We've got violence aimed at-
Bray Wheeler: Muslim community.
Bryan Strawser: At the Muslim community. We've got these shootings now in New Zealand. And then the shooting that happened in Norway, where I think that was an attempted shooting. Where that one was thwarted by a retired Pakistani air force officer that tackled the guy.
Bryan Strawser: But the point here is that there are some clear instances of targeted violence in some cases coming from what the media would describe as white supremacists, or what law enforcement would describe as white supremacists aimed at different minority communities here in the United States, or in locations like New Zealand and Norway. The other warning that I think we've seen is, and we've seen this on a smaller scale, it hasn't evolved to this mass shooting level of incident yet. But we're seeing there's the threat of … We think there'll be more of these types of attacks, particularly as the rhetoric around the issue of immigration in the United States in the 2020 presidential and congressional elections. I only see the rhetoric getting worse. And with that, I think we would expect to see additional violent acts along these lines aimed at targeted groups.
Bryan Strawser: We also think that the opposite is going to happen. And that is particularly around individuals who believe that or know that someone or a group of individuals are white supremacists. Or they think that they're white supremacists because of some action or comments that they've made, or because of their political affiliation, will engage in violence against those individuals. And so we only see this as becoming more disruptive and uncertain going into the 2020 election season. I think it gets worse than what we have seen over the last couple of years.
Bray Wheeler: Yeah. I think just the environment and the national narrative right now kind of lends itself to this escalation of not just rhetoric anymore, but into action and then eventually into counteraction against those groups or that perception. That the white supremacists, white nationalists, whatever you want to call them, that narrative. The more frontal that gets, likely the louder the counter-voice is going to be.
Bray Wheeler: And because we've moved beyond simply just discourse, even uncivil discourse around it into action, that it's very likely that the environment is just one of action by these groups. And we'll likely see more and more. And you know, Joe Q. Public is going to be caught kind of in that swirl.
Bryan Strawser: So the challenge here for organizations, and even for individuals [inaudible] here is how do you take this possibility of increased risk of more of these types of incidents, and how do you factor that into your planning knowing that … We can take the El Paso Texas incident as a good example of this. We know a lot of folks at Walmart. They run an excellent global security program, but this is not an attack that you could have foreseen happening in that environment, right? The target was not Walmart. It's just the location that the shooter went to get to the targeted audience that he wanted to commit violence against. So for the organization, what advice can we give to the folks listening on the podcast? What can you start to factor into your own planning and preparedness based on what we've witnessed here lately?
Bray Wheeler: Well, I think first off you have to just assume that something like this could happen. It's reality. Now, whether or not it's intentional or not, the risk is there. You know, it could just as easily be an accident. Someone goes into diabetic shock and the car they're driving goes through the front vestibule and keeps going. It's the same type of response that you'll likely have to provide in the moment, regardless of what the nature of the … You know, the motivation or the context of the situation is. It's being prepared for that possibility and assume that it could happen to you, and have that hat on as you're thinking through these things. I think that's just baseline. Assume that it could happen to you. And what do you have in place to prevent or mitigate or help respond to those situations?
Bryan Strawser: I think it changes the narrative a little bit on the … When you're thinking about what are those top risks that you need to plan for and what are the worst-case scenario events going to be. I think in my career, I thought about individualized acts of violence that were aimed at an individual. Or like I knew in my previous life, corporate life, that a homicide that happened at a location that I was responsible for was probably pure criminal activity, not of a targeted violence type of … Like I've got a gang issue that bled into the workplace, and we just happened to be the place where that happened. Or it was a domestic violence situation, which was what we typically saw that came into the workplace as the location where that act was going to be committed.
Bryan Strawser: I don't know that I really thought about … It's much more likely that I was going to deal with this kind of situation than one of those two previous ones, like a mass shooting versus the other. So I think it's kind of like the pre-911 state of thought that it's time to start thinking that these kinds of things could be a reality in your place of business.
Bray Wheeler: Or I think even as we get closer to election season and candidates become solidified, and lawn signs are out and commercials are out. And the narrative really starts to pick up that-
Bryan Strawser: And it gets a lot more personal.
Bray Wheeler: It gets a lot more personal and it feels a lot more personal to people. And I think that's where businesses, whether or not you're a retailer that's open to the public or a restaurant or something like that. Or just a closed off kind of office building, you really need to start thinking about what could happen at your location, but also what's happening in your neighborhood and being prepared for protest activity.
Bray Wheeler: Violent marches, general just acts of violence, criminal activity, things like that. Just everything seems to kind of heat up, and it doesn't have to be a convention location or a speech or something like that. It could just be the Tuesday afternoon, Tuesday evening commute that groups are taking issue with. So I think it's just having that mindset of being prepared and feeling in a state of where you feel like you can be nimble but also prepared to what's happening.
Bryan Strawser: We're going to do an upcoming episode specifically on kind of recent targeted violence. More to get into the details of what's happened, and what do we see from that, and what are some specific things companies should do. But we thought this was a good topic to include for today, given that we saw this targeted attack in Northern Ireland. And we've seen these other recent attacks. And we think there's going to be more to come, so this definitely kind of filters in as a big risk for organizations.
Bray Wheeler: I think the one piece that kind of tied those two back together as well as it's not … We're seeing a lot in the US and it feels very US-centric. It's also happening in Europe and other places too. Australia, there's been these things in recent years. So really kind of Western democracies, this kind of narrative and this political instability, if you want to call it that, of just these kind of countering ideas. You know, the nationalism, the white supremacy, whatever it is. That it's true kind of across those countries. So companies that are operating in those places, if you're global in that sense, don't just assume it for the US. Think about it for Europe as well. Think about it for Australia, et cetera.
Bray Wheeler: So next topic we have really is kind of more recent too. Obviously, but we have reports, there's been some kind of news coverage around 23 Texas towns have been struck by a coordinated ransomware attack according to the state's department of information resources. So this kind of comes on the heels. It started sounds like Friday morning, kind of through the weekend in Texas where 23 towns were hit with these attacks. No authorities have been able to determine that one threat actor. They've stated they believe there's been one threat actor responsible for all 23. They don't yet know who's responsible. But really, this kind of comes on the heels of some other recent attacks in Maryland, New York, Louisiana, Florida. More locally for us, there was a town in Minnesota that was hit with that as well and I believe paid the ransom for it. But really, we're starting to see kind of these more bigger ransomware attacks directed at kind of state local governments.
Bray Wheeler: We don't know how successful in terms of actually getting ransoms paid to that. There have been reports that ransoms have been paid, but I think just more broadly, the financial impact of those two just to shut them down, respond to them, investigate them is obviously there. Aside from just paying the ransom, there's kind of a monetary impact there. And the fact that they're kind of going there obviously could impact business activity, given that these governments are shut down right now. Kind of offline, so to speak, but also lends itself to just the general environment of ransomware and the success that one actor is having.
Bryan Strawser: This conversation has come up here in Minnesota a couple of times because I think there are about 375 individual municipalities in Minnesota. Of course, there's like six cities over a hundred thousand, Minneapolis and St Paul by far being the largest. But almost all of this IT work in the state, although there are some shared services through some associations, every city kind of does their own thing, right. And some of these cities are smaller towns that have like a city manager and three or four staff members. And somebody there is in charge of information security who probably is like the water bill collector, or what have you. And I'm not casting aspirations on anybody, but I know like here in Minnesota, because we just saw media around this a few weeks ago, they've had some ransomware attacks. And at least one city coughed up $175,000 to get their computers un-encrypted. Which surprisingly they paid it, and it did get un-encrypted.
Bray Wheeler: We've heard narratives through news and white papers and discussions with just various people that there really is kind of a … There's almost a cost of doing business attitude towards some of these things lately. Or at least that's kind of where people are starting to kind of trend mindset that if, "Hey, I'm a multibillion-dollar company. If I can pay $100,000 to make this go away, well, it's a lot cheaper than trying to investigate and notify and do all these other things." Pay the $100,000 the data back, get the access back, whatever, and move on. That is a cost of doing business that's probably not sustainable, nor is it probably the right thing to do at the end of the day. But you know, that's the question that companies have to face. It is a real question now for companies on the ransom.
Bray Wheeler: Do you pay it? Do you not pay it? A lot of times they come through as Bitcoin. Do you even have a Bitcoin account system set up to be able to transact that? A lot of companies don't.
Bryan Strawser: Well, I'm going to be very un-hip for a minute. I didn't have a Bitcoin account of any type, but there's a website that I wanted to support that was kind of independent media. And the only way that this guy took donations was via Bitcoin. And so I had to figure out like how do I send him, you know, the $50 donation that I want to give him for the yeah if I don't have a Bitcoin account. And it was a frustrating experience to figure out like how to do that without diving into the whole Bitcoin experience.
Bray Wheeler: One, it's quite the process as I understand it, to be able to even do that should the ransomware come up and should that come through. I mean, just logistically that's a challenge. Aside from just the question of to pay it, not to pay it. Being prepared to do so becomes challenging.
Bryan Strawser: And in my mind, these kind of low hanging attacks are only going to become more common. To me, like cities and townships is the frontline of government. I probably shouldn't assume this, but I would think a large city like Minneapolis, Saint Paul, Bloomington, Duluth. If I'm picking cities here in Minnesota, probably have relatively robust information security capability. But like I live in a town of 25,000 people. Is that town secure? I don't know. I hope my mayor's not listening. But like is it secure? And could somebody get in there and ransomware the city? And our office is in an even smaller town next to where I live, and it could be the same situation. So I think this risk continues to be in place and is definitely something companies and public sector agencies should continue to look at.
Bray Wheeler: Well, you know, kind of back to the other point. Is the $100,000,000 ransom worth the investment, rather than spending multimillion dollars trying to beef up security for a town of 2,500 people? Where's the cost-benefit there for some of these cities? I think this risk, especially because of just the inherent vulnerabilities likely in a lot of these places, just given size and resource constraints and things like that. That, you know, this will be a thing. And certainly, we can see it with smaller businesses, midsize businesses. It's the same challenges they have, is the resource constraint and the ability to constantly monitor, challenge back, mitigate. Things like that. You know, more resource-heavy corporations still face. They just have kind of a greater pool of capability to defend it, offer, rectify it.
Bryan Strawser: So our last topic for this podcast is one that we've talked about several times, so we're not going to get into a lot of detail here. But the unrest in Hong Kong continues. This weekend on Sunday there was about … It was estimated 1.7 million people came out and protested peacefully. There was no airport disruption. I don't think there's any other kind of broad disruption. It was a very peaceful protest.
Bray Wheeler: Yeah, I think purposely so.
Bryan Strawser: Very purposely so. They've learned some lessons from some nonviolent movements of the past.
Bray Wheeler: Lots of umbrellas.
Bryan Strawser: Lots of umbrellas. This protest again was quite peaceful. And I think there's no sign here that this is going to let up. This is going to continue. Their demands are the same. They want Carrie Lam to resign. They want China to keep their mainland policies on the mainland and not to interfere in the home government authority of Hong Kong. And so the dispute goes on. I think it's important to note that there's the Hong Kong population is right at about 8 million people, and 1.7 million of them came out to protest. I mean, the numbers are just incredible.
Bray Wheeler: Yeah. If you see pictures and video that's come out over the weekend, I think Ian Bremmer from Eurasia Group, he's quite the Twitter person. Posted a video of … He called it parting of the protester sea or something like that, where a fire engine was coming down the streets, but otherwise, it's full of people just covered in umbrellas. And all of a sudden, you see the gap. And then moving aside for the fire engine and just closing.
Bryan Strawser: Yeah, [crosstalk] at a protest, it was an ambulance that you saw on the video doing the same thing, that the crowd parted so the ambulance could get through. And then took the street back over.
Bray Wheeler: Yeah, I mean just the images of these protests. And I think certainly it was raining over the weekend at Hong Kong, so that's part of the reason for the umbrellas. The other part is likely due to the facial recognition challenges that protesters are trying to counteract. If it's just a bunch of umbrellas you can't tell, but they're pretty stunning in terms of just the scale and scope of some of the … I mean, stretches of city blocks, stretches of roadways, full of people. So it's 1.7 million people participating. That is a sizeable group of people. It's not your couple of hundred protesters. This is a fifth of the population, a quarter of the population of Hong Kong participating in this.
Bryan Strawser: We expect these kind of protests are going to continue in Hong Kong. I would assess that the protesters are definitely going to continue their move towards … Or kind of back to where they started in terms of nonviolent protests.
Bryan Strawser: I mean, we may see them occupy other facilities. I know there's a court order prohibiting them from blocking the airport, but who knows where some of that goes over time. But we certainly expect that it's going to be an ongoing challenge for some time to come between Hong Kong and China.
Bray Wheeler: They've been fairly creative throughout this in finding ways to kind of create disruption and do different things. So as one door closes, they tend to have a couple more ready to open up or already open.
Bryan Strawser: So that's it for this week's edition, the BryghtCast edition of the Managing Uncertainty Podcast. We'll be back on Monday with a new topical podcast. Until then, be well.