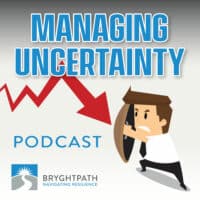 Hurricane Dorian is currently making its way towards the southeastern United States at a slow one mile per hour as a category 4 hurricane. At the time of this writing, the storm is just over 100 miles from West Palm Beach, Florida.  Dorian is expected to scrape the east coast of the United States as a significant hurricane – though the storm track may yet vary over the next few days.
In this episode of the Managing Uncertainty Podcast, Bryghtpath Principal & CEO Bryan Strawser provides perspective for Hurricane Dorian based on his experience with previous hurricanes, the steps that resilient organizations take in order to best recover from a major hurricane, and actions that businesses and individuals should be taking in the coming days.
Learn more about Bryghtpath's Hurricane Crisis Management Services and how we can help your organization weather the coming storm.
Key Resources
Related Articles & Episodes
Episode Transcript
Bryan Strawser: Hello, and welcome to the Managing Uncertainty podcast. This is Bryan Strawser, principal and CEO at Bryghtpath. And I'm recording solo today, it's Labor Day here in the United States, Monday, September 2nd, 2019. But with the impending arrival of Hurricane Dorian in the southeastern United States, I thought it was important to get an episode down, kind of quickly, that tells a little bit about our hurricane experiences, and some things that companies and individuals should be thinking about in the next week or so as Dorian begins to, what appears to be a scraping of the United State's southeastern coastline, from about the middle of Florida up to, potentially, southern Virginia, and even farther north, depending upon the storm track for the storm.
Bryan Strawser: Let's just recap briefly where Hurricane Dorian is at right now, and I'm recording this at 1:15 central time on Labor Day here in the United States, so this obviously will change over the coming hours. But right now as of about 15 minutes ago, Hurricane Dorian is 25 miles to the northeast of Freeport, Grand Bahama Island of the Bahamas out in the Atlantic Ocean. It is 105 miles east of West Palm Beach, Florida, so closing in on the Florida coast. It is currently a category four storm. It has dropped a bit in intensity over the last 12 hours. It has maximum sustained winds of 150 miles an hour, and it has wind gusts that are exceeding that.
Bryan Strawser: Yesterday, Dorian was a category five. It had winds in excess of 185 miles an hour with gusts up to 232. That was recorded there in Grand Bahama. The storm is not moving very quickly. It is currently moving to the northwest at about a mile an hour. This is down from five miles an hour yesterday, and eight miles an hour the day before. So the storm is slowing rather a lot.
Bryan Strawser: There are now a number of watches and warnings in effect. I won't get too far into this except to focus on there's a hurricane warning in effect for Grand Bahama, obviously, in the northwest Bahamas Islands, and then in Florida, from the Jupiter Inlet to the Flagler Volusia County line. There is a hurricane watch in effect for north of Deerfield Beach, Florida to the Jupiter Inlet, and then from Flagler County line to the Altamaha Sound in Georgia. I'm sure I've just mispronounced that. And then there's a number of other tropical storm warnings and watches in the area.
Bryan Strawser: The best place to go for details is the National Hurricane Center, where you can read the actual direct forecast on the storm. This is obviously extremely dangerous. It was described as a catastrophic hurricane yesterday by the National Hurricane Center. But it's not something to joke around with, and what I want to talk a little bit about are just our lessons in managing hurricane response, and preparing for hurricanes to impact your business and a little bit of advice for individuals.
Bryan Strawser: For background, I think important to note, I've been managing major hurricanes since about 2005, so almost 15 years now. My first major hurricane was Hurricane Katrina, and what a baptism in the fire that storm was, followed by Rita and Wilma. And then I was out of this business for a bit, and came back in 2009, and dealt with everything from Maria, to Sandy, to Hurricane Harvey, and Irma, and many others in between.
Bryan Strawser: First, I want to talk about the most important impacts here, and that just impacts to local communities and employees, and businesses have a role to play here. What you can expect to see, depending upon the storm track, is that many employees are going to have flooded, or storm-damaged homes. Even if they are not directly impacted, it is entirely possible that their loved ones, and their family, or extended family, or even their neighbors are in harm's way, and can be impacted. Employees will have a lot of questions around evacuation to make sure that you're closing your business in time for them to evacuate, but also about returning home, and returning to work. How much time will they have to be able to deal with damage or issues with their home, and how do they keep in touch with you and your business to make sure that they understand about returning to work.
Bryan Strawser: Another challenge can be the lack of available communications. We can expect, due to both wind and the power situation, for cell phones to perhaps not be as workable, reliable rather, as they typically are. We can also see the normal telephone line system be flooded or damaged in a way that there's no good communication. You're also going to find that your employees are going to have to deal with a relatively complex state and federal assistance process in order to get access to individual assistance from the state and federal governments. The FEMA app is the easiest and preferred way to go on a mobile device to get access to FEMA's resources for individuals, but they may need time off, and some understanding from you as the employer, to deal with those processes.
Bryan Strawser: And then lastly, our experience has taught us that personal and family preparedness efforts by your employees with your encouragement really makes a huge difference in their individual resiliency. And after all, if they're resilient as a family, and as individuals, they can more quickly return to work, and help you get your business back up and running.
Bryan Strawser: Things you should think about in the days to come. One is just to encourage your employees to take personal preparedness and family preparedness efforts. There are great resources available at Ready.gov, from FEMA and the Department of Homeland Security, and the Ready campaign. I would not try to reinvent this. I would just use it the way that it's intended, which is to send people there for the resources and have them be able to use those. It really keeps it simple. It focuses on making a plan, having or buying a kit, practicing that plan, making plans for communication, and then learning life-saving actions. Like, how do you turn off the gas at your home, how do you turn off the water in your home, and some of those things.
Bryan Strawser: The second thing as an employer is to really make sure that you are closing your facilities in advance of the storms in a way that enable you to protect your assets, but also enables your employees to have enough time to evacuate mandatory and optional evacuation areas. The third thing you may want to look at as an employer is to think about disaster pay and assistance. What do you do if your facility has to be closed when people were scheduled to work? What if the facility has to be closed for a few weeks? Will you compensate your employees? And do you have some kind of emergency fund that they may be able to get access to in order to help stopgap some measures while they wait on state and federal assistance? These could go a long way in building loyalty with your team and are usually just the right thing to do.
Bryan Strawser: Lastly, depending upon what the impacts look like, it's not uncommon for employees to return to the area, not have power, not have access to natural gas. It may benefit them to have access to air conditioning, be able to come in and charge their phones or laptops, be able to use the Internet in order to pursue assistance applications or get information. These are all great things you can do for your employees that enable them to return to work more quickly.
Bryan Strawser: Almost every state and city has some type of way for you as an employer to connect in terms of public-private partnerships, and gain access to information. I would look for that with your states. For example, the state of Florida has been highly active over the last several days in terms of coordinating and communicating with the private sector, and with businesses large and small. Find ways to plug into your state partners, find ways to plug into FEMA through the Office of the Private Sector in the National Business Emergency Operations Center. These guys are holding calls every day sharing information, asking questions, making sure that businesses have the information they need in order to prepare, and then make plans to respond and recover their businesses. They're currently running calls every day at 2:00 central time, along with a persistent virtual situation room online, where there's 24/7 chat, and a lot of information being shared, like maps, and permanent and waiver information, reentry information, and things along those lines. Remember, when it comes to public-private partnerships, when you need a friend, it's too late to make one. Now is the time to make sure that those relationships are in place.
Bryan Strawser: The other area I want to talk just briefly about is just some other strategies that are being used by successful companies that are resilient, that move through these hurricane situations, and be able to respond and recover, and get their business back up and running very quickly. There are really six things that companies do that we see as strong signs of success as they start to work through preparation for a hurricane.
Bryan Strawser: The first is what we just talked about, which is the public-private partnership aspect. But I wouldn't hesitate to communicate and build relationships with your peer companies in the market, and at a national level. Work through your trade associations, for example, I came out of retail, so the Retail Industry Leaders Association, and the National Retail Federation. They both have disaster-focused committees, and so there's the great conversation that can happen about sharing information. And even though you're competitors, I don't think we're competing in this space. We're talking about how do we share information so that we can all reopen more quickly.
Bryan Strawser: The second sign of a strong, successful company when it comes to this kind of disaster preparedness and response, is having a properly documented crisis management framework. Or in other words, how can you make sure that you have a defined way to escalate a crisis to a set group of folks who have been trained and practice together, they exercise together. And how you have a process to get those key stakeholders in the room, and talk through the decisions you need to make in a crisis, and then communicate the results of those decisions. We call that a crisis management framework, but really, it's how do you get the right leaders in the room, and subject matter experts, talk through the decisions you need to make, communicate the results of those decisions. Those teams are usually made up of folks like corporate security, and crisis management, human resources communications, facilities, business lines, legal. Perhaps there are others, and you have signed someone the responsibility for coordinating this process so that it runs smoothly, and you're able to practice and lead through that.
Bryan Strawser: Another successful thing we see with companies is just the ability to communicate while they're in the middle of a crisis. This really requires the company to think about well what are audiences that we need to think about communicating to? That might be impacted employees, employees as a whole, leadership and the board, other stakeholders that are invested in our company's success, like local community leaders and other, and then your customer base, which is usually the public, or kind of a subset of industry or a sector in that. But thinking about what's the audience I'm going to communicate to, and then building the right messages around that.
Bryan Strawser: One of our key takeaways here is you know the hurricane is coming, right? So if we're going to have some things to message, we should be building those communications plans now. And then as those things happen, you can update the messaging that you've already created with the right detail, and then be able to push that out through your normal communication channels.
Bryan Strawser: Social media comes up a lot in these conversations. Your employees, particularly in a larger company, they're probably going to post on social media during a hurricane or other major event, and trying to stop them from doing that is pretty futile. It's just as important to post factual information about what's going on on social media than it is to just push out press releases. Just think about the kind of messaging and facts that you want to see out there. And if you have time to practice this, I would practice some fast-moving things with your communications team as a part of this.
Bryan Strawser: Those are some of the factors that we see with successful companies as these major hurricanes come in. For individuals, the most important thing right now is to make sure that you've got your vehicle fully fueled, you're putting things in your vehicle, emergency supplies in your vehicle like food and water, whether that's bottled water if you got some different containers for water. Food and water are what you want to have in there, along with your luggage and other things. But keep the vehicle fueled, pay close attention to communication from your local emergency services personnel; police, fire, emergency management, and others. And when they tell you to evacuate, if they tell you to evacuate, don't hesitate, don't wait. Load and go, and make sure that you move on from there.
Bryan Strawser: As I said earlier, we have pretty extensive experience in managing large scale hurricanes like Hurricane Dorian. We do provide a number of services that you might find useful at your organization. Those include custom weather… pardon me, custom monitoring and weather reporting. We use a number of open source and proprietary resources to really give you a complete picture of the current threat and impact to your organization. We build specific situational updates and executive briefings on the hurricane situation. These are written situational updates on a regular cadence that consolidate really hundreds of pages of information into a tightly written summary of the current on the ground situation. We can do these in a way that they're branded specifically for your organization's style, have custom content for your org, and integrate your internal data and other updates. We really think of these as the best way to know what's happening in the threatened and impacted area.
Bryan Strawser: We also do executive and crisis team briefings that can be delivered via video conference or even through online video format where you can see us proving an update on the situation, and then some targeted content for your organization. Lastly, we're just a great, trusted crisis management advisor. We perform this role for a number of Fortune 500 organizations, lending our decades of crisis management and communications experience during their critical moment. During a hurricane like Hurricane Dorian, we're really customizing that advice to the specific needs of your company, but those commonly include 24/7 access to our team, participation in your internal calls and meetings, connectivity to key internal and external partners, and most importantly, problem-solving with your team, because we've already been through many of these situations.
Bryan Strawser: If you're interested in learning more about our hurricane crisis management services as Dorian approaches and begins to impact the United States, you can learn more at Bryghtpath.com/hurricanes, or just give us a call at 612-235-6435. We'll have another episode of the Managing Uncertainty podcast later this week, and if you're in the path of Hurricane Dorian, good luck.