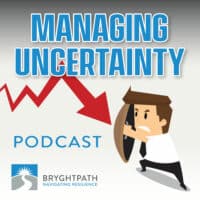 In this week's edition of the Managing Uncertainty Podcast, Bryghtpath Principal & CEO Bryan Strawser, along with Consultant Bray Wheeler, talk about some of the common mistakes we've seen during a critical moment during our consulting and professional careers.
Related Episodes & Blog Posts
Episode Transcript
Bryan Strawser: Hello, and welcome to the Managing Uncertainty podcast. This is Bryan Strawser, principal and CEO here at Bryghtpath.
Bray Wheeler: This is Bray Wheeler, consultant at Bryghtpath.
Bryan Strawser: And today we're going to talk about some common mistakes we've seen in the critical moment in a crisis during our consulting and professional careers and we both been at crisis management for quite some time, almost 30 years for me.
Bray Wheeler: Not quite that long for me.
Bryan Strawser: I have more gray hair.
Bray Wheeler: I'm getting there. I also have more hair.
Bryan Strawser: But what we want to talk about is just we've been inside of a lot of companies, and we've been in a lot of situations on our own with a lot of different teams across really around the world. And we want to talk about six or seven common mistakes that we've seen, and a little bit about what leads to those mistakes. And I'm just going to start off with the first one for me, a big one, and that is just the overreacting that happens.
Bryan Strawser: The emotional response in a crisis, particularly a crisis that has personal implications for an individual or for a team. Usually where someone's been hurt, or you have this just really the extreme reputational situation, like a data breach. Things are going to have material consequences for your organization or for an individual, and just this emotional response. And this one's particularly near and dear to my heart because I so value emotional intelligence when it comes to folks that work in crisis management.
Bray Wheeler: Yeah.
Bryan Strawser: That individuals are able to work through these situations in the moment. And to some extent, keep your emotions under control while you're managing the crisis, and then you bring that out and experience it in its full when the crisis is over. And it's such an important thing to me.
Bryan Strawser: And I think that we also get there not just through folks who have high EQ, high quotients in this area. But I think we also get there by practicing and having exercises.
Bray Wheeler: Yep.
Bryan Strawser: And having exercises that are realistic to where people understand their roles and responsibilities, and how the team is going to collaborate to make these very difficult decisions.
Bray Wheeler: Right. Well, I mean, it gets back to kind of the tried and true methods of fire drills and shelter-in-place drills.
Bryan Strawser: And why do we practice these things?
Bray Wheeler: You practice those things so that you feel at least somewhat comfortable or knowledgeable, or kind of confident in the next two things you're supposed to be doing. And I think a lot of times when we get into these situations, especially kind of as you were describing, what are the really novel type situations? Situations that are uncommon, we've never experienced before, have high impact, have a high consequence to them.
Bray Wheeler: It's easy to get sucked into the, "I just need to react. We just need to do something. I need to do something." And the train kind of just leaves the station without any rhyme or reason other than that sense of, "We got to do something." And it's especially complicated when you have an existing process and you have something in place, and either have leaders or other teams kind of feeling the need to go address it rather than go to the mechanism that you've put in place to really kind of counter that emotional response. You have an emotional process put in place to escalate to, to be able to start working through to gather the right folks, to start putting the pieces in place to manage it in a way that the organization can feel confident about. And those individuals who are having that kind of reaction, or who are highly involved, can feel confident in.
Bryan Strawser: And I think it's particularly frustrating I think for teams where you have a relatively mature crisis process in place.
Bray Wheeler: Yeah.
Bryan Strawser: Now you're confronted with a crisis that's maybe a little bit of outside of the box, or it has such material impact on the organization that the executives, instead of valuing the process that you built, skip it and put their own process in place. And now you're outside of all the process safeguards and checklists and muscle memory of roles and responsibility and having the right players at the table and more and more and more.
Bray Wheeler: Or putting players who are involved in the established process into the ad hoc process.
Bryan Strawser: But the process isn't working.
Bray Wheeler: But the process isn't working.
Bryan Strawser: Yeah.
Bray Wheeler: And so it creates confusion or it creates difficulty. And for them trying to work through it or to understand what their expectation and what their role is, because they've been hopefully trained and have, to your point, a muscle memory to that. And then all of a sudden that's gone, and they have to operate in a completely different way. At least not in a way where they have a frame of reference from.
Bryan Strawser: I think this happens too in a slightly different way that's just as frustrating, and we've talked about this on the podcast before, around an active shooter incident that several of us were involved in at a previous employer long before Bryghtpath existed. But we had an industry-leading crisis process, and we were involved in a pretty significant active shooter situation. Turned out to be a false alarm, and we had some leaders show up and then try to inject themselves into the process. But they weren't part of the process. Right? Their organization was actually represented by two other people who were already involved and were already doing the right thing, and understood the process. And these two folks tried to interject themselves, and I had to spend some time getting them out of the process because they weren't part of it. Their organization, and getting them redirected to the right people in their org.
Bryan Strawser: So this can happen either way. You may have a situation where executives throw your process out the window, and that's frustrating. Or you might have a situation where people show up and they're like, "Well, I want to be involved in this." And that's fine, you can be, but you have to work through your organization's rep, which are these two folks over here. The ones who have been trained and have participated in crisis management for years, work with them.
Bray Wheeler: They have that … And I think that the piece that often gets lost when people try and interject themselves in is there are norms established within these crisis response teams that your representatives know the culture and know the norms of that group and how it operates. And for someone new to step in to just insert themselves breaks norms, rubs people the wrong way, becomes a distraction to the process.
Bryan Strawser: Yeah. The folks that have been involved know how to escalate. They know how to work with the peer group. They know who to talk to, they know how to surface things without wrecking the process.
Bray Wheeler: Right.
Bryan Strawser: We kind of went in some different directions, but the point is that kind of emotional overreaction and not following the defined process here because you've got folks who just don't know the norms.
Bray Wheeler: Yep.
Bryan Strawser: What's the next one?
Bray Wheeler: Lack of transparency in communication. And that kind of gets into the siloing effect of different things, or containment of information that might be important for the broader response team to know the leadership impacted business operations. Really, it just gets down to kind of a communications breakdown, but really it's not being transparent. And that could happen right at the beginning when folks know something's going wrong but they haven't escalated it, or they're only talking about certain pieces of it because of either embarrassments or other components of that. Or it's during, and you're trying to mitigate or split off or be the hero. Or it's at the end, when we're not sharing back what we've learned or what happened, or the nature and the results of what transpired.
Bryan Strawser: One area where this really frustrates me that I know we're careful about how when we teach crisis communications or we talk about communicating externally from an organization in a crisis, and that is when the internal team at the company having the crisis finds out what's going on from the media.
Bray Wheeler: Yep.
Bryan Strawser: Because again, there's not transparency about what's happening, and the company not valuing communicating internally to their employees, to their team before they communicate externally to the community, to clients, to the investment community and other stakeholders. You've got to do both. The messages are a little different, and they very clearly need to do one before the other. It can be 10 minutes before the other.
Bray Wheeler: Right.
Bryan Strawser: But you've got to let the team hear from leaders directly, and not hear from leaders through the local news anchor. That's not a good process to get into.
Bray Wheeler: Well, I mean, it comes down to trust and respect. And the way that a crisis is communicated and addressed really dictates to some extent the success of how that organization recovers from that. Because if you have, to your point, the internal team going, "We found out about this from the media, this is all being hidden from us. I can't trust people. They don't trust us. What's going on?"
Bray Wheeler: There's conflicting stories. They're not able to go to their family and friends who are asking like, "Hey, what's going on with that?" And being able to say, "You know what? Here's kind of what I can share and what I know, and there's some things I know I can't share." But it just comes down to they're a part of your organization for a reason, and you should be able to trust them in these situations. I don't want to liken it to a family, but it's a little bit of a … You get into those family crisis, you got to be able to kind of trust that grouping of individuals.
Bryan Strawser: So another mistake that we see a lot of is just in the response, particularly in a reputational crisis or negative news story of some type, is when the response becomes a tax on that organization or the individual instead of being about the issue. And I think this is common in today's world when it comes to political communication, where we're going to attack the other party as opposed to just talking about what the issue is. But I also have seen this in reputational conflict, where a company gets attacked over something and instead of dealing with the issue, they attack the individual in the veracity of the claim. And et cetera. And there's certainly a time and place for this, but I see more often than not, this is the response as opposed to, "Let's address the issue at hand."
Bray Wheeler: Yep. It comes down to, again, how you portray yourself, how the organization portrays itself, dictates a lot of how people view it and what it is that you stand for and what your values are. That all gets lost if you go on the offensive against an entity rather than that issue. To be able to attack the issue isn't … There's a time and place for that as part of reputation management. That's a key tool of the tool belt there. But to make it about the entity comes across as personal, and the situation becomes lost on that conversation stream rather than addressing and coming out the other side of that situation stronger than when you went into it. And that's the ultimate goal on some of this stuff, is to be able to do those things, and that gets lost immediately as soon as you go after an individual.
Bryan Strawser: What's the next one you got on the list?
Bray Wheeler: Escalation breakdown. Common one, and there's a certain level of … I think it's important to remember with this one, there's a certain level of ambiguity to it. Or what's the word I'm looking for? Discretion that individuals can use and whether or not to escalate. But oftentimes we see … And it isn't just from the person on the frontline, the security guard at the front, tech and your operations center, manager in a store, manager in a bank or something like that. Not escalating it up and trying to handle it themselves. It also comes down from the top down, that there's not a, "Hey, we have a situation and we're not appropriately putting it back to our original one, back into the process."
Bray Wheeler: But that escalation breakdown really is a symptom of having folks not train lack of clarity in how those things should be communicated. A culture that we've kind of shared is over-responding, not overreacting. So making it okay for folks to communicate that stuff out without fear of punishment or being called stupid or something like that, that they made a mistake doing it.
Bryan Strawser: Right.
Bray Wheeler: That it all becomes a coaching and a teachable moment, rather than punishment and creating that environment. Because the more you know, the more effectively you're able to triage what's going on. And to give that person either the tips to go address it themselves or to say, "Yep, you're right. Here we go, we're going to kick the process in."
Bryan Strawser: I took escalation calls for a Fortune 300 organization for six years. Almost six and a half years, and I tried really hard not to kill the messenger.
Bray Wheeler: Right.
Bryan Strawser: Right? I was always cognizant.
Bray Wheeler: Thank you.
Bryan Strawser: Yeah, I was going to say Bray was one of the people I had to call sometimes.
Bray Wheeler: Every once in a while.
Bryan Strawser: But I always tried to remind myself that on the other end of the phone is somebody that really could be in their first real job, and they didn't really want to be the one that called me at 3:00 in the morning, but they had to be the one that called me at 3:00 in the morning. And so I always try to be polite in those situations because I know what it felt like when I was in the other end of that, calling my boss at 3:00 AM about a homicide.
Bray Wheeler: Right.
Bryan Strawser: Whatever had gone on in one of my retail locations. But definitely I think there's a message there for leaders, that when this stuff gets escalated to you, you need to deal with it rationally and appropriately, and not sweep it under the rug and not kill the messenger and take that seriously. I think that the message at the other end of this is also you have to escalate the stuff that your company calls for to be escalated.
Bray Wheeler: Right.
Bryan Strawser: You have some clear criteria so folks understand this. I went into a client a couple of years ago as a interim chief security officer and I asked the general counsel, "Hey, what do you want to know about when it happens?" And he literally had two responses. The first one was, "No one's ever asked me that question. I'm not sure." Followed by, "Well, you'll know what to call and tell me." And I'm like, "No, actually I don't." Like, I want you to tell me what's the stuff that happens that's going to be important to you? He goes, "Oh. Well, here are some things." And he goes, "Well, what would you add to that list?"
Bryan Strawser: I'm like, "Well, I think you should know about these things." But this raises a question about what do you think other people want to know that you need to know before they ask you about it that has happened, and that led to some fun kind of … Like what are your peers going to ask about things?
Bray Wheeler: For sure.
Bryan Strawser: That I need to make sure you know before they ask because they're going to find out through other means. Anyway, you kind of get the idea there.
Bray Wheeler: Don't want them to be the last one to know.
Bryan Strawser: Yeah, you don't want them to be the last one to know off of there. One of the other mistakes that we see a lot, and I can think of some recent examples of this, is just a lack of organization on action items in a crisis. I think if you're the crisis leader and you're facilitating this crisis team meeting, and I can't remember how many times we've seen this one happen, there's a lot of stuff happening. Okay? And they're facilitating, and they need a note-taker. Somebody needs to take notes for them-
Bray Wheeler: You need a scribe.
Bryan Strawser: Yeah. Somebody's got to scribe, you can't do that and run the thing at the same time. I know I couldn't, and I take pretty good notes. But you also need to delineate, this is some stuff that we have to do, and who's going to do it? Which org here at the table does this task belong to because it fits in your area? And if it doesn't fit in somebody's area, then decide as a group where it's going to go. That's why you have this cross-functional in a crisis organization, but you've got to track this stuff.
Bray Wheeler: Yep.
Bryan Strawser: And then you got to stay on top of it. And this is where I think particularly if your crisis organization is set up correctly, you're not doing everything. But the stuff that can get solved is coming to you to deal with. Like here's the obstacle or whatever. There's got to be clear paths to resolve this. I remember a specific example of this in Hurricane Sandy, where FEMA wanted to bring gas and distribute it in retail store parking lots. And I'm like, "I can tell you I don't like this idea, but I can also tell you this is not my decision. I will take it to the person whose decision it is."
Bryan Strawser: And then kind of chase down the answer to that question. But that was a problem that the local retail stores weren't going to be able to solve. We had to answer this question for them because it was really a policy question. So you've got to have the mechanisms to escalate those decisions and make those decisions quickly.
Bray Wheeler: We've seen organizations take different approaches with this too, where they have online virtual tools that they're tracking these things in real time. We have people who have sheets, paper sheets that they're tracking this information on. The most probably effective one, at least in the moment …
Bray Wheeler: Excuse me. Is a whiteboard, and just using the whiteboard to track as the conversation goes. That scribe is writing down key pieces of information, kind of situational components from the different groups at the table. But then those action items, and listing those out and then being able to recap at the end of that conversation or that call of, "What's next? What off this list are we going to do?"
Bryan Strawser: Yeah. And there's always just a lot to keep track of in these situations. So I think that's a good one. Another example of things that we see pretty commonly, mistakes we see pretty commonly, and this one just kills me. Role ambiguity, uncertainty with roles and expectations within the crisis organization.
Bryan Strawser: I attribute this sometimes to just poor planning or poor training, or more likely, you haven't really done an exercise. A good exercise, where you work a lot of these details out because you've practiced, and you've had some lessons learned out of that practicing so folks are clear on what this is. If I walk into a real crisis and people aren't sure who's in charge and who's taken notes, and who's running the meetings and who's communicating the results of those meetings, I'm usually looking at a team that hasn't had an exercise.
Bray Wheeler: Yeah.
Bryan Strawser: A real exercise.
Bray Wheeler: Safe bet.
Bryan Strawser: Safe bet. And that's a really bad place to be, because you exercise in order to build that muscle memory and understanding of how you're going to collaborate so that you can do this in a crisis, and now you're in a crisis and [inaudible 00:20:21], as we say in Minnesota.
Bray Wheeler: Well, and it gets to the different kinds of functional pieces of the crisis team too, that if they don't … Team member accountability, for example. It's an important piece. Sometimes in these situations, if nobody knows who's responsible for it or teams that are responsible for it, it gets left open.
Bryan Strawser: And by team member accountability, we're talking about actually accounting for your team in some type of life-threatening injury possible situation. Who's doing that, and what is your process? Is that local team, is it corporate HR? Is it the field HR group? Who does it? And by the way, and if you think this is just an HR responsibility, you're nuts.
Bray Wheeler: You are sadly incorrect.
Bryan Strawser: Yeah. It's a shared responsibility, but someone's got to be in charge of the darn thing. Team member accountability. Obviously, if you're listening, you're picking up on some sarcasm related to this. But part of that is just simply we see this a lot, this team member accountability as a challenge.
Bray Wheeler: So the next item we have on our list, kind of the penultimate one here, but it's really about remembering to not overemphasize the kind of operational and financial impacts of the situation versus the people impacts. A lot of times I think people always know people's impacts are the right thing to address first, and the important thing to care about there doesn't always translate as you get into the conversations about what's going on with the situation.
Bray Wheeler: Whatever kind of feels like the hot fire or the passion point of the thing tends to dominate the conversation. In some situations, that is for sure people impact, and that's very clear. For some other situations, that's not always the case. And especially for ones where they may happen in off-hours or it's kind of a known thing like a hurricane or severe weather where people may not be at the facility. They're at home, but there's still impacts to people. And so it's easy to kind of default into the operational or financial piece-
Bryan Strawser: Too focused on the business and not enough focus on the team. I really think that the crisis has to start with, "Is the team okay?"
Bray Wheeler: Yep.
Bryan Strawser: "What is the impact on the team, and what do we need to do to help them?" And then you can get to the other implications of this. Really just like it does in the public sector, emergency management starts with lifesaving rescue operations. Here, we start by thinking about life safety, and then what's the impact on the team and what do we need to do to help them through this. I think a lot of companies, and I think back to Hurricane Harvey and Maria and Irma where fortunately none of our clients had any loss of life or anything like that. But a lot of companies, they knew their team was impacted, right? But their questions were about when can I reopen the office, when can I reopen the store, when can I get the campus reopened?
Bryan Strawser: We were working with a university that was impacted at a time, and I kept steering them back to, "Those are important questions, but you can't do any of that if you don't take care of the team." And the team has evacuated and they have an impact. They've lost homes, they've had an impact to their homes, they've lost pets. In one case, we got to talk about how to deal with that first, and then we'll get to the how do we get these things reopened. Because honestly, your first big impact to address is this stuff with the team. We saw companies at the time that didn't have disaster pay in mind for these situations. It was one of the questions I asked before we started some of their crisis calls was, "Are you going to continue to pay the employees who were out of work?"
Bryan Strawser: Because it sounds like we're not going to get into some of these buildings for a couple of weeks because they're flooded. Are we going to pay these folks? "Well, we have an interruption policy, but that only works for three days." Okay, well, let's work on solving that issue. Do you want to do this, and then how are you going to do it? Because honestly, we need to solve that before we get to these other problems.
Bray Wheeler: Yep.
Bryan Strawser: And companies just don't … I don't think they're naturally wired to think that way.
Bray Wheeler: No. You want to get the storefront open as soon as possible. You know, for lack of a better analogy, you can't really get it open if you don't have anybody working in there, or shopping there or interacting with it like they're supposed to. Because a lot of times, people impact it either from a customer base or your client base or partner base too, that, "Yeah. Great. You're up and running, but nobody else is."
Bryan Strawser: Right. Nobody else has set up. You haven't set up your part of the system to get everybody back online, back on their feet, back able to return to as much of normalcy as they can get to.
Bray Wheeler: Right.
Bryan Strawser: So our last area, our last mistake that we see, and this was kind of funny because we had just asked my wife who works here at Bryghtpath about what's the big mistake that she's seen companies do. She's been at this her whole life, longer than I have. And she brought up as she put it, "Not having enough coffee available for the team." Well, what she was really getting at was just not taking care of the team. And by the team here, we're talking about the crisis team, the folks that are dealing with work, leading your company through this situation. And I think we've said on multiple podcasts that one of the first things that we always did when activating is to order food. Right? So coffee, coffee maker, pizza,
Bray Wheeler: Candy and the candy-
Bryan Strawser: Have some healthier options available, of course. But, have food available for the team. The team's going to work a lot. They're going to have some odd hours. They're going to want water and caffeine of choice. I know I had somebody that only drank Diet Mountain Dew on the team, and so we always had that in there. I'm a coffee drinker, I will drink coffee any hour of the day in a crisis. So those are the kinds of things that …
Bryan Strawser: But also I think is just being aware, and we've talked about this, too. Being aware of the mental health of your team, and particularly when you're in these … like Hurricane Harvey, Irma, Maria, that was like 35-40 days of a lot of nonstop action for a lot of folks. And we needed to have situations where we were rotating people in and out. Like, "Hey, you know what? You're going to take the next two days off, and you're not going to read your email and you're not going to answer the phone, and you're not going to participate in the calls. You're going to hand those over to me." I remember having this discussion with one of our folks and they were like, "No, I can't. We're in the middle of a hurricane." And I'm like, "Yes. And you're burnt out."
Bray Wheeler: Yep.
Bryan Strawser: Right? You're headed there and you need to go home. You got little kids, you got a wife. Go be a dad and be a husband, and come back on Monday because it'll still be here.
Bray Wheeler: Yep.
Bryan Strawser: It's not going anywhere. I'll work this weekend.
Bray Wheeler: This one in particularly, this one is one where not for … Well, I shouldn't make the generalization, but typically I would say organizations don't really want to take advantage of their folks that are responding to these things. But these folks often get taken for granted, because the situation is so focused on the incident itself that those responders, the people who are working the issue are often … You know, that's what they do. So they're in it. They're not necessarily going to raise their hand and bow out. They're going to keep working and keep working and go home, sleep, come back and work and work and work. Rather than take that disconnect, bump up their effectiveness.
Bray Wheeler: There's only so long you can operate in one of these situations before you just are burnt out, or you're on overload. And yes, oftentimes people want to keep working, but to your point earlier, you lose your effectiveness by doing that. You lose the rhythms, the procedures, the thought process, the creative thinking, the personal interactions with people. That all suffer, and it doesn't help the situation the way that these people desperately want it to by being dedicated to what they're doing.
Bryan Strawser: You lose your ability for the kind of cognitive thought that I think is required to lead in these situations, particularly where you are the leader. And a lot is incumbent upon you to see the strategic picture, the full understanding of the situation and not just the tactical understanding of the situation. And I don't think you can do that when you're fully exhausted.
Bray Wheeler: No.
Bryan Strawser: Mentally and physically, you need rest in order to do that. And the rest is different for different people. I require less sleep than most, but I'm even finding that difficult as I get older. But those are the kinds of things that I think when we talk about taking care of the team is watching for these things. And if you want to learn more about that, I think we'll put it in the show notes. But you can look at our podcast about the Harvard National Preparedness Leadership Program, and the ideas of metal leadership and about thinking critically in a crisis I think are very applicable here. Because we are trying to keep you out of the basement, as they like to say. Kind of falling prey to that fight or flight syndrome.
Bray Wheeler: Yep.
Bryan Strawser: But your long term multi-day crisis situations, it's just critical to make sure the team is taken care of and that folks are getting breaks, and that gets you away from a situation.
Bray Wheeler: And that you're giving them permission-
Bryan Strawser: To do so.
Bray Wheeler: Because a lot of times they go home, go to sleep. It sounds like go home, go to sleep, come back. Instead of go home, go to sleep, don't turn on the news.
Bryan Strawser: Yeah.
Bray Wheeler: Don't show up here again until Monday. You're giving them that order to stay away, find something else to do for 24 to 48 hours.
Bryan Strawser: And as a leader, you need to model that behavior.
Bray Wheeler: Yep.
Bryan Strawser: Right? You need to be taking your own breaks, doing your own kind of thing. And when you have the right processes and you have the right people, this is easy to do. But also when you have the right people, they're highly motivated to make a difference, and you have to create that environment where, to you say, it's to give permission. You got to create that environment where they can go and do these things. That's it for this edition of the Managing Uncertainty Podcast. I hope you enjoyed our recitation of some of the bigger mistakes we see in the critical moment during a crisis that we've learned throughout our careers. We'll be back later this week with another episode of our BryghtCast edition of the podcast. Thanks for listening.