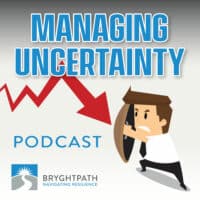 An OSHA report from 2018 notes that nearly two million US workers were the victim of workplace violence in recent years. A similar study from 2014 from the US Bureau of Labor Statistics pointed out that in 2014, 409 individuals were fatally injured in work-related violent attacks that year. Workplace violence was the third leading cause of death in a wide range of professions that year, including healthcare, education, media, and the legal profession.
In this episode of the Managing Uncertainty Podcast, Bryghtpath Principal & CEO Bryan Strawser tackles the issue of how to help employees recognize and report suspicious or threatening behavior. Topics discussed include the data behind workplace violence, warning signs, potential risk factors and triggers, performance problems and conduct indicators, and more.
Related Blog Posts & Episodes
Episode Transcript
Bryan Strawser: Hello and welcome to the Managing Uncertainty podcast. This is Bryan Strawser, Principal and CEO at Bryghtpath. In today's episode, I want to talk about helping employees recognizing and report on suspicious and threatening behavior, focusing in on workplace violence and threat management as a topic today. I think everyone understands that workplace violence is a possibility, regardless of what industry that we work in, but there's a number of recent studies pointing to the fact that this problem might be more serious than what a lot of folks think.
Bryan Strawser: According to an OSHA report recently, in 2018, roughly two million American workers were the victim of workplace violence in recent years, each year, and that only includes actual reported numbers. A similar study from 2014 from the US Bureau of Labor Statistics pointed out that 409 individuals were fatally injured in work-related attacks in 2014. That number makes up about 16% of the overall 4,821 workplace deaths during that particular year. About 16% of all the deaths in the workplace in 2014 were caused by work-related attacks or other incidents.
Bryan Strawser: Workplace violence, as of 2018, was the third leading cause of death in a wide range of professions, not limited to, but including healthcare workers, education workers, media workers, and those that work at law firms. Now, it's certainly possible that technology and other physical security measures can go a long way towards really creating the safest possible environment for everyone. Employees are really our number one assets, they're the number one … They're the part of what … The engine that makes our companies go round.
Bryan Strawser: One of the best ways to curb workplace violence is to teach people to both properly recognize and report behavior that might be suspicious or otherwise threatening, and that helps us identify problems when they're smaller, stopping those issues, in most cases, before they have a chance to become bigger and more dangerous issues down the road. We start this by understanding what workplace violence is and helping teach our employees what that behavior looks like, what suspicious and threatening behavior really looks like, and how that needs to be reported.
Bryan Strawser: The United States government through OSHA and the Department of Labor defined workplace violence as any act of violence against persons or property as well as threats, intimidation, harassment, or any other inappropriate disruptive behavior that causes fear for personal safety in the workplace. That's not just a concept limited between employee/employee on violence, employee on employee violence.
Bryan Strawser: This could include third-party contractors, employees from a partner or a vendor who come to your location, it could be visitors or it could be customers who come in and out of the business or you have a service worker who is in their home or business and is having that interaction offsite. There's a number of situations that can potentially trigger or cause of workplace violence. The US Department of Agriculture has a handbook on workplace violence they use for agricultural workers that has a good definition of the five key things that potentially trigger or cause workplace violence.
Bryan Strawser: Those things are anger over the loss of a job or some other type of disciplinary action, resistance or even a deeply rooted resentment over regulatory actions by an employer, employee or customer. A situation where a member of the public disagrees with a policy or practice of your business. It could be violence that is based on intolerance or bigotry or other actions that are intended to harm or intimidate someone because of their race, ethnicity, religion, country of origin, or other personal characteristics and more.
Bryan Strawser: These are kind of suspicious and threatening situations. They could come from anyone, anywhere, at any time, but there is an intersection with an employee of your business, or someone in a leadership position, like a manager or a customer, a family member. Again, educating your team on what to look for can help create a safer, healthier, and more productive environment. The most important thing here is that there … You have a method for them to report this kind of behavior and you have educated them on what that behavior is.
Bryan Strawser: We may laugh about it sometimes, but the US Department of Homeland Security's motto of: if you see something, say something, actually has a significant amount of truth to it in these situations. When we've trained the team to identify threatening behavior, we want them to report that threatening behavior and then within your organization we want there to be an entity, a threat assessment team, a security team, an HR team that is then taking action on that report of this kind of threatening behavior.
Bryan Strawser: There are a lot of free programs out there, particularly from government agencies at the federal level, and perhaps in your state as well, that have some free workplace violence prevention programs that you can use as an ongoing educational resource to empower your employees. For example, the Centers for Disease Control and Prevention, or CDC, part of the US Department of Health and Human Services has a free ongoing educational resource that you can use that focuses in on explaining potential triggers and signs and how to understand threatening and suspicious behavior and then has the resources on how you should deal with that as a company.
Bryan Strawser: All these resources should be part of employee onboarding for new hires and should be part of what you're training your existing employees on an annual or biannual basis. We would suggest … I would suggest that management should definitely have this as a mandatory training program and that they're having to take the training on some type of annual or regular basis and then that's recorded so they understand how to take action in these situations.
Bryan Strawser: Companies should have a policy that addresses workplace violence and threat management and that policy should be a very clear zero-tolerance policy in place in terms of threats of physical violence, harassment, intimidation or other violently disruptive behaviors. You need to make sure that policy is clearly communicated as a part of your training so that everyone understands the policy and the consequences that could be enforced through that. A company should also not be afraid to enlist the help of professionals.
Bryan Strawser: The Association for Threat Assessment Professionals or ATAP, of which I'm a member, advises that companies should not be afraid to bring in outside help to tackle employee awareness and prevention in these types of situations. Being aware of performance and conduct issues that might seem small now, but could also be warning signs of potential trouble, it's really the cornerstone of any prevention strategy.
Bryan Strawser: We want you to take the step to hire a workplace violence consultant, or other security consultants, because it gives you one of the best chances to do exactly that, to make sure that you're dealing with the situation the right way when it's necessary to do so. When you're focused on running the business and leading your team, there are small things that can happen and slip by your attention, that could point to larger issues brewing on the horizon. Bringing in these outside resources can help more easily uncover those situations and put you in a position to do something about that immediately with professional advice.
Bryan Strawser: There's a number of performance and conduct indicators that you should be monitoring as an employer, things you should be on the lookout for, and this is good training for your management team as well. The first is attendance problems, people taking excessive sick leave, excessive tardiness or improbable excuses for their absences or late tardiness to work. Concentration problems, including people who are more easily distracted or have trouble recalling instructions, unusual or changed behaviors, like people who are suddenly prone to making inappropriate comments or throwing objects.
Bryan Strawser: Evidence that develops that points towards a possible drug or serious alcohol use and abuse by the employee. Evidence that develops that points to serious stress in their personal lives of one or more employees and then low energy, a lack of enthusiasm or the presence of despair and negativity, all of which are major signs of a significant depressive episode. It's important to point out that if one or even all of these qualities do exist in someone, it doesn't mean that there's an imminent violent act that's going to happen.
Bryan Strawser: It doesn't mean they're going to do something right now. It could just mean that someone is sick or depressed or is going through a lot of stress. We never know what's going on in someone's life outside of work sometimes, but these are still critical things that you should monitor and watch out for in the larger context of preventing workplace violence in your workplace.
Bryan Strawser: The point of all of this conversation is really clear, if organizational leaders, if you as the leader or manager in the function, if you as the business owner or CEO, if you're in a better position to recognize these indicators and if you are faced with a complex situation, you bring in professional help and you have a better view of recognizing these indicators, you can more effectively train and communicate these to your team.
Bryan Strawser: Your team is more aware of the signs they need to pay close attention to moving forward and that ultimately goes a long way towards an entire organization's ability to take a more proactive approach combating workplace violence. If we can help you in any way with your workplace violence prevention program, we've developed the workplace violence prevention programs and threat management teams and crisis plans for many Fortune 500 organizations, and our company has more than a century of experience in developing actionable plans to help prepare companies for the unexpected critical moment.
Bryan Strawser: Our expertise also includes crisis communications and emergency procedures, and we'd love to help you develop a program, train your team, and take other preparedness steps that improve the safety and security of your workplace. That's it for this edition of the Managing Uncertainty Podcast. We'll be back next week with a new episode. Thanks for listening.