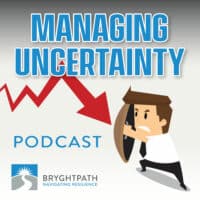 In this episode of the Managing Uncertainty Podcast, Bryghtpath Principal & Chief Executive Bryan Strawser discusses what your executives are really looking for in your crisis management plans.
Topics discussed include executive roles in a crisis management framework, developing crisis management plans, crisis exercises, executive interactions, and more.
Related Episodes & Blog Posts
Episode Transcript
Bryan Strawser:
Hello and welcome to the Managing Uncertainty podcast. This is Bryan Strawser, principal and chief executive here at Bryghtpath. I'm flying solo today and we're going to do a short episode this week talking about crisis management plans, and what I want to focus on our discussion about crisis management plans, a topic that we've talked about numerous times before, is what happens when your executives get involved? When your executives are at the table, involved in your crisis process, what do they really want? What are your executives really looking for in terms of a crisis management plan?
Bryan Strawser:
If you remember in our previous episodes and blog posts we've done over the years about building crisis management plans and crisis management frameworks, what we've really talked about in those situations is building something that has a crisis management team that is below the executives, that really is managing that moment-by-moment action that we want to happen during a crisis. They're coordinating across the organization. They're communicating, they're collaborating, they're making those moment-by-moment decisions.
Bryan Strawser:
The role that we typically reserve for the executives is to support the work of that crisis management team, usually in a couple of key areas around large scale expense and capital commitment. They're making decisions about the organization's reputation, and they might be taking active steps to manage the reputation of the organization, but they're really focused in that middle area there. I'm sorry, they're focused on rather on really those big picture issues where they're supporting the crisis management team. Your crisis management team is really made up of those day-to-day managers from across the organization who are doing the real work in responding to the crisis. Your executives are there to support the work that that crisis management team is doing and making decisions on the type of things that escalate to them.
Bryan Strawser:
Here's my experience. My experience and I just went into this a few weeks ago with a client who is managing a data incident. The executives became involved earlier in the process than usual, and because they weren't as familiar with the process, they dove into a lot of questions and superseded, to some extent, the role that was really defined for them. I think this is common. This is something that I've seen a lot, where I see, in exercises in particular, in exercises where the executive management team begins to participate and almost without fail, we see them try to make up the process as they go along instead of following the crisis plan that has been put together and assembled with roles for their role as an executive. Most of the time, I would say, they do a good job in just the ad hoc process. After all, they're usually good networkers and good collaborators and good decision-makers, and so they're ad hoc, making it up along the way. Usually turns out okay, but they definitely miss things, and they miss things because they're not following the plan that has been outlined for them.
Bryan Strawser:
What I recommend, what we recommend, is we build crisis management plans is to not overcomplicate this. When it comes to the executives, I think your executives are really looking for five or six key things in a crisis plan. I'll tell you upfront when I say don't complicate it, what they're not looking for in a crisis plan is a 100, 150 pages of theory or background or governance information or 10,000 checklists that people should be following. What they're looking for is a document that is really focused, that can be easily understood, can be easily executed, and they want that in a way that is easily accessible to how they consume information.
Bryan Strawser:
Now that might be on paper, and some folks like things to be on paper, but that's probably not how they want it. They probably want something that they can access on a mobile device, particularly an iPhone or an Android device, or some type of tablet like an iPad or an Amazon Fire tablet or the Samsung Tab or something like that. You're probably thinking here about PDFs or other things that can be put in a secure online location that allow them to get to it. You want to make sure that you're getting it to them in a way that they're going to use and access, and by all means, as you think about how to assemble this, you might be thinking about something that's more graphical, more infographic-driven, with supporting information that really backs up that graphical description.
Bryan Strawser:
We would argue that there are five or six things that executives are looking for. One is a plan that is easily digestible and focused, and can be accessed in a way in which they like to access information. The second is a framework. A framework that helps them understand their position, their role in the process that lets them respond quickly and effectively, and understand where they fit in the process. The third is that they're looking for clear roles and responsibilities in what I would say are boundaries between the different entities within the crisis. What is the role of the executive team? What is the role of the crisis management team, the CMT? What decisions are authorized at each of those levels?
Bryan Strawser:
Again, in a simple way, I think we want to provide some means and questions, or even a severity chart or severity levels that let the executives understand how to assess the situation, or in other words, just how bad is this on the scale of not so bad to really, really catastrophically bad? What are the severity levels? Where are we today? Are we at level two and that's yellow, but we're trending towards level one and that's red, and now the survival of the company is at stake? What are those tools or methods that allow them to assess the situation?
Bryan Strawser:
The next, I'm not really sure … you might think of this as checklists, or maybe it's more reminders or lists of things to consider, but I think in general for a crisis and then perhaps some different versions for some different situations, I think to remind them what some key issues are that they may have to tackle in the first four, eight, 16, 24, 48, 72 hours that are going on. For example, in a general crisis, initially, you're really concerned about the response, and you're thinking about life safety. Is the team okay? Do we need to take some steps to make sure the team is okay? What is the condition of our assets? But over time those questions become more specific and it helps you understand the broader impact. I think those questions and those key issues are important.
Bryan Strawser:
Then lastly, giving the executives a method for understanding what communication processes are going to be tied to this. That might be just a brief description of your crisis communications process or your outside firm that's going to get involved and assist from a crisis standpoint. Those are the kinds of things, from a communication standpoint, that I think your executives are looking for. Then lastly, the sixth thing is, I think, looking at a brief description of the after-action process, at least referencing that there is one, and how you use that to capture lessons learned to improve for the next type of crisis that you're going to be faced with as an organization.
Bryan Strawser:
Again, your executives are not looking for a 150, 200-page plan. They're looking for a strongly focused document that they can access in the way they like to access information, in a way that's executable, and where you can use graphics or infographics with some supporting information. That's the way to go with that.
Bryan Strawser:
If you've worked with your executives before on a plan and maybe they didn't buy in or they seemed confused, I wouldn't mistake their pushback as taking the stance that they don't want a plan. I think it's an opportunity to look at how the plan is constructed and is it built in a way that's easily accessible and executable at that level and easily understood, and make revisions to your plan to make sure that you're meeting what those needs are that they're articulating in their feedback or in their pushback. If you deliver a clear and concise actionable plan that's easily understood and easily executable, doesn't have a bunch of unwanted information in it, then I think you're really delivering what your executives need, and I think you're putting them in the right position within that crisis management framework that you're working on within your organization.
Bryan Strawser:
That's it for this edition of the Managing Uncertainty podcast. We'll be back next week with another new episode. Thanks for listening.