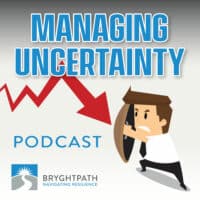 How do you make a plan for a crisis situation that you didn't see coming – the unforeseen crisis?
That's what we tackle in this week's episode of the Managing Uncertainty podcast. Topics discuss include crisis frameworks, the Harvard National Preparedness Leadership Initiative (NPLI) program, crisis communications, situational awareness, and dealing with unknowns during a crisis.
Episode Transcript
Hi everyone. This is Bryan Strawser, Principal and CEO at Bryghtpath. And welcome back to the Managing Uncertainty Podcast.
Today I want to talk about this idea that you can have a perfect plan for any crisis situation. I think in our list of potential podcast topics, my co-host Jen, who's currently on military leave, wrote this down as the idea of, you can't have a perfect plan for something that has never happened before. And Jen, of course, is correct in this. We often have talked on the podcast and in our writings on our blog, about building crisis management frameworks, and about writing plans for specific situations, about creating collaborative decision-making processes, about communicating the results of those decisions. And so, what I want to talk about is just this idea of building comprehensive crisis management frameworks and how the unknown risk, the unknown scenario, the thing that you didn't foresee factors into that framework.
We've talked before about building frameworks that move from the bottom up within an organization where incidents or crisis situations of all types, financial, reputational, technology, continuity, natural disasters, security incident, information security incident, pick the problem, pick the disruption that's impacting your company, and you're bringing that into the same crisis process. You're bringing it into the same way that you're talking about something and making decisions in a collaborative manner. And you have a way to escalate that to senior executives and to the board of directors or to the elected official in a public sector agency. But you're moving, this crisis is moving up through your organizational hierarchy in a way that you define as a framework. And that's usually where you start. It's where you start when you're building a crisis process. And then we go back, and we say, we're here are the top five, six, 10 things that we think are going to happen.
They're disruptions that we know we're going to have, that we're most at risk from having. And now we build specific plan annexes to address those particular problems that might happen to your organization. Those risky situations that you think you're going to find yourselves in. I think of those as routine incidents. There are things that we've built plans for, their things that we've foreseen. We probably have preparedness steps for these. We have expectations for the various business units in our organization to prepare for these incidents. And we've put probably pretty good detailed processes and protocols in place and that's great for the situations that you can see, that you think are going to happen. That's exactly the planning that you want to do because then you can just execute. You can just get it done. You pull out the plan, hey, we just saw the hurricane be forecast, and I know in five days out from rainfall and I got to do these 40 things today as an organization. That's awesome.
The challenge becomes when you're hit with the thing that you didn't expect, the crisis that you didn't foresee and now you don't have a plan that you can execute. Instead, what you're doing is you're relying upon this framework that we hope you've built that allows for collaborative decision making and communication, and you're able to use that framework to get you through the crisis situation that you didn't see. So you're moving from this routine, this world of routine incidents, and you want to have the ability to have good situational awareness of what else is going on around you. What are those external factors that are influencing what's going on?
You have good collaborative cross-functional discussion. You have a crisis leader with a good strategic view and now you find yourself in the situation where you didn't have a plan, you have the unforeseen crisis, and now you've got to rely upon that decision making framework because you don't know what to do. You don't have the specific task-oriented plan. What this calls out for me are a couple things that I've seen some organizations struggle with. The first is having leaders in the crisis process that are overseeing what's going on there. The incidental leader. They're someone who we hope is emotionally intelligent that can take a balanced leadership view to the situation and they see the bigger picture. The story I always tell when I talk about this, and this has been told many times in different ways, but it's the story of a man coming up on a construction site and there's some stonecutters working, some stone masons that are working to build, it looks to be some church building.
And he asks the first stonemason, well, what are you building? And the stonemason says, well, I'm a stonemason, I'm cutting stone, and I'm laying mortar, and I'm putting stones down. I'm building a wall. He walks a little bit, and he turns to another stonemason. He goes, what are you guys, what are you doing? And the stonemason stops and looks up at the construction site. And he goes, we are building the most beautiful cathedral. One stonemason was focused on the tactical. He saw his task and what he needed to do. The second stonemason saw the strategic view. He saw the bigger picture of what was going on. He saw the factors, the external factors of what was happening. That second stonemason is the kind of crisis leader that you need. Somebody who understands how to connect the tactical to the strategic.
Where that really comes into play in these situations is the second part of the puzzle that I think companies struggle with and that is that everybody wants to have a detailed plan for something. The challenge in these situations is when the thing happens, and you don't have a plan for the new thing, the new thing that has happened to you. Think about what we faced in the United States on September, on the morning of September 11. To most extents, we didn't foresee a terrorist attack involving hijacking of airplanes and crashed in them in the buildings, but that's what happened that morning. There was no plan to fall back on to go act upon. There was no agenda or blueprints of what to execute. It had to be figured out in the moment. A similar situation happened that illustrates this with the Sendai earthquake Tsunami and radiological disaster in 2011 in Japan. But Japan is very strong at nuclear safety and response, being very strong at earthquake preparedness and response, being very strongest Tsunami preparedness and response, probably the best in the world that at least two of those three things that I just mentioned.
But when all three happened at the same time, well that just wasn't a scenario that they ever saw happening. And because of that, they struggled in that response. They really had a difficult time managing through the response required in that type of national scale disaster. So they found themselves in that place where they didn't have a plan. And that's where it's just absolutely critical that you have the collaboration and decision-making framework and communication framework that's necessary to manage through that crisis situation. The one for which you can't have a plan because you've simply never foreseen the situation that you've now found ourselves in.
If you want to learn more about this idea of routine incidents and planning and situational awareness, and then finding yourself in this situation without a plan, there's a, it's academic, but there's a very good paper called Acting In Time Against Disaster, a comprehensive risk management framework. It's by doctor Dutch Leonard and Arnold Howard from Harvard University. They're in the business school, in the JFK School of Government. And they are approaching this more from national scale disasters, from a public sector perspective. But there are many lessons to be learned from this for business as well.
So again, write good detailed plans for the risks that you know are going to happen for the things that you can foresee, have good leaders that see the strategic view, get them the tools that let them have the situational awareness of what's happening and the factors influencing that and build a comprehensive crisis management framework that you can use in any situation, regardless of what has happened in terms of the disruption to your organization. That's it for this episode of the Managing Uncertainty podcast. We'll catch you next week.