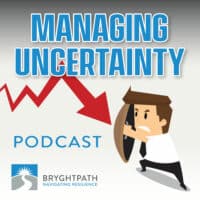 How do you take care of the crisis team when you're in the middle of a crisis?
That's the topic that Bryghtpath Principal & CEO Bryan Strawser tackles in this week's episode. Topics discussed include emotional intelligence, maintaining balance in the middle of the critical moment, Harvard's National Preparedness Leadership Initiative, and crisis leadership.
Episode Transcript
Hi folks and welcome back to the Managing Uncertainty Podcast. It's been a while since we've done an episode. This is Bryan Strawser, Principal and CEO at Bryghtpath.
One thing that happened last year, in the middle of the year, as we were kind of clipping along with he podcast at a pretty good rate, is that Jen Otremba, one of our employees and my co-host on the podcast, received deployment orders. Jen is long-time member of the Minnesota National Guard. She is a Black Hawk instructor and command pilot in a medevac company, and she was called up for a year plus of active duty serving with the military and the National Guard in Southwest Asia.
Jen has now been there for several months with her unit, flying medevac missions and engaging in other activities and is doing well. We have regular contact with her, and we've sent her care packages, and, in fact, I just saw photos from her yesterday about things that they were up to. We wish her well.
We look forward to having her back, but I thought it was time to get back into doing the podcast on a regular basis. So hopefully this is the beginning of getting things back on track.
What I wanted to talk about in today's episode is about taking care of your team during a crisis. We've talked a lot on previous episodes about how we work in a crisis situation to take care of others at your company. Survivors, those that are impacted, people who need medical care. We've talked about the long-term emotional impact that crisis situations and critical incidents have on your team. What we haven't talked as much about is how to take care of your team, how to take care of the folks that are managing through the crisis situation, whether you're in corporate security or human resources, facilities, the core business line, manufacturing or retail, or IT or whatever the makeup of your crisis team is. How do you take care of them in a crisis? And so I want to talk briefly about that during today's episode.
I think that taking care of your team in a crisis starts with acknowledging that, as you bring people into roles that have crisis management responsibilities, whether that's a full-time thing for that employee, or that's an add-on to their current role, that they're representing their organization in some kind of cross-functional crisis team. I think we have to acknowledge up front that not everyone is cut out for this. Working in a crisis, particularly in a critical incident where people are in harm's way, whether it's through an intentional act of violence, or they become victims of a natural disaster and have to survive through that incident, or some type of accident that happens in the workplace, not everyone is cut to be able to deal with those situations in a calm, rational and emotionally intelligent manner.
One of the things that we talk about a lot as we vet people for crisis management roles, is the need to have emotional intelligence, the need for individuals involved in these decisions and discussions and collaborations to be able to deal with these very difficult situations in a calm and rational manner during the situation. And then afterwards, like everyone else, they'll experience the same range of emotions that I think all of us experience in our own way following a critical incident, a crisis, a disaster situation. But in my mind, a big part of this is just how do we vet these individuals? How do we train them for these kind of situations? How do we prepare them for the decisions and interactions that they might be faced with?
Just last week, I was at a client site here in the Twin Cities and was training essentially their main crisis management team, a group of middle managers, directors and vice presidents, and was training them not … We were going to talk about their crisis management plan, but we hadn't gotten there yet. We were spending a good hour to hour and a half talking about what effective crisis leadership looks like, what success looks like as a crisis organization, what that looks like inside the company, what it would look like to someone peering in from the outside.
And one of the things that we talked about, is that not everyone is cut out for this. And part of what we have to monitor as we work through crisis situations is that we continue to coach and train people to deal with these situations. And we look for signs that they are or are not the right fit as they work through scenarios together, and as you're choosing them to be on your crisis team.
One example from my past is many years ago. Here in Minnesota, you might remember that we had a major bridge collapse. The interstate, the 35W bridge, which is, I believe, a six or eight-lane bridge at the time through downtown Minneapolis, across the Mississippi river, failed, and I failed during rush hour and collapsed into the river. It killed several people. Many, many more were injured, and there was a significant rescue operation that occurred between law enforcement, fire, EMS and many other resources.
One law enforcement agency that was in a supporting position here … They weren't the primary responders, because in Minnesota the sheriff's departments are primary responders on waterways. But they were there to support the response, and so they'd set up a command in a nearby parking lot, and they had a command officer who was serving as the deputy to their incident commander, who had been sent to many training courses around crisis and emergency management, and they really saw him as the kind of next generation of leaders for these really critical incidents, really have a number of emotional outbursts in the command post, to the point that he had to be moved and told to depart the situation, because he was upsetting and distracting the other responders during the situation.
Now, I tell this story not to cast aspiration on this individual, as much as I am to point out that, again, not everyone is cut out for these kinds of roles. And as the incident leader, the incident commander, you have to be looking for these kinds of situations. You have to be looking for this bad fit, or this opportunity when you need to provide some sharp direction to correct this kind of behavior at an incident because that just really illustrates a lack of emotional intelligence that can become really dangerous, really distracting during this kind of crisis response.
This is not to say at all that this individual was not a bad law enforcement leader. He's gone on to do a number of other things. This just wasn't the kind of thing that he was cut out to do. And it will be the same in your organization, that you will find leaders or individuals who want to work in crisis management but really lack that skill set or that emotional intelligence that's required.
And you might also be given folks to represent parts of your organization in a collaborative crisis management team that are not really cut out for this. And you have to be willing to have those courageous conversations with your business partners and with others, that, "Hey, you know … Jeff over there is just not … He's not cut out for this. And here's some things we can do to try to coach him and try to help him improve." But where you can vet folks to alleviate that, eliminate that issue up front, the better of your crisis process will be, and the fewer issues you'll have down the road.
So when you're in the incidents, and you're working through these very difficult situations, the other challenge to tackle is how do you take care of the team during the incident? What are things that you can do to take care of the team? So one is that first, you have to able to monitor your team for the effects of stress and fatigue in the crisis. And in the middle of a crisis, there is no such thing as the indispensable man or woman. Nobody is capable of working for 24, 48, 36 hours non-stop without that taking some effect on their ability to operate, on their ability to deal with difficult situations rationally.
So first is, you got to make sure that the team is getting adequate rest. The second is that you need to monitor the team to really keep a pulse on what's going on, and look for those signs of stress and fatigue. We've talked in previous podcast episodes about the National Preparedness Leadership Program and the idea of meta-leadership that was developed through research at Harvard, at the Kennedy School and at the Chan School of Public Health.
And part of this concept is this idea of going to the basement, that when you are under a lot of stress and fatigue and you're not making the best decisions, that fight-or-flight syndrome kicks in, and you go to the basement. You go to the bottom of your brain, where that approach resides, where you want to fight or flight. And that's something you got to really look out for with a team, is looking for when's someone is headed to the basement, so to speak, and be able to pull them out of the situation, or pull them aside and give them a break, or rotate someone else in to take their role while you continue to work through the crisis situation.
It's important to make sure that folks are getting time off throughout the crisis situation or critical incident that you're dealing with, that they're able to completely disconnect. That includes yourself as the incident leader or incident commander, that you need to be able to step away on a regular basis and be disconnected from what's going on, and let your deputy, or let another trusted partner or peer, or your boss, take over the situation for a while, so that you can recharge and get your equilibrium back and your balance in place, and then you can return back the role. What you don't want to do, is try to manage things, just continue to straight through and find yourself in the basement, find yourself in this bad emotional spot where not able to lead through these difficult situations.
It's also important to make sure that, as you work through this, that you're checking in with the team to see how they're doing, to make sure that they're having regular contact with their mooring lines, that they're talking with their family, with their friends, with their boyfriend or girlfriend, with their husband or wife or children, or their parents. Particularly if you're in a place where you've got a large scale natural disaster, or you've got a really difficult emotional situation, you want to make sure that folks are connected to their mooring lines, that they stay grounded to those outside resources that allow them to stay balanced as you work through the situation together as a team.
Lastly, when it's all over, and you've started the demobilization and deactivation, then it's time to take stock of just how the team is doing again and talk about this as a part of your after-action process. How did the team do? How did we do making sure that we got to rest, that we were balanced, that we kept our mooring lines to our friends and family and local community? How did we do looking out for each other? What could we do differently? How did you do as a leader taking care of them? And I think those are all candid conversations, candid questions that you should ask during the after-action process, and be willing to take feedback, good and bad, about how you can do better next time around because that next time will come.
In some situations, you might also want to consider whether or not facilitated debriefings with a professional … in a post-incident briefing with a counselor, a professional who runs a critical incident stress debriefing, that might be warranted in some situations. I know in my time at my previous employer, we had some really difficult situations that we were involved in from time to time, where employees were killed, good and bad. And these were very difficult things to work through, where when they were over, the … As you went through them, as an emotionally intelligent leader, you put a lot of those emotions aside as you led the team through the situation.
And after it was over, I think there's this really difficult emotional time period that comes up, where you're kind of reliving all of this for the first time. And having that professional there, whether you talk about this as a team, or whether you seek those kinds of debriefings or counseling on your own, they're all valuable in making sure that you're taking care of your team, and that you're taking care of yourself as you're coming out of a crisis situation.
And there's no shame in that. All of us that work in this field have very difficult jobs, and it's okay to admit and to be willing to seek that kind of a conversation after the incident has ended, even if you do it with a … There's value in doing it with a peer or a friend that works in the same field, and you both understand these situations. But it's also valuable to have these conversations with a trained professional that can really help you sort through the emotions that you're going through as someone who has led through the crisis situations.
So there are a few thoughts on taking care of your team during a crisis. I'd love to hear your ideas about what you've done that have been successful.
Drop us a note at contact@bryghtpath.com, or leave your thoughts in the comments.
We'll be back next week with another episode of the Managing Uncertainty Podcast.