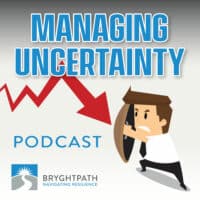 Activist campaigns aimed at companies are becoming more commonplace than even a few years ago, as activists use direct pressure tactics in order to force changes in business, community, or labor practices. Other protests, aimed at broader political change, also have an impact on organizations as they disrupt the supply chain, the workforce, or even emergency services.
In this episode, Bryghtpath Principal & CEO Bryan Strawser and Senior Consultant Jen Otremba talk about preparing and responding to protest situations.
Topics discussed include planning & preparedness, using a "radar screen" or command center to help detect early warning signs of a protest, working with crisis communications, and responding to a protest situation in-progress.
Learn more about our approach to Crisis Management in our Ultimate Guide to Crisis Management.  If you believe we can help you with an upcoming protest or social activism campaign, we'd love to talk with you – set up an initial call, and let's get started.
Episode Transcript
Bryan Strawser:                   About three weeks ago there was a pretty major criminal trial that came to a verdict here in Minnesota. The trial was, which we're not really going to get into the trial, it's not relevant to the conversation, where a police officer Jeronimo Yanez was acquitted of manslaughter in the shooting death of an African American motorist, Philando Castile, in a suburb of the Twin Cities not far from both where I live and where our office is located. This episode's not about the trial, because we don't to politics here, but there was an aftermath to the trial in addition to just the personal anguish of all the people that were involved. There was a number of protests that were spawned immediately that led to some pretty significant disruption in the Twin Cities.
Now, we should say at the onset of this, these protests were not violent. There were no injuries that I'm aware of. There was no property damage, so it wasn't like a riot, but there was definitely a lot of tension. The protesters, in this case, wound up marching onto Interstate 94, which is the major east-west thoroughfare that connect Minneapolis and St. Paul, and it's a major interstate that goes through the whole state, and they blocked traffic for about three and half hours. Pretty significant traffic disruption while there were a couple of major events going on.
What we want to talk about is not the politics of the trial or the protests, but it's about this idea of protests and how it creates disruptions to business. What gets disrupted here Jen when you've got this kind of thing that's going on?
Jen Otremba:                        We came from a company that dealt a lot of the times with protest activity for various reasons, and I think a lot of it had to do with the proximity to the courthouse that our headquarters was located in.
Bryan Strawser:                   You should point out we were in an urban environment, and we had a major thoroughfare, a very popular pedestrian thoroughfare, that ran in front of the building. Thus, we had protest, whether related to us or not, came up.
Jen Otremba:                        Yeah. They weren't always related to us. Also, they ran through. We live in Minneapolis, so we have a skyway system. A lot of the protests go up into the skyway system, and it causes a lot of disruption. Basically, it does a lot of things. One, it disrupts people's ability to get to work, to and from work, from either their vehicle or from home to get into the doors of your building. It causes that issue. It can potentially scare people trying to get into work. It, in general, just causes all kinds of disruption while you're trying to do business. It's a distraction. It just gets in the way of people doing their jobs.
Bryan Strawser:                   Minneapolis, as you said, has an extensive skyway system, so what we're talking about here for those of you that don't know is there are miles of interconnected buildings in downtown Minneapolis and in St. Paul that, on the second or third floor of the building, it's connected to the building across the street. You can literally, in the middle of winter in your shirtsleeves, walk out of your building and walk all throughout downtown and never set a foot outside.
Jen Otremba:                        It's a fantastic system, because that's what I did. I parked my car-
Bryan Strawser:                   I left my coat in the car and went to work and went to lunch.
Jen Otremba:                        Exactly. If we're doing that, the protesters are also doing that.
Bryan Strawser:                   That became more prevalent over time, the protestors using the skyways as a method because that's how everybody would get around. It made them more noticeable.
Jen Otremba:                        Sometimes, not in the case, but in sometimes there was property damage that would come from these protests, meaning maliciously or not. Sometimes that does happen as well.
Bryan Strawser:                   There's a lot of things to learn about protests and how to best protect your company about them, but it really starts with knowing that there's going to be a protest. As we've talked on some previous episodes, having that radar screen, that ability to see a threat that's coming towards your company, is really critical. Monitoring social media, monitoring activists websites and Facebook pages and events, can really give you some insight into what's going on.
Jen Otremba:                        I would say it was a rarity that a protest popped up that we didn't already know was going to happen. We were prepared for it, and we are able to communicate with our employees ahead of time that it was happening.
Bryan Strawser:                   It only took one major protest that we didn't know was coming that did not go well. It wasn't violent. It was a really confrontational scene.
Jen Otremba:                        It disrupted business in a big way.
Bryan Strawser:                   Big disruption. That led to some conversation. What do you need to be able to know this is coming? Well, there's some things we need. We need access to some things, and we need some tools that we don't have. We got all of that very quickly.
Jen Otremba:                        Yes, and then some.
Bryan Strawser:                   Then we never were surprised again. Having the radar screen is important to be able to see those things as they're coming in, but there's also I think the network of businesses around you where you're communicating with law enforcement, and you're talking to the other businesses in the same geographical area as you, so that you can share this information. Minneapolis has a downtown group that does exactly. There's a common radio frequency between businesses for the security teams and for the law enforcement monitors, and you're able to share that information. In the case of protest, we could talk about where the march was at and where it was going, because sometimes they would go to four or five major companies.
Jen Otremba:                        Right. They stopped and did their thing and then moved on.
Bryan Strawser:                   Before they got to where we were at, we would hear, "Here's what they did. Here was the tactic. Here's who's doing it. Here's how they're probing." It happened that networks, in sharing information in that way inside of trusted relationship, is critical.
Jen Otremba:                        It really gave us the ability and the time to plan for that to understand what we needed to do in that particular situation. If they're coming through the skyways, sometimes we just shut down the skyway that we had the ability to shut down so that we wouldn't let them go through there.
Bryan Strawser:                   That's a great point, because one of the things that I was going to bring up is that understanding your premises and where they begin and end and what your legal authority is in whatever legal jurisdiction you're in is important. In our last employer, the skyway closure became a big issue, because the police would not take action with people that were on our property if we asked them to be removed because, in their mind, it was a city space, a public space, that we didn't control as long as the skyway entrance was open. By closing the skyway, we made our space private, and we were able to leverage law enforcement.
Jen Otremba:                        Boy, did that tick some of the protesters off.
Bryan Strawser:                   Yeah, they weren't very happy when they found out they couldn't get into our lobby anymore of our previous employer.
Jen Otremba:                        That was a very effective technique to keep them out and to maintain the business as usual.
Bryan Strawser:                   We even practiced some physical security drills about how quickly we could secure the entrances: skyway, ground floor, out to the street level. How quickly we could lock that down and get a strong security force at the perimeter to do that.
Jen Otremba:                        Also, to note, we had, in that particular business, we had multiple locations downtown that you could have a meeting in one building, and then your next meeting's another building. If you don't know ahead of time this is going on, you may not be able to get to the other building. It was that notification system that we started using or notification e-mails or however you decide to do that. It's figuring out how can you notify the employees?
Bryan Strawser:                   How do you give context to what's going on? Particularly to your leaders who start asking, "What's this group want outside? Are they protesting us?" You find out, of course, that they're not. They're protesting your neighbor, but they came by because you're on the way, or they're applying some peer pressure.
Jen Otremba:                        Or they're protesting a vendor that we may have working in one of our buildings. We have nothing to do with what they're protesting, but they don't know the difference.
Bryan Strawser:                   One of the things that we would talk about too is as you are aware that the protest is coming, we talk a lot about how do you push the perimeter out so you have earlier warning and more space to react if something would happen. We did a lot around we may lock off the street level. We might lock of the skyways [inaudible 00:08:46], but we're sending plain clothed security or intel analysts who've been properly trained, but in plain clothes they're going out onto the street and they're keeping in radio contact or cell phone contact to tell us what they're seeing. That was easier and safer and more discreet than putting a uniformed security officer out there or somebody that was obviously from a corporate security team like me out there in a suit. That's going to stand out. Some guy, one of our guys, in flannel and geans and a baseball cap.
Jen Otremba:                        That was his favorite job, I think.
Bryan Strawser:                   Jen's laughing because it was always the same guy.
Jen Otremba:                        He loved it.
Bryan Strawser:                   He thought it was great. You're pushing the perimeter out so that you get earlier detection of what's going on.
Jen Otremba:                        He could also let us know who they were protesting, what they were protesting, and let us know, "Hey, these guys are turning violent quickly let's lock everything down," or, "It's not violent at all. They're just walking down, and it'll be fine." Let us know that ahead of time, which really was useful.
Bryan Strawser:                   It's important to understand as these events are happening that the safety of your employees is really … You're trying not to have a disruption to your business but keeping your employees safe, keeping your team safe, is the most important consideration. Understanding that most protests are not violent. They could be scary to be sure, but they're generally not violent. You do want to think about how does your team get home, and what's the right path? Is the interstate blocked? Is the exit blocked? These are all things, current protest tactics, that one needs to think about.
Jen Otremba:                        What we used to do is we actually had a sort of a notification e-mail that we would send out. We'd send out updates too, and that information would be in there. "Certain roads are blocked," or, "Take an alternative route to this parking garage," things like that we would include in there.
Bryan Strawser:                   It's important to understand that there's a pretty severe reputation component here. Protests gather press. If the protest isn't aimed at you, then your goal is really, in my mind, to stay out of the media by having an appropriate, low-key, professional response that creates no drama and no story. If you're the target of the protest, there's really no way to avoid the media interaction that comes with that. I think this is where our old adage of, "You get one chance to tell the story your way or there's going to be a narrative created for you," comes to play. We, at our previous employer, had a number of situations where we had media intensive situations involving protestors and activists. It took us a while to get better at that and realize that the 200 people in your lobby that are screaming, you probably need to have somebody to talk with them. You can't just ignore them. You need to share the right story with the media about what the issue is and what your response is going to be.
Jen Otremba:                        Therein lies the communication plan, a good crisis communication plan, so that you have someone designated to have those conversations, and you have a plan as to what to communicate when that happens.
Bryan Strawser:                   I can think in particular about some petition deliveries that we dealt with around some very emotionally difficult topics where there's got to be more than just accepting the petition. You have to create a narrative, and hopefully one that's in line with your organization's values that puts you in the best possible light.
Jen Otremba:                        I think this can be one of the more difficult parts of it, because things obviously get skewed in the media quite a bit. If you're not communicating clearly, don't have a plan as to what to communicate, it very easily can be turned in a direction you had no intention of it getting turned into.
Bryan Strawser:                   That's a great example of using a crisis management framework to get the right people at the table to have a good collaborative discussion about what that response is going to be, and then put those things in motion prior to the protest event.
Jen Otremba:                        That goes back to the radar screen like we started with. If you have it on the radar screen, we know what's happening. A lot of times, we would pull these people into the room and have a big discussion about it before it even happened so everybody knew what they were doing. We had a plan for it.
Bryan Strawser:                   The key lessons here for protests are having a radar screen so you know what the threats are that are coming your way; building a good network of nearby businesses; understand your premises and your legal responsibilities, where do things begin and end, what can you do as the owner or as the landlord; have a good solid communications plan on how you're going to message, particularly if you're the target of the protest; and push your perimeter out.
Jen Otremba:                        All of this stuff before the protest happens.
Bryan Strawser:                   That's right. That's the end of this episode of "Managing Uncertainty." We'll see you online for the next episode. Thank you.
Jen Otremba:                        Thank you.