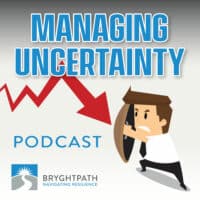 Hurricane Season 2020 is upon us!
In this episode of the Managing Uncertainty Podcast, Bryghtpath Principal and Chief Executive Bryan Strawser talks through personal, family, and business preparedness for this year's hurricane season. Topics discussed include personal & family preparedness, DHS's Ready Campaign, and actions that businesses should take to ensure they and their teams are prepared for the season ahead of us.
Episode Resources
Episode Transcript
Hello and welcome to the Managing Uncertainty podcast.
This is Bryan Strawser, principal and chief executive here at Bryghtpath and we are in week one of hurricane season 2020 for the Atlantic Ocean.
This hurricane season runs June 1st to November 30th.
I want to take some time here on this podcast episode to talk about hurricane season, how you can make sure that your employees are personally prepared, and what some things that you can do to prepare your business as well.
You may not know this. I had forgotten this when I was looking at this morning, but there are actually three hurricane seasons. The Eastern Pacific hurricane season started May 15th runs through November 30th. The Atlantic hurricane season starts June 1st and runs through November 30th, and the Central Pacific hurricane season, here. We're talking about like Hawaii for example, that season runs June 1st to November 30th. Of course, most hurricanes that we're typically worried about, the strongest hurricanes in history have been in the Atlantic and then impacting the east coast of the United States from Maine all the way down to the Southernmost tip of Florida. Of course, the US Virgin Islands and other territories in the Caribbean, as we saw with hurricane season just three years ago.
I want to divide this conversation into two parts.
The part that we want to make sure that individuals are preparing for, and then the things we want to make sure that businesses are preparing for as a part of that. As a business leader that works in business continuity and crisis management and resiliency or related fields, you want to make sure you're doing both because if your team is prepared and their families are safe, then it's easier for you to work with your team to recover your business operations. If they're not prepared personal, family, local, community, then you're going to have challenges getting those folks to come in and help you recover your business operations.
In my mind, the best place to send employees to learn about hurricanes is the US Department of Homeland Security's ready campaign website. This is developed with FEMA, which is part of DHS of course.
You can find great information on a number of different emergency situations, including hurricanes at ready.gov. I'm going to kind of recap for you some of the personal and family preparedness steps that are on this website at ready.gov/hurricanes.
The first is to make sure that your team understands the hurricane risk. That they understand how rain, wind, water could impact them. It's important to point out that this isn't just what we think of as traditional hurricane zones. I'm recording this episode on the 9th of June 2020. I live in Minnesota, just near the twin cities in Minneapolis and St. Paul. We are going to be impacted by tropical storm Cristobal which is currently moving through the Southern United States.
So even way up here by Canada where we're at, you can have impact from tropical storms and hurricanes depending upon how they move through the country as they impact the US. So first is to make sure folks understand rain, wind, water. What that impact could look like. The second is to make sure that your employees have an emergency plan. That everyone in their household understands their emergency plan and how that would impact their family, their extended family, their children, their pets. That they have a plan on how they would evacuate and where they would go. The next part of that is to make sure that they have supplies for their household. Medication, cleaning supplies, because we're still in the COVID-19 pandemic, face coverings, masks, pet supplies, food and water for three days. These supplies that might be necessary to sustain yourselves at home until life saving assistance can arrive, or because they need to get somewhere. Maybe the home could be damaged and they need to go live with a relative or get to a relative in another state.
The fourth is to make is to think about people with disabilities if there's anyone in their household that has a disability. What other help they may need, and to make sure that they've documented that and made an arrangement for that in their plan. The next is to know their evacuation zone. In a hurricane, you may have to evacuate very quickly. It's important to know what those zones look like. They're all planned in advance and to know the routes. How can they get there? And it's not a bad idea to practice. Can we be ready to go in two hours? Are our supplies bagged and packaged so that we can do it?
Next is to make sure that your employees know how to get warnings and alerts. FEMA helps make this easy by using the FEMA app, which will let them get real-time alerts from the National Weather Service for up to five different places in the United States. Then they can also sign up for community alerts and get information from local emergency management and public health and government authorities when things happen.
You want your employees to prepare their documentation. That they have insurance documents and personal documents like IDs and they have copies of these and they keep them in a secure, password-protected digital space, but also keep hard copies of this documentation as well. They can strengthen their homes by looking at their drains and gutters and bringing in any outside furniture. In some areas, even hurricane shutters may be appropriate.
My parents lived for a long time in Jacksonville, Florida, and had hurricane shutters when they built their home and used them on more than one occasion as hurricanes came through. Employees should make sure they're tech ready by keeping their cell phone charged and perhaps having backup charging devices.
There are solar chargers now. There are extra batteries that you can purchase. Even if your cell phone doesn't let you swap batteries, like I'm an Apple user, but I can buy a battery pack and plug that baby in and be able to keep my cell phone charged where I need to. Your employee should also look at how they can help their neighbors. Check-in with their neighbors and senior adults and others who might need additional help. Then lastly for small businesses, which we kind of put in with the family and personal preparedness, to make sure that businesses have a continuity plan that allows them to continue operating when disaster strikes. So again, you can find all this on ready.gov/hurricanes.
The most important thing about all of this is when the hurricane begins to approach that folks are listening to emergency information and alerts. That when they are told to evacuate, that they do so immediately. That they evacuate on the timeline provided by local authorities and that they stay informed.
They keep an eye on what's going on and make sure they make the right decisions to protect their family, their neighborhood, their local community, and their pets. Certainly, make sure you take your pets with you when you leave. So for personal preparedness, those are some great steps. Again, you can find those at ready.gov/hurricanes.
Now I want to shift gears and talk a little bit about business preparedness with hurricane season coming on. I think the most important thing here is to make sure that you're thinking about your preparedness steps now before we have a major hurricane or tropical storm really impact where you're operating. Now is the time to prepare. Not five days out from landfall of the first-named storm of the year, but now is the time to make sure that you have your ducks in a row. That you've got the plans and documentation and exercises, your practice, your drills, that all of that is knocked out in this left of boom stage and our preparedness stage so that when something happens, we're able to respond like clockwork as we go through that.
So, there's a lot of things you have to think about planning for when it comes to business as we think about hurricane season.
One is to make sure that we have a good understanding of the kind of impacts that your team and your local communities will see from hurricanes. We expect even when areas are not directly impacted, that employees and their families and extended families and even their neighbors can be in harm's way to some extent. Their properties certainly will be. A lot of employees will have questions about as the storm approaches, what our evacuation process will look like. When are we closing the business in time, want to make sure we do that in time for them to evacuate, but they also start thinking about when we can return home and when can I return to work and how much time will I be given to be able to deal with damage or issues with my home or with my extended family's home?
How do they keep in touch with you and your business to make sure that they understand what's going on in terms of returning to work? Another challenge through all of this is the lack of available communications. I mean, we can expect because of wind and power problems that cell phones may not be as workable or reliable as they typically are. We can see the normal phone system be flooded or damaged in a way that simply doesn't work. So we're not able to rely upon it.
We'll also find our employees have to deal with post-storm or really complex state and federal assistance process in order to get access to emergency funds from both the state and the federal government. So these are all challenges that you may have to work through in the course of responding to a hurricane. Then of course as I said at the start of the podcast, our experience has taught us that personal and family preparedness effort by your employees and supported by you and your efforts really make a huge difference in the individual resiliency of employees.
After all, if they're resilient as a family, then they're more likely to return to work quickly and help you get your business back up and running quickly. One of the main things as an employer is to really make sure that you're closing your facilities in time, in advance of the storm in a way that both let you protect your assets, but also let your team protect themselves. That they're able to evacuate and get up the evacuation routes in time. You'll also want to think about your disaster pay and assistance programs with your human resources team. What do you do if your facility has got to be closed and folks who are scheduled to work can't work because you've shut it down? They're depending upon that income. How will you handle that kind of emergency situation there? Will you compensate them?
Will you have an emergency fund they can draw from? Will you let them use their sick leave? These are all possibilities and actions that you can do.
When it comes to information in terms of free information, there's no better place than the National Hurricane Center, which is part of the National Weather Service and NOAA. You can find that online Just Google National Hurricane Center and that'll take you there. You also want to make sure you're plugged into your state and local emergency management. There's probably some way almost, every state has a way, state and city have ways for you to connect in terms of a public-private partnership program and get access to information. I would look for that within your state.
For example, Florida has a very highly active public-private partnership program. They do a great job of coordinating and communicating with the private sector, with businesses large and small across the state.
Find ways to plugin. You can also plug into FEMA's National Business Emergency Operations Center. I believe that's fema.gov/NBEOC or just Google FEMA National Business Emergency Operations Center. They're holding calls all the time. They're sharing information. They ask questions. They want to make sure that you as a business leader have the information that you need in order to prepare for a storm and then make plans to respond and recover the business. They're one of the best sources of information and one of the best places to get your questions answered. These are all good examples of strategies that are used by successful companies that are resilient, that work through hurricanes and storms and let them be able to respond and recover and then get right back to business as usual, get their business back up and running very quickly, and get right back into the mix of normal business operations, which is our goal is as we go through hurricane season.
So these are some of the factors we see with successful companies as hurricane season comes in.
For individuals again, the most important thing is to make sure your vehicle's fueled. You've got things in your vehicle. You got your emergency supplies ready to go like food and water. Whether you've got bottled water or containers for water, along with your luggage and other things. Keep your vehicle fueled, pay close attention to communication from your local emergency management emergency services personnel such as police and fire, emergency management, and others.
When they tell you to evacuate, if they tell you to evacuate, don't hesitate. Load and go and make sure that you move on from there.
Here at Bryghtpath we have very extensive experience in managing large scale hurricanes, such as the 2017 hurricane season. We do provide a number of services you might find useful.
Those include custom monitoring and weather reporting. We use a lot of open source and proprietary resources to give you a full picture of the current threat and impact to your organization. We build specific branded situational updates and executive briefings on the hurricane. These are written situational updates on a regular cadence that you set that consolidate hundreds of pages of information into a tightly written summary of the current on the ground situation that you're facing. We can do these in a way where they're branded for your organization, have custom content. We can integrate your internal data and other updates. We really think of these as the best way to know what's happening in that threatened and impacted area.
We also do executive and crisis team briefings that can be delivered via video conference or through online video formats, where you can see us providing an update on the situation, and then it has targeted information for your organization.
That can be one way, or it can be a two-way conversation.
Lastly, we're just a great trusted crisis management advisor. We perform that role for a number of Fortune 500 organizations lending our decades of crisis management experience and communications during their critical moment.
During a hurricane like we've seen in the last few years, we're really customizing our advice to the specific needs of your company.
The service commonly includes 24/7 access to our team, participation in your internal calls and meetings, connectivity to key internal and external partners, and most importantly problem solving with your team because we've been through this situation, the hurricane situation, many times.
That's it for this edition of the Managing Uncertainty podcast. We'll be back next week with another new episode.
Be well.