Does your organization take business continuity and crisis management seriously? Are you getting the resources you need to run these programs well?
If not, my best advice to you starts with a question:
"What are you doing to build a culture of resilience within your organization?"
Fostering a culture of resilience is arguably one of the top things you can do to get buy-in for your business continuity and crisis management program. But ironically, almost no one seeking help with their business continuity and crisis management programs ever asks us for help building a resilience culture.
That's because, unlike the plans, exercises, and process improvement procedures that tangibly indicate progress towards your business continuity and crisis management objectives, building a resilience culture evades a clear-cut ROI. And it also takes time.
But I'm guessing that you're not here because you wanted clear-cut and easy.
Here we talk about why it's important to build a culture of resilience in your organization and some practical ways that you can get started doing it.
What is a "Resilience Culture" and what are the benefits?
At Bryghtpath, we think of resilience as a group of capabilities that supports an organization's ability to solve big problems, continue operations, protect its assets, and most importantly, protect its people.
On a practical level, organizational resilience is achieved by building out specific capabilities, such as:
How does a resilience culture fit into this picture?
We think of a resilience culture as a way of thinking, acting, and planning within your organization that helps your organization better respond to change, disruption, and crisis.
And like nutrient-rich soil to the roots of a tree, your resilience culture is the fertile ground that helps each of the above "root" components mature your organization into one that is prepared to grow, thrive, and weather every storm.
As a result, your business will be better prepared to move quickly and gain a competitive advantage by finding efficient and novel solutions to emergent problems.
Creating a culture of resilience also often results in other tangible benefits to your organization, including improvements to:
Organizational infrastructure
Innovation and collaboration
Communication and cross-coordination between organizational components
A sense of well-being and empowerment among employees
Long-term organizational sustainability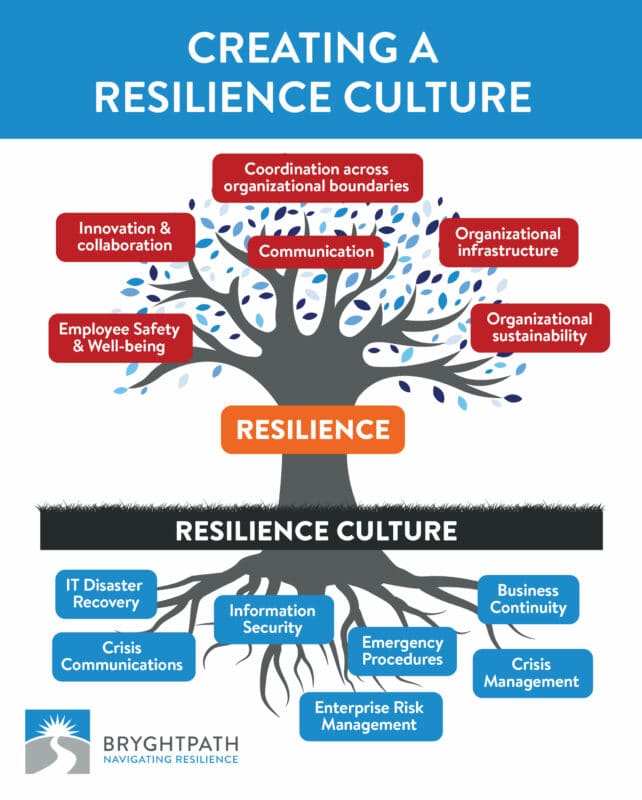 Are you ready to plant a strongly rooted and well-nourished resilience program within your own organization?
Here's how to do it.
Want to put your awareness program on auto-pilot?
Our team of battle-tested experts at Bryghtpath have put together a package of 17 awareness articles that you can use for your program with minimal work on your end.  All you need to do is "fill in the blanks" and ensure the terminology and links align with your organization's needs, and you're good to go!
Get started today with a package of awareness articles & graphics – or pick a custom package, and our team of writers will work with you to whip things into shape over the coming week for your new awareness campaign!
Learn about our communications & awareness campaign packages >>
4 Practical Ways to Build a Resilience Culture in Your Organization
1.   Make the first move
Are you still waiting for your friends over at HR or finance to invite you to the dance called their weekly team meeting so you can expound on all the awesomeness that is business continuity?
Well, I hope you brought some snacks and a blanket because it's going to be a long, cold wait.
As a wise colleague once told me, you can't wait for your ticket to the dance – you just have to make like a wedding crasher, show up, and surprise the heck out of everyone with all of the great ways that business continuity can help them achieve their own goals and priorities.
I don't mean that you should literally crash their meeting and take over at the podium – but you should be reaching out to teams across your organization and make the first move.
This brings me to my next point.
2.   Take the time to create effective messaging
If you're going to crash the party with your organization's stakeholders, you should be prepared with lock-step messaging that shows how your business continuity program aligns with their own organizational objectives.
A good place to start is by asking and answering the following questions for both your organization as a whole and for each organizational component:
What are the underlying mission, vision, and strategic objectives?
What specific initiatives are important right now?
What external drivers—contracts, regulatory requirements, impacts on customers and suppliers—most influence operations?
What products and services are you trying to protect with your business continuity efforts, and what are the likely impacts of a disruption to their delivery?
Having a clearer understanding of what's important and top of mind for each stakeholder audience will help you design messaging that helps them understand that business continuity is more than compliance mandate or "check the box" activity.
3.   Have a communications plan
Former president and CEO of Ford, Alan Mulally, is known as "the man who saved Ford" after the company hit a crisis in the early 2000s; Ford is now the bestselling automaker in the U.S.
Part of Mulally's success was due in part to his recognition that having a great plan wasn't enough. He knew that he also needed a simple but scalable message to communicate his plan at every level so that employees would embrace and embody what needed to be done to help the company prosper. He reduced his "One Ford" turnaround plan into four bullet points and less than 37 words so it could easily be distributed and communicated at every opportunity—on printed cards and posters, in the boardroom, and at every muster and event.
We can all learn a lesson from Mulally's efforts. According to various industry pundits, it takes anywhere from 7 to 27 repetitions for an idea to be understood and remembered.
This is no less true for your company's resilience efforts.
If you want your stakeholders to embrace and support your resilience efforts, you need to have a plan to clearly and consistently communicate the value of business continuity to your organization.
Your communications plan doesn't have to be elaborate to be effective. A simple four-step approach might look like this:
Design a simple and scalable message that resonates with your internal stakeholders.
Identify which audiences you need to reach, such as executive and senior leaders, departmental heads, operational employees, etc.
Identify the best channels to communicate your message to each group of stakeholders. Corporate intranet, quarterly director's meetings, departmental meetings, company-wide events, and internal publications are just a few suggestions.
Set a regular cadence for communicating your message over the identified channels. We recommend quarterly communications if you're just getting started.
4.   Put people first
We always advise our clients to make sure that your business continuity and crisis management programs are designed first to address the human element of your crisis response. A crisis event can severely impact the personal lives of your employees. You need first to ensure their safety and security before they can give of themselves to assist in executing your company's crisis management plan and continued operations.
But putting your people first involves a lot more than just ensuring their basic safety and security during and after a crisis. You must also help them build a resilience mindset and understand that everyone has a role to play in developing organizational resilience.
A good place to start is by teaching your people to take personal preparedness seriously. We've seen our clients successfully leverage wider events like National Cybersecurity Awareness Month and National Preparedness Month to engage employees in personal preparedness activities, such as an emergency kit contest, to drive engagement and awareness around resilience topics.
People, not plans, are the lynchpin of your business continuity and crisis management success. The same holds true for your resilience culture—the best place to start is with your people.
Are you building a culture of resilience within your organization?
If not, what are you waiting for?
Want to work with us or learn more about how we approach building a resilience culture?